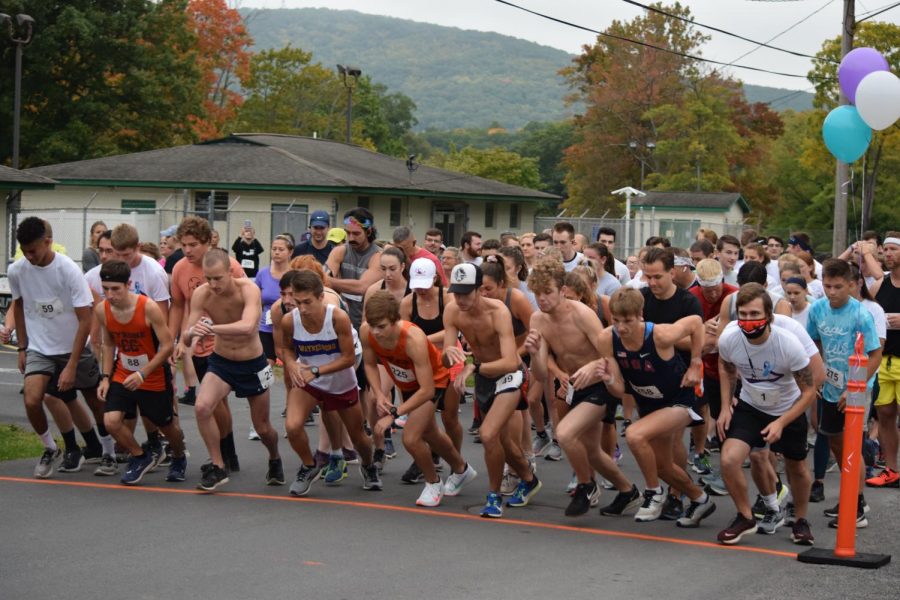 Haydn Loudenslager
The inaugural Adam Zook Memorial 5K Run/2K Walk at Reservoir Park in Tyrone on Saturday, September 26 raised over $9,000 for scholarships and suicide prevention in the Tyrone area.
The men's overall race winner was John Davern with a time of 16:06. The women's overall winner was Laurel Moyer with a time of 18:01. 
Race organizer Melissa Kohler was thrilled with the turnout, especially considering that the race had to be rescheduled twice due to COVID-19. 
"I was truly blown away by the community support for the event. It exceeded all my expectations, especially with the pandemic," Kohler said. 
According to Kohler, there were 337 registered participants and 50 volunteers. 
"When the world around us is often so focused on the negative, to see our community come together as they did on Saturday reaffirmed my belief in the power of a community, not just to raise funds but to show support for Adams family and openly address sensitive topics like mental health and suicide prevention. To show those who are struggling with something in their lives that they don't have to do so alone," Kohler said.
The event was created in memory of Tyrone High School alum Adam Zook, who took his own life last August.
Adam was a 2016 Tyrone graduate, where he was a popular student, excelling academically and athletically. He was very involved in the school community as Editor-in-Chief of the Eagle Eye, a member of the mock trial team, drama club, choir, and numerous other clubs and organizations at Tyrone High School.
Among his many activities and talents, Adam was an avid runner, a member of the Tyrone cross country and track and field team, and a state cross country and track championship meet qualifier.
After high school, Adam attended Slippery Rock University to pursue his passion for journalism. Just like in high school, Adam was chosen to be editor in chief of the Slippery Rock student newspaper for his senior year.
Adam was well known as a compassionate and caring person who touched many lives in both the Tyrone and Slippery Rock community.
Adam's older brother Hayden shared a story before the race that summed up his brother's deep compassion and concern for others:
"[Adam] was so competitive, he wanted to do the best that he could do. But before every race, [Adam] would look to his left and look to his right and wish every competitor the best of luck. He wanted people to know that he cared about them and that we are all in this together," Hayden Zook said.
Hayden also asked everyone in attendance to let the people in their lives know that they are not alone, to raise awareness of suicide prevention, and to always lend a caring hand.
"Be kind to others, you never know when they may need that hello," as Adam himself said.
At the awards ceremony, the first two Adam Zook Memorial Scholarship winners from the Tyrone class of 2020 were recognized.  They are Brianna Foy, who is attending the University of Pitt Bradford, and Matthew Savino, who is attending Penn State Altoona. 
With the first successful year in the history book, race organizers are already planning for next year.
"We want to continue to grow and be able to have the pancake breakfast we were planning on having before the coronavirus and open up booths," Tyrone cross country coach and race organizer Tammy Wills said.
All proceeds will be invested into a scholarship fund for two Tyrone senior runners on the track or cross country team who demonstrate the same leadership, work ethic, sportsmanship, and positive attitude that Adam brought to the teams.
"As our fund grows we hope to expand the scholarships to recognize more TAHS students who make positive contributions to the school community," said Kohler.
The winners were as follows: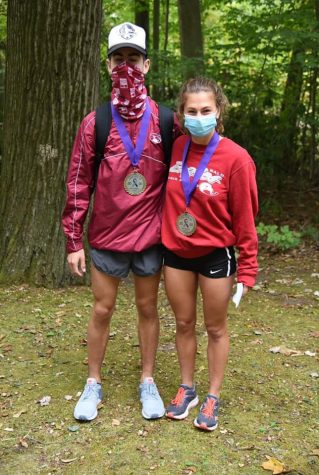 Men
Under 11
Abram Detwiler
Jackson Taylor 
Evan Rhoades 
Age 11-14
Aiden Detwiler
Thomas Sutt
Luke Ruoff
Age 15-19
Tanner Walter 
Garin Hoy
Ethan Rogers
Age 20-29
Zack Skrabski 
Hunter Confer 
Jace Kreamer 
Age 30-39
Randy Carper
Donald Leeper 
Matt Gibbons 
Age 40-49
Travis Kagarise 
Ron Peschok 
Dean Kohler 
Age 50-59
Tim Caldana 
Matt Bonsell
Paul Houck
Women
 Age 11-14
Emma Witkamp
Reese Fischer
Penny Bird
Age 15-19
Molly Snider
Ella Pearson
Beth Pearson
Age 20-29
Karlee Noel
Morgan Perry
Caroline Stickley
Age 30-39
Adria Jeffery
Age 40-49
Mary Beth Reese
Julie Pheasant
Kristie Bauer
Age 50-59
Julie Walk
Marsha Doyle
Carolyn Updike
60 & over 
Amy Brisbin
Teresa Merryman
Angela Fink