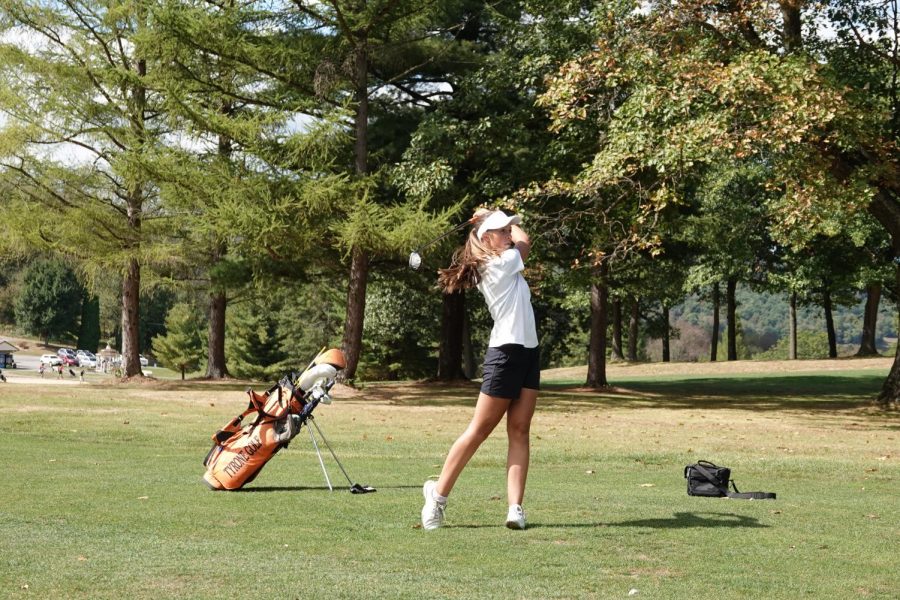 Tyler Beckwith
The Tyrone golf team is off to a strong start this season, dominating most of the Mountain League through three matches.
In matches at Skytop in Port Matilda, Huntingdon Country Club, and Sinking Valley Country Club the team has defeated all seven other Mountain League teams, with the lone loss coming to Bellefonte at Skytop, making the team's combined record 22-2 through three matches.
With three or four golfers shooting the 70s or low 80s, the team is hoping to finish as Mountain League Champions and qualify several individuals for district, regional, and state play.
"Our goals for this season are to win the Mountain League, win a team district championship, win an individual district championship, and have at least one state qualifier," Head Coach Mike Funicelli said.
All eyes are on sophomore Cassidy Miksich as she starts her second season of high school golf after winning the girls AA District 6 golf championship last year as a freshman.
"Cassidy has a chance to repeat as district champion and to make a run at states. She has also been striking the ball very well," said Funicelli.
Tyrone senior Jake Taylor finished his second match with his best score to date.
"If Jake brings his game to districts, he can win the individual championship which will hopefully give in the confidence he needs for states," said Funicelli.
Junior Luke Brooks also has had a promising start to the season and excited to see what the 2020 season will bring.
"Luke is peaking at the right time and has a shot to be top 5 in the district," said Funicelli.
One other development on the team this year is a new cooperative agreement with the Williamsburg School District that allows students from that school to compete with Tyrone. Williamsburg Freshman RJ Royer is the first Williamsburg student to take advantage of this new arraignment.
Sophomore Cyrus Alhert and senior Hannah Long round out the starting six.
Alhert's game has improved a lot with a year's experience. He began his freshman season shooting in the mid-nineties, but has already averaged a 90 so far this season and is expecting to improve.
Senior Hannah Long is in her second season of varsity golf. Her best score to date is a 109 with two chip-ins in one round.
Funicelli is confident that his team has the talent to win a district championship this year.
"Overall we have had three players shoot in the 70's this year. If that happens on the same day we should win districts," said Funicelli.