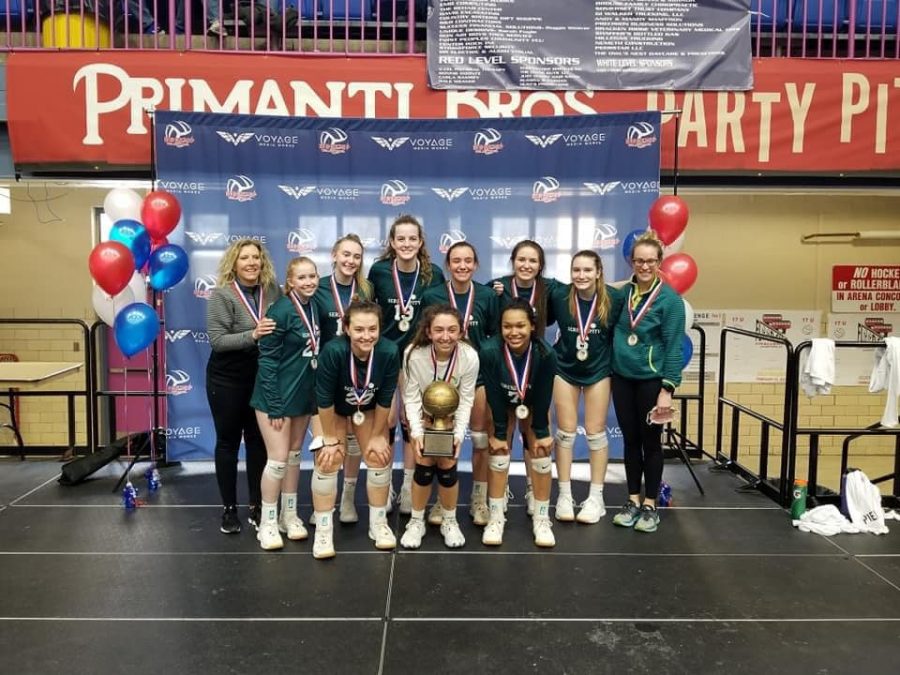 courtesy photo
Fourteen Tyrone volleyball players competed in a tournament at the War Memorial in Johnstown, Pa on February 20-21st. Each of these players competed with their Horseshoe Volleyball Club Team.
The Horseshoe Volleyball Club provides opportunities to raise the level of play for both boys and girls volleyball in Central Pennsylvania. Horseshoe practices take place at the Armory in downtown Tyrone.
"We have a lot of new players on new teams this year and with COVID it can be challenging to build chemistry within a team. That seems to be the main issue with our teams when they are struggling," said Technical Director and Coach of HVC 16-Red Mike Kraft.
HVCRed 18u Serendipity placed first in gold, they ended the 2-day tournament with success.
"This was our first tournament, and we only got to practice together as a team a couple of times," said senior middle hitter Courtney Williams, "so this win felt really good and reassuring that we are able to come together and pull it off."
HVCRed 18u placed third in the gold bracket with a loss to Ridgetop 18 Premiere.
"This was our first tournament where our whole team could be there, and we placed right behind two very talented teams," said senior setter Mattie Cherry. "Overall it was a really fun weekend and I'm excited to see how the rest of the season goes!"
HVCRed 17u placed second in silver. 17u didn't really have a consistent day. According to Mike Kraft, "17-Red was up and down all weekend and struggled to play consistently."
HVCRed 16u placed fourth in gold with a loss to HVC-16u Black in the quarter-finals.
"This tournament was a learning experience for our team, and it was a wake up call. We know we need to work on our communication skills and team chemistry in order to have success this season for the club," said sophomore Middle Hitter Piper Christine.
HVCBlack 16u placed third in the gold bracket.
"The tournament this past weekend was such a learning experience for both me and my team. The team was challenged many times and I think they were really resilient when faced with adversities," said Coach Erin Lutz. "As a result of that, they became mentally stronger as a team and I hope that they continue to grow that mental toughness and progress it along with their technical skills in order to achieve success."
HVCRed 15u placed second in Gold and HVC Black 15u placed third in Gold.
"Our teams fared well but it definitely was not our best showing overall as a club," said Technical Director Mike Kraft. "18- red Serendipity, which includes several HVC players and Courtney Williams, won the 18u division. 16- black had a solid performance and probably their best performance of the year and finished 3rd overall as well as 16-red. 15-red got second place and 15-Black placed third. 15-Black probably had their best performance of the year to date."