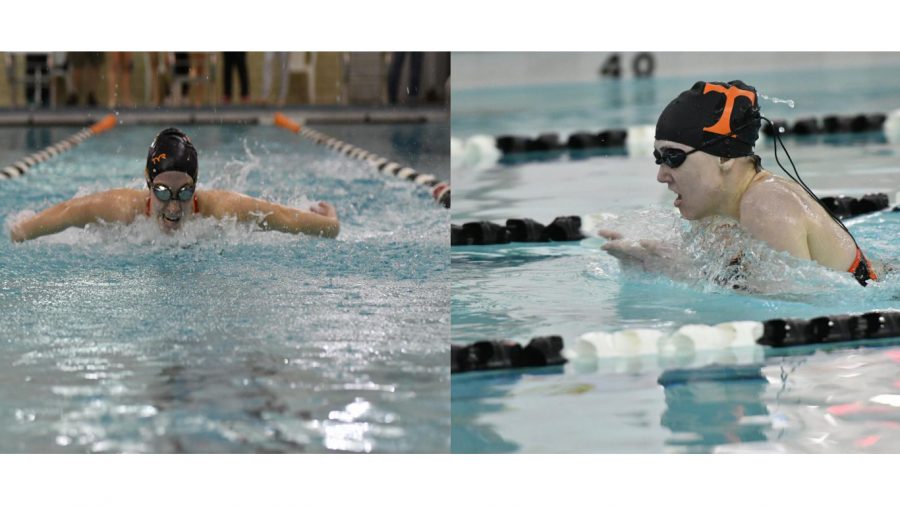 Led by seniors Sarah Hoover and Madison Coleman, nine Tyrone swimmers reached the podium at the District Championship Meet held at Hollidaysburg High School on Saturday, March 6th.
Hoover's second-place finish in the 100 Breaststroke was the best finish of the day for the Golden Eagles, with Coleman finishing third in the 50 Freestyle and fifth in the 100 Freestyle.
In the 50 Free, Coleman had one more chance to break the school record of 25.26, set and held by Jill McMillen in 1998. Her seed time was within .5 seconds of the record, a 25.71. However, in a less than ideal championship meet environment, Coleman placed 3rd overall with a time of 26.15.
In the 100 Free, Coleman placed 5th with a time of 57.56.
"Even though I did not make the time I have been working towards, I would not have traded my high school swimming career for the world. Obviously, this last season was not typical. We had a condensed season and swam against many difficult teams, but all of these obstacles have made me a better athlete. I had some good swims this year, and our team performed well throughout the season. I have made memories that will last a lifetime. It's been a good four years," said Coleman.
Fellow senior Sarah E. Hoover dropped nearly a second off her seed time to take second place in the 100 Breaststroke, with a time of 1:14.15.
In the 200 IM, Hoover placed sixth with a 2:27.23.
The girls medley relay started the meet strong with a 3rd place finish. The relay team was Victoria Reese, Sarah E. Hoover, Madison Coleman, and Sarah M. Hoover. They dropped two seconds off of their seed time (2:04.57) to end with a (2:02.52).
The girls 200 Free Relay, with Madison Coleman, Sarah E Hoover, Victoria Reese, and Sarah M Hoover, placed 3rd. They only added .10 seconds to their initial seed time, finishing with a 1:49.17.
Bellwood Freshman Evalyna Aiken competed in the 500 Free and 100 Backstroke. Victoria Reese dropped two seconds in the 100 Back (1:10.80) and placed 6th.
The girls team finished with a combined 103 points, in 5th place overall.
On the boys side, the boys 200 Free Relay, Colin Yaudes, Rylan Bailor, Hunter Gregg, and Spencer Dunklebarger, placed 5th. They shaved a second off of their seed time (1:46.38).
Individually, the boys had some of their personal best swims. Senior Hunter Gregg dropped .7 seconds off of his 100 Fly time (9th place). Spencer Dunklebarger shaved .2 seconds off in the 100 Free (10th place).
In the 100 Breast, Spencer Dunklebarger finished 9th with a 1:16.90. Senior Colin Yaudes took 10th with a 1:17.06.
Their 400 Free Relay dropped 3 seconds but finished in sixth place.
The boys team put up a respectable 57 points, which put them 6th place overall.
COVID-19 precautions played big factor in this year's District meet, making it difficult for swimmers to post their best times.
The district meet is usually held at the Penn State Natatorium where swimmers have a warm-up pool and ample deck space to spread out for the duration of the meet. However, with the Penn State pool is still closed due to COVID restrictions, the meet had to be moved to Hollidaysburg High School, a much smaller facility with no warm-up pool.
Also, no fans were allowed to attend, teams were only permitted one coach on the deck at a time, and all swimmers also had to wear masks until they approached the starting blocks.
It was an odd experience and a drastically different environment than the swimmers were used to from previous years.
"It was really weird not being able to cheer on our teammates, and it affected our swims because you couldn't hear screaming like you usually do. I couldn't tell whether I was doing well or needed to go faster," said Tyrone swimmer Victoria Reese. "We had to watch our teammates race on our phones because we weren't allowed on the deck."
It was also more difficult to qualify for the meet this season. Typically, if a swimmer met the qualifying district times in a race during the regular season, they are able to compete in the championship meet. This year, only the top 12 swimmers in each event were allowed to compete. Schools usually are able to put one relay into each of the three relay races. This year, only the top six relay teams competed.
Full Meet Results can be found here.