Home Away From Home: Jamie Lynch's Firefighting Family
This Tyrone senior gives back to her community as a volunteer firefighter
To say that volunteer firefighting is in senior Jamie Lynch's blood would be somewhat of an understatement. Lynch attended her first fireman's convention in Tyrone just three days after she was born in 2000. From the very first week of her life, Lynch has been a part of a firehouse family.
Both her parents were volunteer firefighters at the Citizens Fire Department in Tyrone. Her father, mother, sister, grandfather, and stepmother were all firefighters. Her grandmother was in the Women's Auxiliary at the Lakemont Volunteer Fire Company.
But Lynch's main inspiration for continuing this family tradition is her mom, Lori Friday, who was one of the first female firefighters in the area.
When she was young Friday faced a lot of discrimination from some men in the department saying that, because she was a woman, she shouldn't be a firefighter. It was hard for her to gain respect, so she worked even harder.
"
Jamie has always been a great pleasure to work with she is the kind of team member that you only have to ask once to accomplish a task"
— Assistant Chief Kevin Kuhn
"It was the most exhilarating, frightening, satisfying, frustrating, hardest, easiest thing I have ever, or will ever do," said Friday.
Considering everything that her mom went through, at first Lynch was reluctant to become a firefighter.
When she started high school, Lynch was looking for some activity or group that she clicked. She tried sports and clubs at school but nothing felt exactly right until she joined the fire department. At the firehouse, she found her home away from home.
"For the longest time I swore I would never be a firefighter, but when I was 15 I really started to get into it and I joined when I turned 16," said Lynch.
Now she volunteers at the Lakemont Volunteer Fire Department in Logan Township, where her dad is originally from.
With the job comes a pretty big workload. There are a lot of high-stress situations, and even more arguments, but Lynch wouldn't trade it for the world.
Even though she is still in high school, she has already made a great impression on the leaders at the firehouse.
"Jamie is energetic and willing to learn and train hard.  She works well with others and has a good sense of humor. I'm glad that I get the opportunity to lead and learn from her," said Lakemont Chief Robert Bard.
"She is the kind of team member that you only have to ask once to accomplish a task, and is always willing to learn something new or revisit something she has already learned," said Lakemont Assistant Chief Kevin Kuhn, "Jamie is eager to help anyone and to be present for any extracurricular function at the fire department. I know that Jamie will conduct herself to the highest standard wherever her path may go."
"
The lessons and values I have gained will help me become a better person"
— Jamie Lynch
Throughout her experience, she has learned many things. She's learned the essentials of firefighting to basic water rescue. She also learned how important it is to keep the family aspect of the fire department functioning. If the house doesn't work as a family, they can risk the lives of the people they are saving, and even their own.
"[This experience] has made me a more responsible person," said Lynch, "the lessons and values I have gained will help me become a better person."
Firehouses in the area are always looking for new volunteers.  Lynch recommends anyone who has an interest and would like to serve their community in a positive way to give it a try.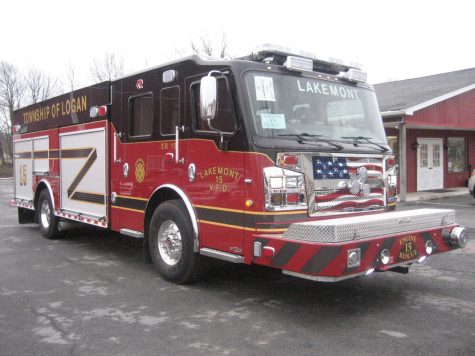 View Comments (2)
About the Contributor
Ava McCracken, Staff Writer
Hi! My name is Ava McCracken. I am a senior this year and this is my third year in Eagle Eye. I'm number two on the tennis team, so I plan on writing...