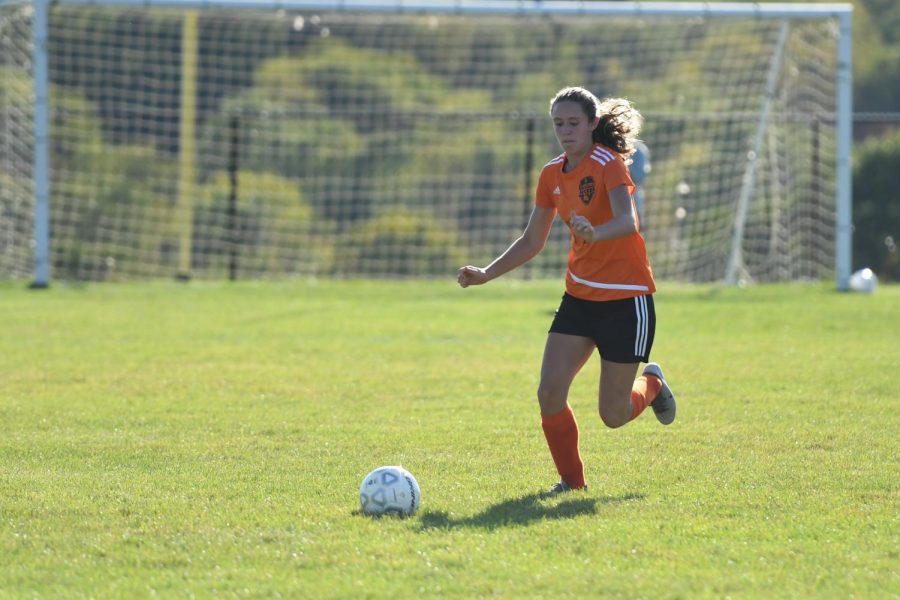 Todd Cammarata
Girls Varsity soccer fell to Hollidaysburg 3-2. All five goals were scored in the first half.
The Lady Eagles scored the first goal in first two minutes of the game. Kendall Markley scored the goal off of Eliza Vance's cross. The Lady Tigers responded with a goal about 14 minutes later. Rita Kendziora shot outside of the 18 with an assist from Alyssa Bell. About a minute later, those two switched roles and Bell scored with an assist from Kendziora.
"I think that the team is finally coming together and getting the energy needed to play well and compete against some high-level teams," said Markley.
Tyrone did not give up and came back with a goal ten minutes later. Cate Baran took a free kick outside of the 18 and lifted the ball to the back post for Eva Toth to score and tie the game at 2-2. Hollidaysburg responded with about three minutes left in the first half. Kendziora had her second goal of the game to win the game for the Lady Tigers.
In the second half, both teams stayed defensively strong and no goals were scored in the second half.
Tyrone's next game is Wednesday, October 9th at 6 pm at Bald Eagle.
SCORE BY HALVES
Tyrone 2 0 — 2
Hollidaysburg 3 0 — 3
First half: T–Markley (Vance), 37:41; H–Kendziora (Bell), 23:57; H–Bell (Kendziora), 22:24; T–Toth (Baran), 10:04; H–Kendziora (Steiner), 2:42
Second half: None.
Records: Tyrone (3-10); Hollidaysburg (9-5).