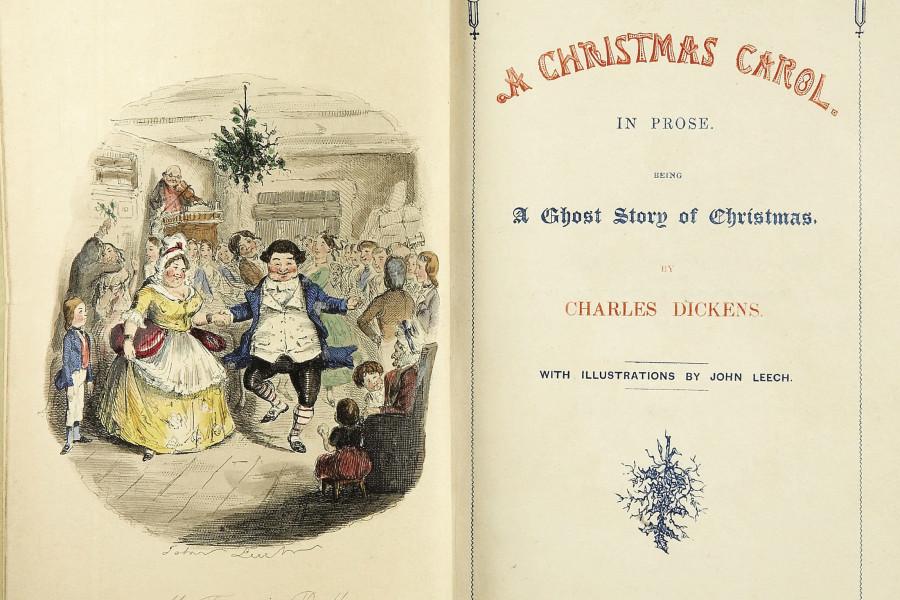 With the holidays approaching, the sudden drop of temperatures, and the absences from school, it is a wonderful time to crack open a Christmassy book. With it's age old tale, A Christmas Carol by Charles Dickens is a perfect choice.
For the few that are unfamiliar with the story: Ebenezer Scrooge is an extremely wealthy, hardened, miserly, old man. He never smiles, he is bedruging about the use of coal to keep his employees warm, not to mention, he has no friends. For him, Christmas is just a day that fools and crazy people celebrate.
One night, as he is sitting in front of his small fire, a ghost of his old business partner Marley. Marley is burdened with chains, forced to wonder for all eternity and warns Scrooge that his fate will be the same if he does not mend his ways. A little scared, but not convinced, Scrooge ignores the warning and goes to bed. Throughout the night, he is visited by three ghosts: the ghost of Christmas Past, the ghost of Christmas present, and the ghost of Christmas yet to come. (Dickens refers to them as spirits, but they seem to be better known as ghosts in today's culture.) They each take him on a journey.
The ghost of Christmas past shows him lonely childhood Christmas' and parties at his employer's. It showed him the day his betrothed left him. All these events that turned him so sour.
The ghost of Christmas present showed him his distant family all cheery and the happy, but oh, so poor family Cratchits whose father works for Scrooge.
The ghost of Christmas future takes Scrooge to a cold and lonely place and shows him a grave. At first, Ebenezer is confused but then he realizes the name is his.
He wakes up the next morning a changed man. He sings, smiles, even laughs! Ashamed of himself he goes to his nephew's Christmas party but not before buying the Cratchit family dinner with all the trimmings. He leaves the Cratchits with the promise of taking more interest in them, almost adopting them as a second family for himself.
A Christmas Carol is a heartwarming story to read at anytime but especially over the holidays. It is a constant reminder to have a giving and loving spirit.
The theme of watching out for your neighbors and families could make a difference in the world we now know. Dickens is trying to spread some holiday cheer and make the world a much better place in which to live. Instead of being greedy and whiny, make a change in your life and in others. Help out your mother. Donate food and money to charity.
This timeless bard also places emphasis on family bonds. Despite Scrooge's negative attitude(and that is a major understatement), his nephew still invites him over every year for his Christmas party. Scrooge is incredibly rude, but his nephew manages to greet him with a "Merry Christmas" and a smile.
So, in this time of giving, sit down, read A Christmas Carol and think about what Christmas actually means.