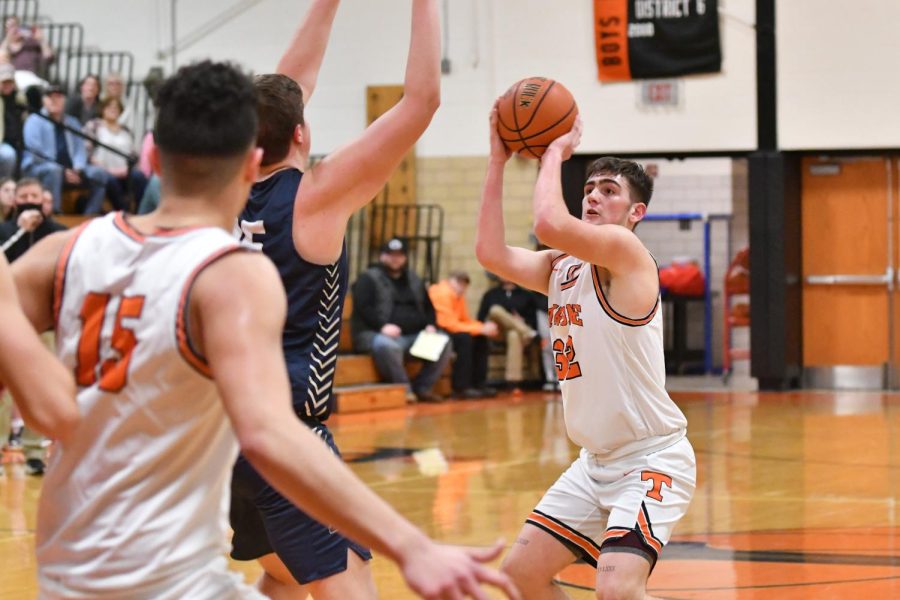 Ellie Oakes
The Tyrone Golden Eagles avenged their previous loss to beat the Hollidaysburg Tigers in a close matchup last night.
Senior Keegan Gwinn led all scorers with 23 points, 13 coming from the second half, while grabbing 17 rebounds. Senior Cortlynd Rhoades added 17, while senior Landen DeHaas contributed 15.
Tyrone jumped out to a quick 9-4 lead to start the game, but Hollidaysburg, who couldn't miss a shot early, went on a 15-4 run to end the quarter, giving them the lead.
In the second quarter, there was a lot of back and forth action, and both teams scored 18. This sent Tyrone into the locker room at the half down 9 points.
The Eagles knew in the second half their defensive intensity would need to increase, especially on the hot shooters from Hollidaysburg. Offensively, they needed to finish around the hoop.
That's when Tyrone senior Keegan Gwinn began to heat up.
"We came in [to halftime] pretty down and decided that we needed to turn it around," said Gwinn.
Not only were his points and rebounds crucial to this game, but his smart passes to forward Ross Gampe helped the Eagles secure easy points.
Taking advantage of Hollidaysburg having to play five guards, Tyrone utilized a high-low action through Gwinn and Gampe throughout the second half.
The Eagles outscored the Tigers 17-7 in the third quarter, then remained strong throughout the remainder of the game.
Tyrone came out with a 71-65 victory.
"Everyone came out pretty excited for the second half. We are all committed to this team, and we focused to turn it around," added Gwinn. "This was a big game because we lost up there in a heartbreaker. It felt really good to come out tonight and win against them."
This win keeps Tyrone in the race for the Mountain League title.
The Tyrone JV also won 45-33 with Sam Crilly and Chris Escala leading the Eagles with 12 points each.
The boys are back in action tonight as they travel to Windber.
Box Score:
HOLLIDAYSBURG (65): Goodman 2 0-0 4, Rhodes 7 4-5 18, Hileman 4 0-4 8, McGinnis 2 4-6 9, Walters 5 2-2 16, Holsopple 2 0-0 4, Steiner 2 0-0 6. Totals — 24 10-17 65.
TYRONE (71): Lang 3 2-2 8, Rhoades 6 3-4 17, DeHaas 6 2-3 15, Gampe 3 0-0 6, Gwinn 8 7-9 23, LeGars 0 0-0 0, Johnson 1 0-0 2. Totals — 27 14-18 71.
SCORE BY QUARTERS
Hollidaysburg 19 18 7 21 — 65
Tyrone 11 18 17 25 — 71
3-point goals: Hollidaysburg 7 (Walters 4, Steiner 2, McGinnis); Tyrone 3 (Rhoades 2, DeHaas).
Records: Hollidaysburg (7-7); Tyrone (11-2).
JV: Tyrone, 45-33. High scorers–Keith Dinkins, H, 13; Crilly/Escala, T, 12 each.