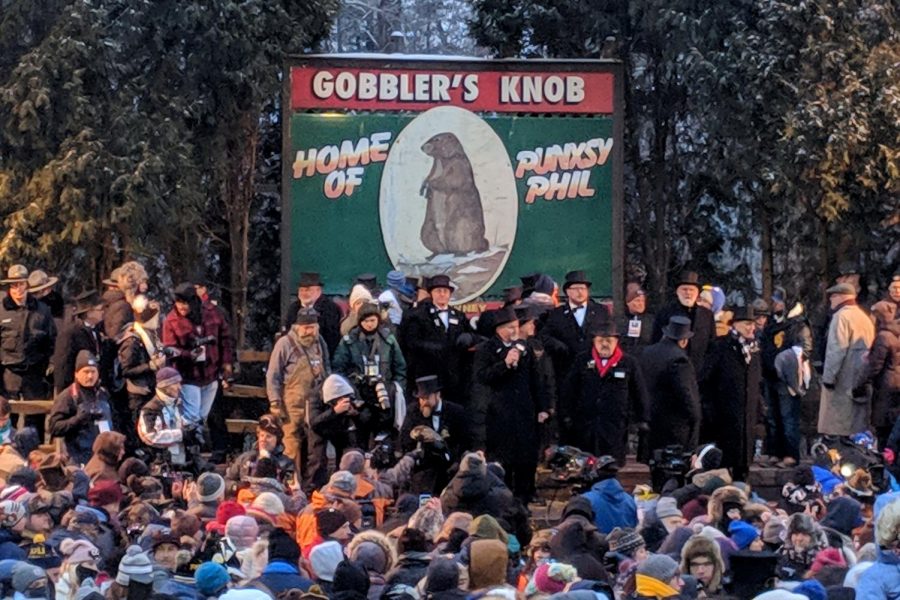 Kolby Cowher
Punxsutawney, Pennsylvania, a quaint town of just over 5,700 people, explodes to 25,000 or more every February 2 as visitors from all over the world make the pilgrimage to see Phil the Groundhog's annual weather prediction.
This holiday sounds, and indeed is, very wonky. Tourists flock to witness the spectacle first hand, and many people have it on their bucket lists.
I am no different, and last weekend, my dad, my little brother and I made our first pilgrimage to Gobbler's Knob.
The event, which traces its German-American roots back to the late 1800s, has been held continuously in Punxsutawney since 1887.
According to folklore, Phil is roused from his burrow by the members of the "Inner Circle," Phil's exclusive club of handlers, and the only humans that can speak "Groundhogese."
If Phil tells the president of the Inner Circle that he did not see his shadow, then spring will come early. If he does, then there will be six more weeks of winter.
While it's popularly has fluctuated for much of its history, the event has seen a steady boom in attendance ever since 1993, when movie legend Bill Murray starred in the popular film Groundhog Day.
We arrived in Punxsy around 6:30 am.  Because of the massive crowds and limited parking, you cannot drive to Gobbler's Knob, so we were directed to park at the local Walmart. From there we were bused to Gobbler's Knob, roughly three miles outside of the Punxsutawney, in a yellow school bus.
The event is so big that it's a holiday in the Punxsutawney School District so that the district buses can be used to transport visitors to the Knob.
Our bus was packed with people from all over, such as New York, Wisconsin, and Florida. We struck up a conversation with a family from Buffalo, New York who, like us, were paying Phil their first visit.
"We had family in the area and we've always wanted to see Phil for ourselves. Since it was on a Saturday this year, we decided to make the trip," said a woman named Jenny from Buffalo.
Despite the fact that it was 6:30 am and very cold, everyone on the bus was awake and excited to see Phil, live and in-person.
When we arrived at Gobbler's Knob, it was already packed.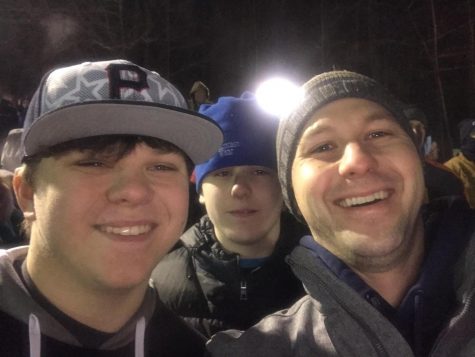 Before the main event of Phil being pulled from his burrow, there was a firework show, singing, dancing, and, of course, much spontaneous chanting of "Phil! Phil! Phil!"
It was a true celebration.
As Phil's big moment approached, you could feel the excitement build within the ever-swelling crowd.
"This is one of the largest crowds we've ever seen at the Knob," said one of the top-hatted members of the Inner Circle from the stage, "There are about 25,000 people here, by far the most we've had."
We waited at the Knob for roughly 30 minutes before the Groundhog Club Inner Circle announced that the time had arrived for Phil's prediction.
It was around 7:25 AM, when the sun rose. Bill Deeley, the President of the Inner Circle, used his cane to awaken Phil from his rest. Everyone stood in awe as he hoisted Phil so that everyone could see.
Then, it was time. Phil made his bold prediction.
For only the 19th time in the 133 year history of Groundhog Day, Phil predicted an early spring.
The crowd erupted into a cheerful roar.
And just like that, it was over.
Most of the people filtered out pretty quickly but some stayed to get some pictures with Phil. I stayed and got pretty close but the line was too long in the freezing cold temperatures and we decided it was time to leave.
On our way out, we did have an opportunity to talk to a card-carrying member of the Inner Circle, Butch "Iceman" Philliber.
"Being part of the club isn't easy," he told us, "We have to raise about $50,000 to put this event together, on top of taking care of Phil."
But after leaving Gobbler's Knob, it was easy to see why the Inner Circle works hard to make the annual event happen.
Driving through town, the party had just started. Restaurants were packed, the streets were busy, and vendors everywhere were selling things under their tents.
Punxsutawney receives a huge economic boost from the event, raking in roughly $5 million annually in food, souvenirs, and lodging.
However, for something that makes international headlines every year, Groundhog Day in Punxsutawney still has a very small town and local feel.
It's a pretty wacky holiday, but it's an experience you won't soon forget.
I would highly recommend heading to Punxsy at least once in your life for Groundhog Day.