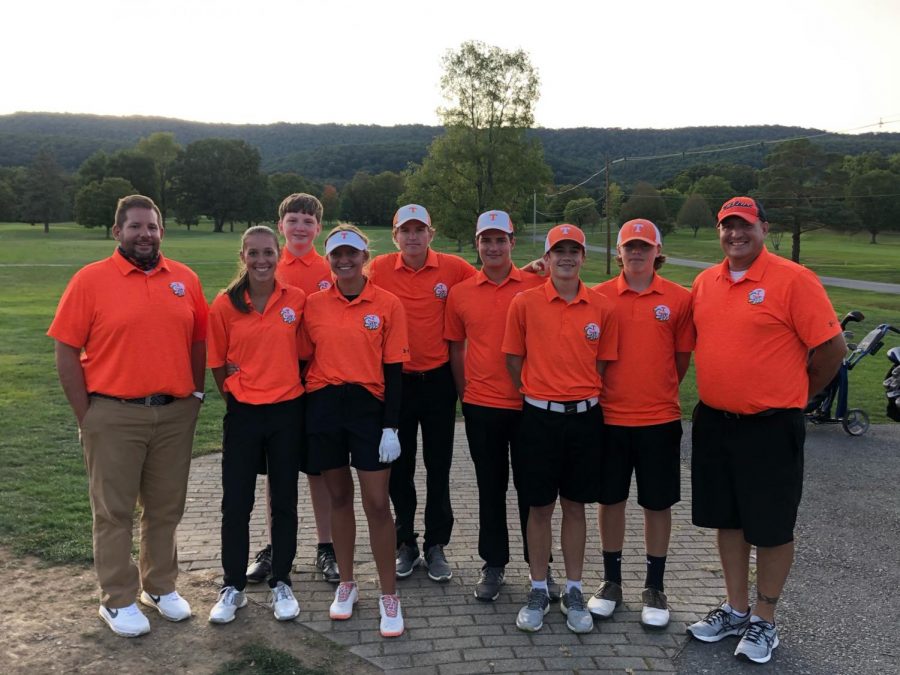 The Tyrone golf team capped off a successful regular season on Monday, September 21 with a victory over all seven other Mountain League teams at Sinking Valley Country Club, to claim the 2020 Mountian League regular season team title.
The win added to the team's 14 straight Mountain League wins in 2020.
Tyrone was led by freshman RJ Royer (Williamsburg) who shot a 77, senior Jake Taylor, who shot an 80, and sophomore Cassidy Miksich, who shot an 81. Sophomore Cyrus Ahlert rounded off Tyrone's top scores with an 87.
Royer is the fourth Tyrone golfer to post a score in the 70s this season, joining Taylor (70), Miksich (77), and Luke Brooks (77).
"RJ had a very solid round today. He's only a freshman, and has a chance to develop into one of the area's finest junior golfers," said Tyrone head coach Mike Funicelli.
After an early loss to Bellefonte at the season's first Mountain League event, the team never lost another league match. They finished first overall in the Mountain League with a record of 27-1.
With league scores of 70, 80, 81, 84,  Taylor also claimed the honor of Mountain League MVP, after falling just 1-point short of the honor last year.
Including out of conference wins against Hollidaysburg and Bellwood, Tyrone's overall regular-season record was 29-2. Their only other loss came by 1 stroke to Altoona.
"Our first goal was to win the Mountain League, and that got checked off today. Our next goal is to win districts as a team. With the ability to shoot rounds in the 70's, a district championship is in our sights. We just need to play smart, solid golf at Scotch Valley," said coach Mike Funicelli.