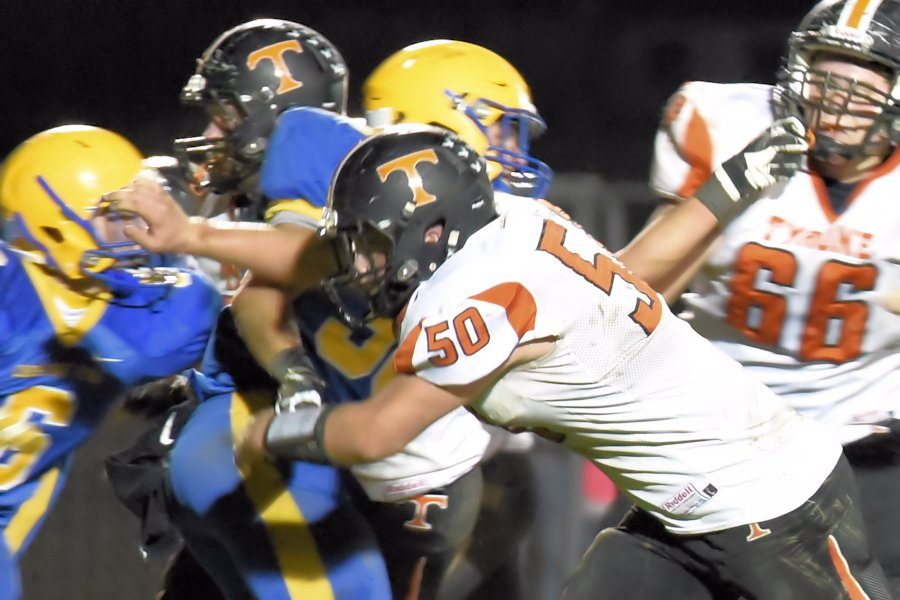 Zack Webster
The great Vince Lombardi once said "Winning isn't everything, but the will to win is everything." Tyrone looked to have lost their will to win Friday after a depressing meltdown led to a 35-21 victory for Chestnut Ridge, their first against Tyrone in the history of the program. Tyrone's offense stalled in the second half without their top two receivers Alex Weaver and Parker Mitchell.
Tyrone came out of the gates electric. The offense was executing with ease and the defense was preventing Chestnut Ridge from doing the same. The Golden Eagles struck first with a touchdown to Parker Mitchell with 7:12 still left in the first quarter. Mitchell managed to hold onto the ball after taking a fierce hit to the head. He would wind up staying on the sideline the rest of the game with concussion like symptoms. Senior standout AJ Grassi, who was questionable before the game, also wasn't able to play with a high ankle sprain.
"The injuries definitely impacted what we planned on doing and what we expected we could do," said Tyrone Head Coach Jason Wilson.
In the second quarter, after a Chestnut Ridge fumble put Tyrone in scoring position, Denver Light found Jake Meredith for a 19 yard score and a two possession lead for Tyrone going into the second half.
Just when things looked good for Chestnut Ridge, just a few plays into a promising drive, their quarterback Logan Hauck seemed to be playing catch with Tyrone's secondary after senior Micheal Lewis intercepted him, Haucks third of the night. Tyrone's offense quickly went to work and Brandon Loose took it in from a yard out to give Tyrone a commanding 21-0 lead early in the third quarter.
That's when things went haywire for the Eagles. Chestnut Ridge's quarterback Logan Hauck did his best impression of 2016 Heisman candidate Lamar Jackson and used his scrambling abilities. Hauck rushed for four touchdowns and threw for one final score in a comeback for the ages. Chestnut Ridge tied it up with three touchdowns in the fourth and then ran away with the game after two more scores.
"These kids are resilient — they've shown that throughout the year. I'm just extremely proud. I can't put it into words just how I feel," said Chestnut Ridge Head Coach Max Shoemaker.
This loss was definitely a hard one for the Golden Eagles.  Now (5-5), Tyrone earned the third seed in the playoffs and will play the sixth seed Bedford Bison Friday night at Gray Field.
Tyrone will need to heal up this week and play with fire from start to finish to win against a tough team.
"We can't lose the intensity. We still got to do the fundamentals and do the little things," coach Jason Wilson said. "That's the stuff that's cost us some games this year is penalties, turnovers, alignments and just being ready pre-snap. It seemed like we kind of lost that intensity and we lost those basic fundamentals whenever they scored."
SCORE BY QUARTERS
Tyrone    7  7  7  0 — 21
Chestnut Ridge    0  0  21  14 — 35
First quarter
Tyrone–Mitchell 4 pass from Light (Vipond kick), 7:16.
Second quarter
Tyrone–Meredith 19 pass from Light (Vipond kick), 4:47.
Third quarter
Tyrone–Loose 1 run (Vipond kick), 10:14.
Chestnut Ridge–Hauck 1 run (Knoster kick), 5:51.
Chestnut Ridge–Hauck 12 run (Knoster kick), 2:31.
Chestnut Ridge–Hauck 2 run (Knoster kick), 22.8.
Fourth quarter
Chestnut Ridge–Hauck 4 run (kick failed), 10:12.
Chestnut Ridge–Dull 33 pass from Hauck (Hauck run), 1:53.
INDIVIDUAL STATISTICS
RUSHING:
Tyrone–Loose 29-113, Light 7-14, Albright 1-2, Plummer 2-6.
Chestnut Ridge–Dillow 8-18, Dull 4-10, McGill 1-5, Hauck 19-102, TEAM 1-(-1).
PASSING:
Tyrone–Light 9-18-1-104.
Chestnut Ridge–Hauck 16-24-3-275.
RECEIVING:
Tyrone–Lewis 3-54, Meredith 2-34, Mitchell 2-10, Loose 1-6, Raling 1-1.
Chestnut Ridge–Dull 7-130, Snyder 2-36, Weaver 2-41, Harbaugh 1-31, McGill 3-29, Mowry 1-(-2).
INTERCEPTIONS:
Tyrone–Hicks, Meredith, Lewis.
Chestnut Ridge–Mowry.
TEAM STATISTICS 
First downs
Tyrone: 15
Chestnut Ridge: 19
Rushes-yards
Tyrone: 39-135
Chestnut Ridge: 33-127
Passing (comp.-att.-int.)
Tyrone: 9-18-1
Chestnut Ridge: 16-24-3
Yards passing    
Tyrone: 104
Chestnut Ridge: 275
Total yards  
 Tyrone: 239
Chestnut Ridge: 402
Fumbles-lost
Tyrone: 2-1
Chestnut Ridge: 3-1
Penalties-yards
Tyrone: 8-65
Chestnut Ridge: 8-65
Punts-avg. 
Tyrone: 4-31.3
Chestnut Ridge: 1-26.0