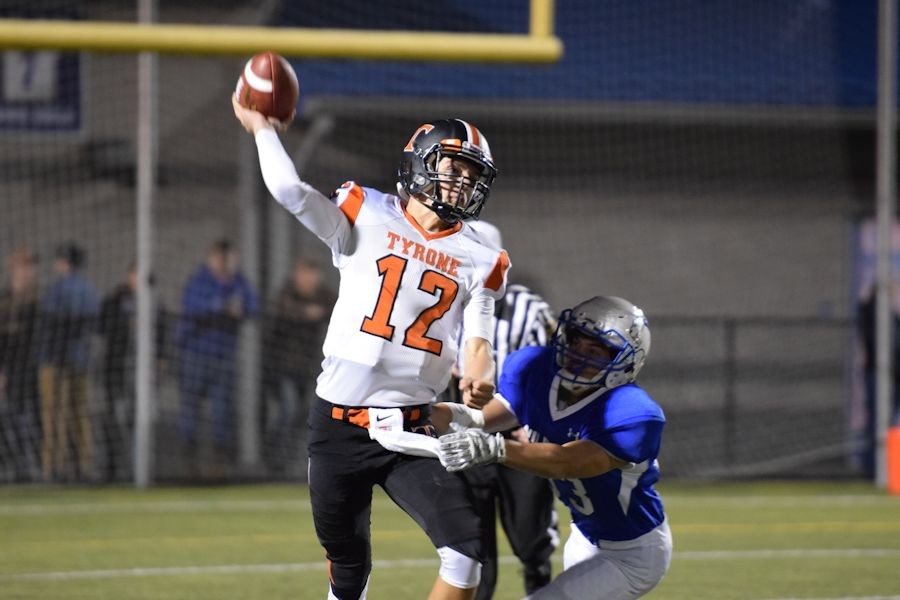 Kendra Wertz
Tyrone defeating Central Mountain is about as safe a bet as there is in high school football.  After all, the Golden Eagles have never lost to the Wildcats.
But that streak nearly came to an end on Friday night.  A botched extra point attempt in the closing minutes allowed the Golden Eagles to escape with a much needed 21-20 victory against Central Mountain.
"We were really out-worked tonight," said Head Coach Jason Wilson, "[Central Mountain] played inspired and I believe that they deserved to win the game, not us."
It was a sloppy effort from both squads, with three turnovers by each team. The Golden Eagles fumbled the ball away three times, killing any offensive momentum that they would build throughout the game. The once explosive Golden Eagle offense has only mustered three touchdowns in the last two games.
Tyrone's other scores came in clutch moments. Sophomore Brandon Loose scooped up a fumble and returned it 35 yards to as the half expired, extending the lead to 14-2.
After a Wildcat score early in the third made it 14-8, Tyrone running back Gary Weaver responded with an impressive 88 yard kickoff return.
Weaver turned the best night offensively for Tyrone with yet another 100 yard rushing performance, giving him 929 rushing yards through the first eight games. The Golden Eagle's lone offensive touchdown came on a 53 yard connection from Drew Hunter to Cullen Raftery early in the second quarter.
Parker Mitchell grabbed his 2nd interception of the season in what was a bizarre night for Tyrone's defense. They were outscored 18-7 in the second half after leading 14-2 going into halftime.
Despite the poor performance, a win is still a win in the end. The additional points from defeating a Quad-A team have elevated the Golden Eagles to 3rd in District 6 with only two weeks left to play.
Tyrone looks to defend their home turf against Penns Valley on Homecoming in their last Mountain League game of the season.