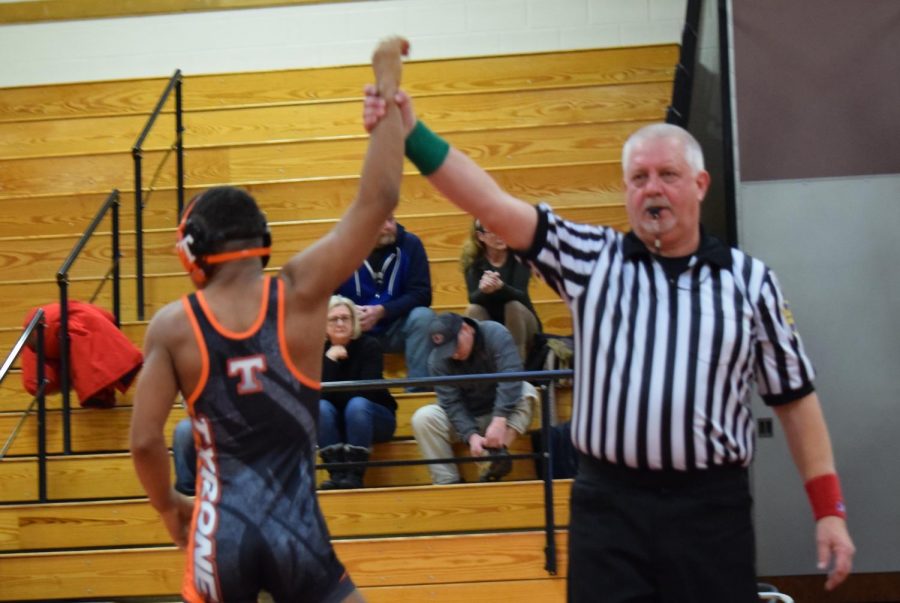 Maddy Soellner
The Tyrone Varsity wrestling team got their first win on Saturday, January 6th against the Ligonier Valley Rams.
"We pushed the pace and continued moving and fighting. We wrestled hard from whistle to whistle and that's all I can ask for," said Tyrone Head Coach Terry Tate.
Mason Walls started off the night at 113 and received a forfeit. Up next was Isaac Parks who pinned the Ram's Peyton Matson in the third period. Another six points were gained when Jamal Hicks pinned Donovan Reim in 26 seconds. Noah Sprankle then received a forfeit at 132, which put Tyrone up 24-0 against Ligonier Valley.
Ligonier Valley then went on a winning streak, pinning Tyrone's Brandon Ixtepan and Derrick Harris, winning 21-10 against Alex Weaver, and receiving a forfeit at 160, which made the score 24-22 Tyrone.
At 170, Kyle Plummer received a forfeit. Tommy Hicks' match at 182 remained scoreless throughout the first period. Hicks chose down to start the second period and quickly escaped. Ethan Boring got a takedown and three near-fall points, making the match score 5-1. Hicks then got a reversal and pinned Boring, which boosted the team score to 36-22 Tyrone.
"Tommy Hicks really stood out to me. He has been working hard at practice and has been gaining confidence in himself and I think that showed during his match," said Tate, "He got back to the basics and wrestled a smart match, he got caught early on and fought off his back and was able to regain composure and keep working hard. He turned a possible 6 points for Ligonier Valley into 6 points for us."
The Rams then won three matches in a row, beating Jack Lewis 10-3, receiving a forfeit at 220, and pinning Dan Peterson at 285. Those three wins pushed Ligonier Valley ahead 37-36 with one match left.
Hunter Walk then came in clutch and received a forfeit at 106, to win the match 42-37 Tyrone.