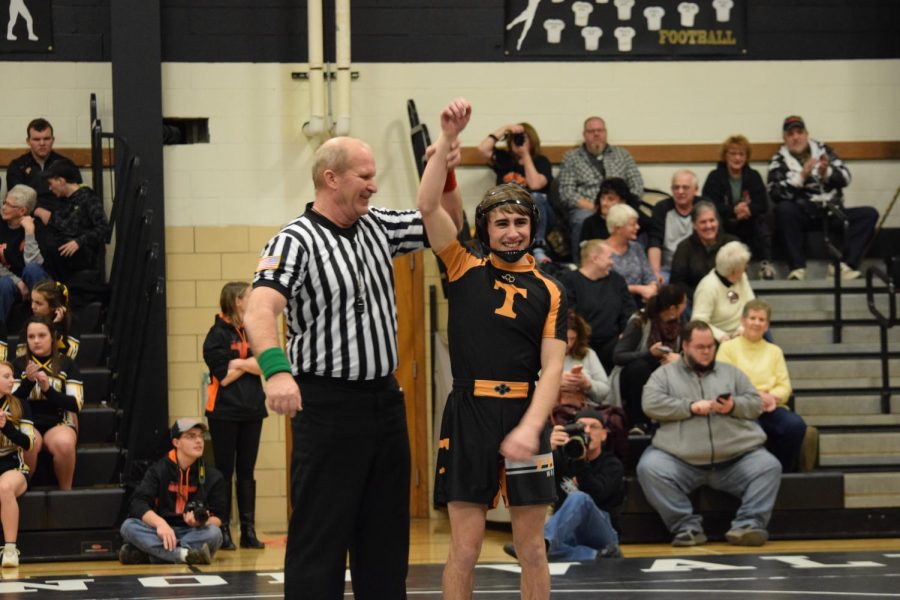 Cate Baran
The Tyrone Golden Eagle wrestling team beat the Moshannon Valley Black Knights 48-30 on Thursday, January 30th. Tyrone got pins from Kalen Miles and Jermaine Myers and received six Mo Valley forfeits to boost them to the victory.
The match started at 195 where Tyrone's Luke Hite wrestled David Honan. Honan took Hite down twice in the first period and Hite escaped twice. Hite deferred going into the second period and Honan chose down. Honan got the two-point reversal and then pinned Hite in 2:55.
At 220, sophomore Jason Barr received a forfeit, making the team score 6-6.
Kaleb Miles wrestled Moshannon Valley's Nathan Beers at 285. The match was scoreless going into the second period until Miles chose down and quickly escaped. Beers then took Miles down and earned three near-fall points, making the score 5-1. Miles quickly recovered, got a reversal, and then immediately pinned Beers.
Tyrone received two forfeits against Korry Walls at 106 and Hunter Walk at 113.
There was no match at 120 and Tyrone forfeited two matches at 126 and 132, making the team score 24-18 Tyrone.
At 138, Tyrone sophomore Gavin Frazell faced Austin Shoff from Moshannon Valley. The first period was scoreless until Shoff took down Frazell in the final seconds. Frazell deferred at the start of the second period and Shoff chose down. Shoff escaped and quickly took Frazell down. Shoff then pinned Frazell at 3:29.
Dominick Maloney received a forfeit at 145, making the team score 30-24 Tyrone.
Tyrone's Jermaine Myers took on Moshannon Valley's Aaron Domanick at 152. Myers scored the only points in the first period when he took Domanick down. Myers chose neutral at the beginning of the second period and quickly took Domanick down and earned two near-fall points. Domanick escaped, but Myers took him down once again and pinned him at 2:57.
At 160, Dean Grassi got pinned by Moshannon Valley's Nikolaus Smeal in 58 seconds.
To end the night, Tyrone received two more forfeits against Alex Weaver at 170 and Zack Lash at 182, making the final team score 48-30.
Tyrone wrestles again at Bellwood on Tuesday, January 4th, and their next home match is Wednesday, January 5th against Central