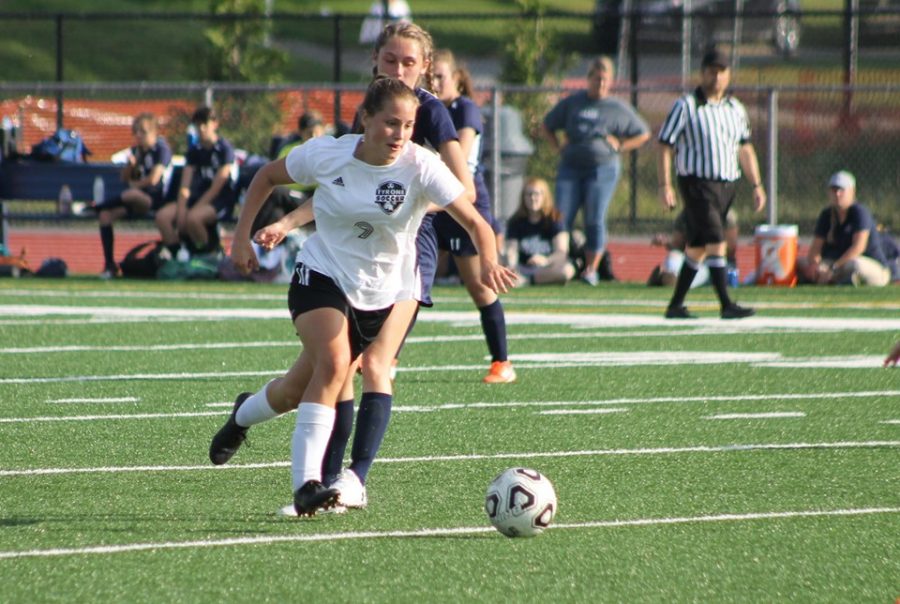 Courtesy of Aaron Vance
It only took 17 seconds for Tyrone freshman midfielder Chloe LaRosa to make her presence known in her first career varsity game. LaRosa stole the ball from Philipsburg's center midfielder at the kick-off, dribbled past the Mountie defense and scored to make it 1-0.  LaRosa would go on to score a total of four goals in her first varsity game as the Lady Eagles dominated the Lady Mounties 8-1.
"I've gotten to watch Chloe grow up around the sport of soccer, so getting to be part of her first varsity game was a sweet moment," said senior Captain Madison Soellner. "Chloe has a very bright future ahead of her and I cannot wait to see where it takes her. I'm beyond proud of the person and player she has become."
The Lady Eagles struggled to earn another goal until the 28th minute of the game. LaRosa scored her second goal with an assist from sophomore Lindsey Parks.
LaRosa made it a natural hat trick by scoring another goal with an assist from sophomore Sophia Nelson at 31:42, making the score 3-0 Tyrone.
The last goal of the half was scored by freshman Avalyn Moore with an assist by LaRosa for Moore's first varsity goal.  Tyrone went into the break with a commanding 4-0 lead.
In the second half, Tyrone junior Kendall Markley scored two goals. Her first goal was unassisted. The second started with a cross from the outside mid-fielder, sophomore McKenzie Latchford, and was finished by Markley.
"It's nice to see the team working together. The upcoming freshman and other players have put in so much effort throughout the season so far and it has already shown that it is paying off," said Markley.
PO's lone goal came from Megan Kosut at the 66:42 mark.
Tyrone freshman Eliza Vance also scored the first goal of her varsity career. Vance took three shots at the keeper in less than ten seconds to get the ball in the net.
SCORE BY HALVES
Tyrone 4 4 — 8
Philipsburg-Osceola 0 1 — 1
First half: T–Chloe LaRosa (unassisted) 0:17; T–Chloe LaRosa (Parks), 28:46; T–Chloe LaRosa (Nelson), 31:42; T–Avalyn Moore (LaRosa), 39:00
Second Half: T–Chloe LaRosa (unassisted) 60:37; T–Eliza Vance (unassisted) 61:24; T–Kendall Markley (unassisted) 62:54; PO–Megan Kosut (unassisted) 66:42; T–Kendall Markley (Latchford), 76:10