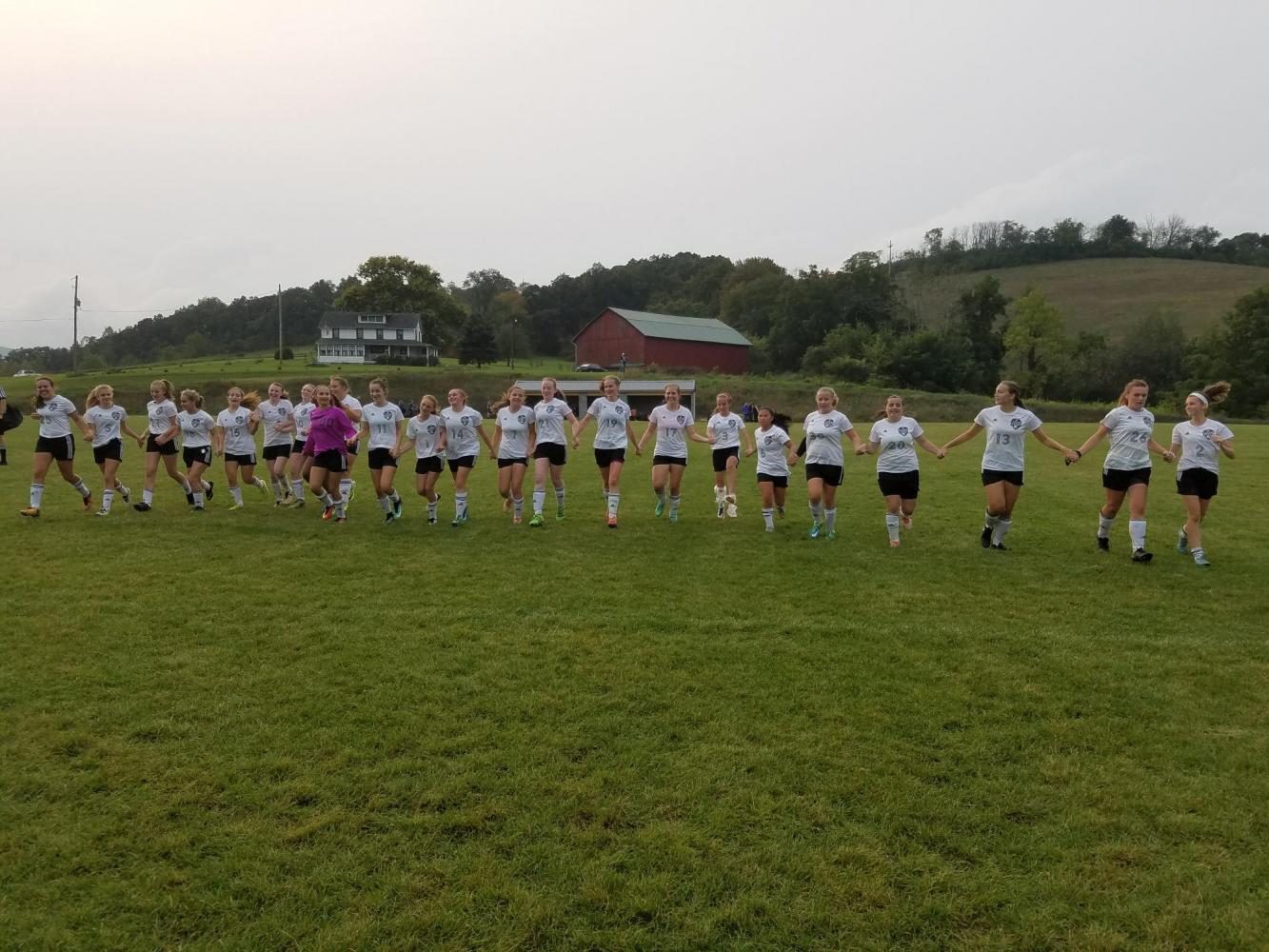 With two conference games, the Tyrone Girls Soccer team had a busy opening week. The girls began the week with a thrashing of Phillipsburg-Osceola and concluded it with a hard-fought loss at Central.
Tyrone 6 PO 2
After a slow start in the previous week's scrimmages, Tyrone was all business in their season opener against Phillipsburg-Osceola. Eight minutes into the game, Maddy Soellner connected with Riley D'Angelo to begin a relentless Tyrone attack. Less than five minutes later, Maqqel Kosoglow cut her way through the Mounties back line to make it 2-0 Tyrone. Soon after, Chloe Makdad stumbled upon a ball from D'Angelo off a corner kick, widening Tyrone's lead.
Phillipsburg tried to mount a counterattack, but Tyrone's backline remained calm and only permitted a few shots in the first half, all saved by goalkeeper Kelsey Johnson.
Twenty-three minutes into the first half, D'Angelo registered her second goal of the day off an assist by Ella Pearson. D'Angelo would dribble though the Mountie's defense five minutes later, sliding a ball past their keeper and recording her first hat-trick of the season.
With a 5-0 lead going into the second half, Tyrone focused on maintaining possession, showcasing composed, uneventful play until Kosoglow sent a ball through a gap in Phillipsburg's defense to find a racing Aaryanna Wright to make it 6-0 with five minutes remaining in the game.
"Scoring six goals from four different players exemplifies a total team effort," said Head Coach Mike Sparacino.
The Mountie's Jordan Day would send a free kick over Jess Chronister's head with about four minutes remaining, and, in the final minute of the game, Loryn Hughes would send a ball into the corner of Tyrone's goal to make it 6-2. That would be the extent of Phillipsburg's comeback, with the final whistle cementing Tyrone's first victory.
"I am extremely proud of the team effort yesterday," Sparacino said. "The passing, the movement – everything was perfect."
Score by Halves:
Tyrone: 5 1 6
PO: 0 2 2
1st Half: T- D'Angelo (Soellner) 7:45, T- Kosoglow (unassisted) 12:22, T- Makdad (D'Angelo) 17:06, T- D'Angelo (Pearson) 22:32, T- D'Angelo (unassisted)
2nd Half: T- Wright (Kosoglow) 34:17, PO- Day (unassisted) 35:54, PO- Hughes (Bartley) 39:05.
Central 4 Tyrone 1
Sometimes the score line doesn't tell the whole story. It may appear that Tyrone simply lost to Central 4-1 on Thursday. A reader may infer that the defending Mountain League Champion's attack proved to be too much for Tyrone's defensive line to handle. They may infer that Tyrone couldn't produce enough offense to keep up.
And they would be right.
But a reader may also assume that Tyrone was outplayed, outwitted, and outhustled by the Dragons. They may assume that Central dictated play and dominated the game from the beginning to end. They may assume Tyrone's goal keeper couldn't handle what was coming at her.
But, this time, they would be wrong.
Before the game, head coach Mike Sparacino had a message for his team: "Don't play scared."
While after 80 minutes, Tyrone didn't come away with the win, they didn't back down. Central's Ashley Negley opened scoring when she redirected the ball past two Tyrone defenders during a scrum in the penalty box twenty minutes into the first half. The score would remain 1-0 in favor of the Dragons until Negley once again scored off an assist from Tori Logenecker midway through the second half.
D'Angelo would convert one of Tyrone's few chances minutes later, lofting the ball out of the reach of Central's keeper after Elina Lure found her with some space.
With about ten minutes left in the game, Negley would dribble through Tyrone's defense to widen Central's lead, and six minutes later she would put the game away with a goal off another pass from Longenecker.
"We played amazing. We lost, but we destroyed them," said Lure. "We don't have to win the game to overcome the team."
The score line doesn't show that it was a one-goal game for 70 minutes. The score line doesn't show that Central had to abandon the formation that has won them titles to cope with Tyrone's defense. And the score line does not show that Kelsey Johnson had the game of her life, making an astonishing 28 saves to keep Tyrone in the game.
Score by Halves:
Tyrone: 0 1 1
Central: 1 3 4
1st Half: C- Negley (Smith) 19:11.
2nd Half: C- Nelgey (Longenecker) 20:11, T- D'Angleo (Lure) 23:58, C- Negley (unassisted) 28:34, C- Negley (Longenecker) 35:07.
Tyrone will play their last home game until the end of the month tonight, when they take on the Huntingdon Bearcats at 4:00. After the varsity game, the JV team will have their first game of the season. Cost of admission is $5 for adults and $3 for students.