Game Review: NES Classic Edition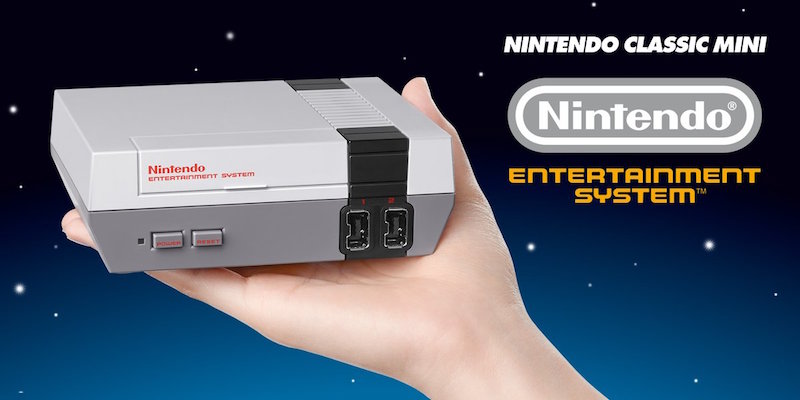 Any child of the 80s  knows all about the Nintendo Entertainment System (NES). It was one of the first home video game consoles released in North America, making its debut in October 1985. It contained two controller sockets and 8-bit video games on large plastic cartridges.
The NES revolutionized gaming forever with the comfortable feel and rectangular shape of its iconic controller. The system was discontinued in North America in August 1995, but not before selling over 60 million units.
On November 11, 2016 Nintendo will be going back to the future with the release of the new NES Classic Edition. It is a miniature NES with 30 pre-installed classic NES games (click the link to see the complete list of games), including the first three Super Mario Bros., The Legend of Zelda, Galaga, Donkey Kong, Pac-man, and lots of other classics. The new system has two controller sockets, just like the original, but can be hooked up to a TV or monitor via a HDMI cable which is compatible with most modern TVs.
At only $60.00 it is undeniably worth the price considering that original game cartridges for the NES can go for hundreds of dollars each these days. That's the average price of one video game today. Unfortunately, for most retro gamers who still have cartridges, there is no way to play them on the Classic Edition, nor is there any way to install games onto it. Out of the 884 NES titles, there are bound to be lots of games that wont be available to hard core retro gamers. Along with the inability to insert old games, Nintendo does not have plans to upgrade the Classic Edition in any way.
But other than that one flaw, the Classic Edition looks like loads of nostalgic fun. For those who have played these classics before, it is highly recommended you buy yourself one to experience them once again. For new gamers who have never played or heard of them, you should definitely give some of the most iconic and influential games in history a chance. 
About the Contributor
Caden Brooks, Video Editor
Hey, what's up. My name is Caden Brooks, and I'm a big ol' senior. This is my third year in Video Production & Eagle Eye. My hobbies include...