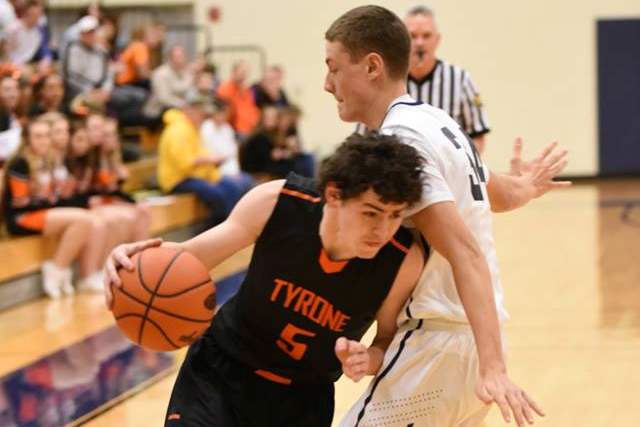 Terry McCaulley
For much of the District 6 consolation game it looked as though the Tyrone Golden Eagles would avenge its 63-36 regular season loss to the Penns Valley Rams.  The Eagles controlled the first half of play, led for almost three quarters by as much as 13 points, but fell apart near the end of the third and in the final frame to lose 50-33.
Tyrone came out strong on defense at the beginning of the game, limiting the Rams to only 2 points in the first quarter and 7 in the second. Tyrone was up 19-9 at the half and looked strong. Junior Alex Weaver showed skill, drilling a long three and helping a lot on the boards.
At the pace they were going, it looked like Tyrone would win by a comfortable margin.
But Penns Valley's Logan Pearce came alive in the third quarter, splashing threes from way downtown and Tyrone began turning the ball over.
Penns Valley capitalized big time on the momentum shift, outscoring Tyrone 26-9 in the second half. Pearce continued to score like a mad man. Guard Ben Alexander showed up as well, finishing the game with 17 points.
Penns Valley dug themselves out of a hole and by end of the third the game was tied 24-24.
Tyrone big man Anthony Politza scored 16 points, and was really into the game defensively for the first and second quarters. He also helped immensely on the boards, keeping 6'6″ Senior Zach Engle off the glass in the first half.
"The second half was absolutely horrible. Everything we did against the zone in the first half we never did again and Penns Valley brought the energy," said Politza.
Tyrone's Alex Weaver finished with 10 points and a few boards. Other than Politza and Weaver, no one scored over 5 points. That stat just won't win games, especially against a tough Mountain League opponent like Penns Valley.
The Eagles season is not over, but losing against Penns Valley made the path forward much steeper as the Eagles will now have to face the number one seed out of the WPIAL conference, either Aliquippa or Lincoln Park,  in the first round of the PIAA playoffs which open next week.
BOX SCORE
TYRONE (33): Soeliner 0 2-2 2; Mitchell 0 1-2 1; Meredith 1 1-4 4; A. Weaver 3 2-2 10; Politza 7 2-5 16; G. Weaver 0 0-0 0. Totals – 11 8-15 33.
PENNS VALLEY (50): Alexander 6 5-9 17; Kines 0 1-2 1; Collison 1 0-0 3; Pearce 5 4-6 19; Tobias 1 1-2 3; Engle 3 1-2 7. Totals – 16 12-21 50.
SCORE BY QUARTERS
Tyrone: 9 10 5 9 – 33
Penns Valley: 2 7 15 26 – 50
3-point goals: Tyrone 3 (Meredith, A. Weaver 2); Penns Valley 6 (Pearce 5, Collison).
Records: Tyrone 13-8; Penns Valley 19-5.