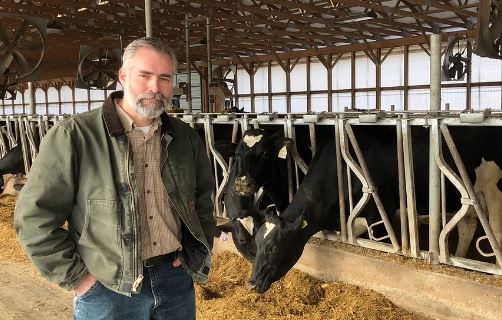 courtesy photo
In the May 15th primary, voters of the 80th District of Pennsylvania will elect candidates for a new State Representative to replace Judy Ward, who is running for the Pennsylvania State Senate.
Chris Creek of Huston Township is one of two Republican candidates running for the 80th district seat.  The other Republican candidate on the ballot is radio personality Jim Gregory, and on the Democratic ticket is Hollidaysburg attorney Laura Burke.
Creek is a 1988 graduate of Philipsburg-Osceola High School and attended Penn State University. He earned a BS from Liberty University, graduating Magna Cum Laude in interdisciplinary studies.  Creek works in agriculture, helping farmers adopt more advanced farming practices. He previously lived in Bellwood and served on Bellwood borough council. He is currently the Vice President of the Blair County Farm Bureau, and is a member of the National Rifle Association. He and his wife Abby have five children: Mercy, Grace, Liam, and Wyatt. 
When asked the main reason he is running for the Pennsylvania House, Creek said "There are constant attacks on conservative social and constitutional values, and I am prepared to defend them vigorously, although I expect my primary efforts to be focused on growing Pennsylvania's economy. When I'm out discussing issues with voters, whether we discuss agriculture or any other industry, the topic of crushing regulations and taxation within Pennsylvania nearly always arises."
"We have a tax and regulatory structure that is driving businesses away and removing opportunities for our residents. As a result, our tax base shrinks, and local municipalities are forced to raise taxes even more. It's a devastating cycle that will not be fixed until our representatives in Harrisburg make some uncomfortable decisions, and do what is right for the Commonwealth, rather than what will generate the most campaign donations," said Creek.
Another issue that Creek has been pushing in his campaign in term limits for the PA House and Senate. If elected, Creek has pledged to serve no more than three terms in the Pennsylvania House. 
"I believe that term limits are at the core of our economic issues. Our current system simply allows a small number of people and powerful organizations to have too much control in Harrisburg. As a result, the voices of the people are drowned out," said Creek.
"My goal is to serve no more than three terms in the Pennsylvania House and then return to the private sector, working in agriculture. While I would consider other opportunities to serve, I am more likely to serve at a local or county level in the future, rather than a higher office. That's simply not what I aspire to," said Creek.
According to Creek, the most important issues in the election are the state pension system and property tax reform.
"The pension system must be addressed in this term, or it will be nearly impossible for us to catch up with contributions. The path that we are on is unsustainable," said Creek, "Property taxes are a moral issue in addition to an economic one. How can we allow retirees who worked their entire lives to own their home, be forced to leave that place where they made all of their life's memories? I honestly don't know exactly what the solution looks like, but it's time to work out the answers to these challenging questions."

On the issue of school security, Creek supports the idea that each school have an armed resource officer but also believes in local control.
"Each local school district should be empowered to protect our schools in the way they believe is best. There is no one-size-fits-all solution. The key is that there should be freedom for the districts to act in the best interests of their own schools, their own students, and their own communities."
"If the voters in the 80th District could know one thing about me, I'd like them to know that they can trust me to act, and to vote, according to my principles. They can know that I am guided by constitutional principle and firmly committed to defending them. I will not be swayed by party interests, special interests, or by corporate interests. Just as importantly, I'm not even guided by self-interest," said Creek.