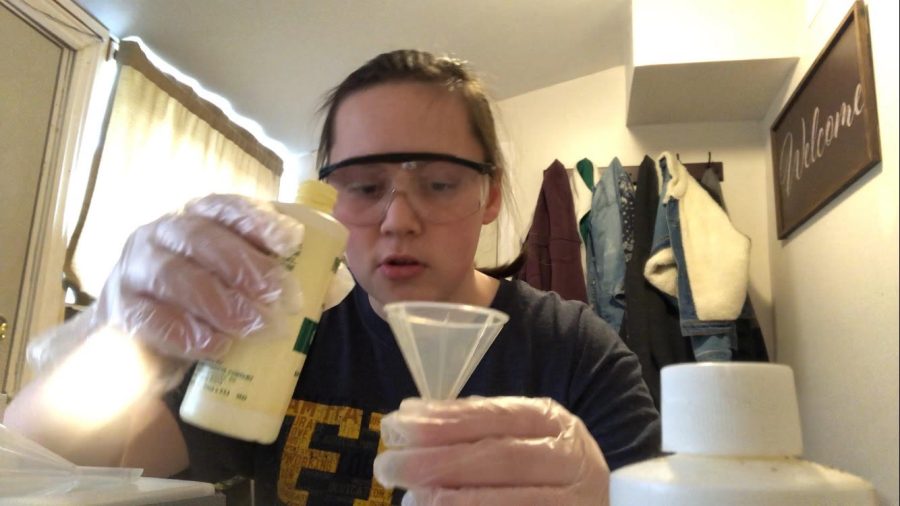 Grace Peterson
Eight schools from across Pennsylvania submitted more than 70 projects to the 2022 PA State FFA Agriscience Fair, with the Tyrone Area FFA Chapter receiving top honors.
Tyrone students earned 24 awards, and five TAHS projects captured first place in their category, earning the right to submit their projects to the National Agriscience Fair in June.
"It is an amazing accomplishment to receive the first place at the state level. After four years of creating and running agriscience projects, it's hard to imagine I have the chance to represent my chapter at the National level and received first place at states," said Tyrone senior Grace Peterson.
First place award winners for the Tyrone FFA were Emma Bartel, Trinity Lingafelt, Ryan Seeger, Dylan Ewing, Grace Peterson, and Lilly Ray.
The Pennsylvania State FFA Agriscience Fair recognizes students for their work on hands-on projects in agricultural enterprises.
Twenty-six Tyrone Area FFA members submitted projects that used scientific principles to solve complex problems related to agriculture, food, and natural resources.
All agricultural education students at Tyrone Area High School began this process in September and present their research at a local event in early December.
Twenty-four projects were prepared and submitted to the PA Farm Show state event on January 7, 2022. Interviews were to take place that day but were canceled due to weather conditions in other areas of the state.
The competition is divided into six categories and two age groups; grades 9-10 and grades 11-12. It is also split into team and individual projects.
"The categories, type of competitors, and age groups are set by the National FFA Organization through their National Agriscience Fair Competition," said Tiffany Hoy, FFA Advisor.
Topics covered by the projects were wide-ranging including food products and processing systems; animal systems; plant systems; power, structural, and technology systems; environmental and natural resources systems; and social systems.
"Back in September, we were challenged to identify a problem of interest and then narrow down a research question through some brainstorming activities. Next, we conducted a literature review,  which helped us to develop a hypothesis. From there we identified our dependent and independent variables and created procedures for our experimental trials. By October and November, we generated preliminary results and displayed the data through a written report. Then we created a Google slide presentation which we had to present to Mrs. Hoy," said participant Maverick Fleck. "I actually had the opportunity to work on my project his summer.  Mrs. Hoy and I met in the spring about some ideas and interests. I tested potato yields."
The winners for the Tyrone FFA were:
Food Products and Processing Systems
Individuals Grades 11-12: Emma Bartel (1st place), Rayann Walls (2nd), Michael Chronister (3rd), Jaden Williams (4th), Kiara Rhoads (5th), and Randi Williams (6th)
Plant Systems
Individual Grades 11-12: Trinity Lingafelt (1st)
Individuals Grade 9-10: Maverick Fleck (5th) and Conner Bennet (6th)
Power, Structural, and Technical Systems
Individual Grades 11-12: Ryan Seeger (1st), Jenna Weyer (2nd), and Noah Updike (3rd);
Individuals Grade 9-10: 1st Place – Dylan Ewing (1st) and Nora Hoy (2nd)
Team Grade 9-10: Caleb Lawson/Tristain Conterras (6th)
Environmental Services/ Natural Resource Systems
Individual Grades 11-12: Grace Peterson (1st), Hailey Houck (2nd), and Leo Veit (3rd)
Individual Grade 9-10: 2nd Place – Brienn Jones (2nd)
Team Grade 9-10: Brayden Parsons/Collin Musser (2nd)
Animal Systems
Individual Grade 11-12: – Catherine Ewing (2nd)
Individuals Grade 9-10: 4th Place – Noah Newlin (4th) and Remington Weaver (5th)
Social Systems
Individuals Grade 11-12: Lilly Ray (1st)