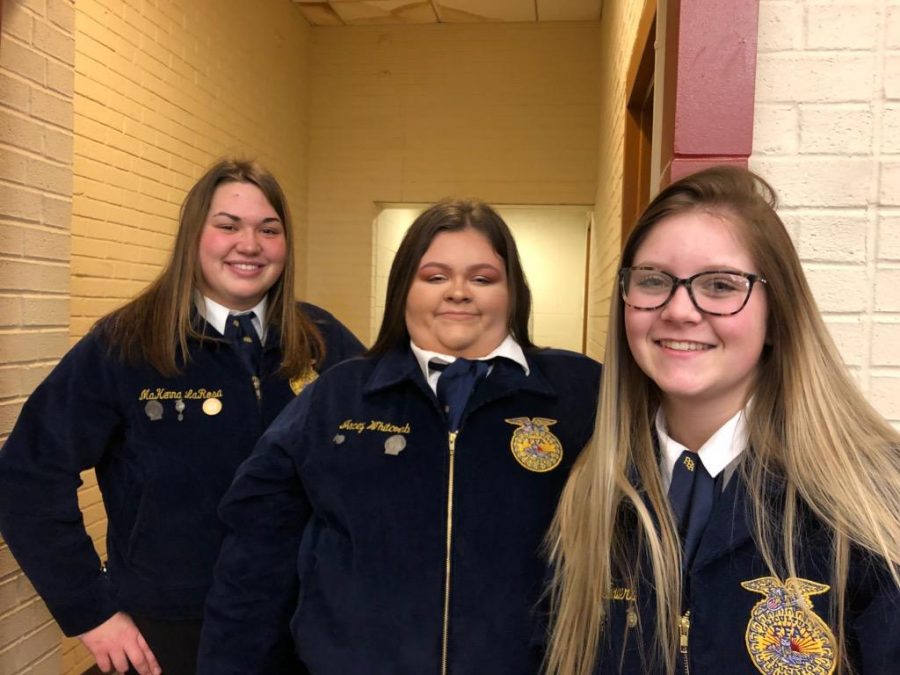 Tiffany Hoy
Five Tyrone FFA student's AgriScience Competition projects won first place at the 103rd Pennsylvania Farm Show in Harrisburg. Fourteen other Tyrone Area High School Agricultural Students also placed in the State FFA AgriScience Competition. Their topics varied from social systems to animal science and the environment.
"I'm very proud of our students and what they accomplished since September.  The competition is very tough and I am elated to have four selected for first place in the state," said Tyrone Area FFA Advisor Tiffany Hoy.
Sophomore Karlie Diebold's winning project focused on finding the most effective method of limiting soil erosion after a crop harvest.
"I was very excited to have gotten first place because I didn't expect it, and I beat some good schools," said Diebold.
Seniors Jacey Whitcomb and MaKenna LaRosa's project involved testing 25 beagles with five different colored chew toys to determine what colors the dogs could see the best and were the best option for training.
"I could't believe we ended up getting first place. I'm so proud of all the hard work we had to do to get that far. I always have a good time and I'll never forget the memories", says LaRosa.
Sophomore Garin Hoy focused on microbiology. "After last year, I knew I wanted to improve upon and expand my project.  I found out that I like working with microbiology.  I excited and hope I will be able to compete at the National level. Thanks to Ms. Shick and my mom for helping and kicking me in the pants when I needed some motivation," said Garin Hoy.
Senior Travis Yazzie, who placed fourth in the Power, Structural & Technical Systems category learned a lot from his project.
"Dairy farmers invest a lot of money into the production of milk, but have a very little return from the sale of milk products.  I was shocked on how much money dairy farmers spend on nitrile rubber gloves for the purpose of providing sanitation while milking," said Yazzie.
All the students who competed said that they  enjoyed the experience.
"It was fun meeting new people from different schools, and having a chance to compete," said Abe Black, who won seventh place for his project.
In February the posters and boards will be on display in the Career and Technology wing of the school as part of the National FFA Week Celebrations, added Mrs. Hoy.
All first place winners have the opportunity to submit their reports to the National FFA AgriScience board in June.  Only the top 12 in each category and division are selected to present at the National FFA Convention in October.
Results for Tyrone Area FFA Chapter:
Food Products and Processing Systems
9-10 grade
Garin Hoy – 1st
Jillian Williams – 4th
Travis Hunter –  6th
Abe Black – 7th
Plant Systems
9-10 grade
Kaylee Updike – 4th
Lyndsey Fleck – 5th
11-12 grade
Gracey Walk – 2nd
Animal Systems
9-10 grade
Kaila Moon – 6th
Grace Peterson – 8th
11-12 grade team
MaKenna LaRosa and Jacey Whitcomb – 1st
Power, Structural & Technical Systems
9-10 grade
Wade Hendrickson – 2nd
Alyssa Luciano – 3rd
11-12 grade
Travis Yazzie 4th
Environmental and Natural Resources System
9-10 grade
Karly Diebold – 1st
11-12 grade
Guy Williams – 4th
Logan Johnston – 7th
Social Systems
11-12 grade
Haylee Blowers – 1st
Reilly Ronan – 2nd