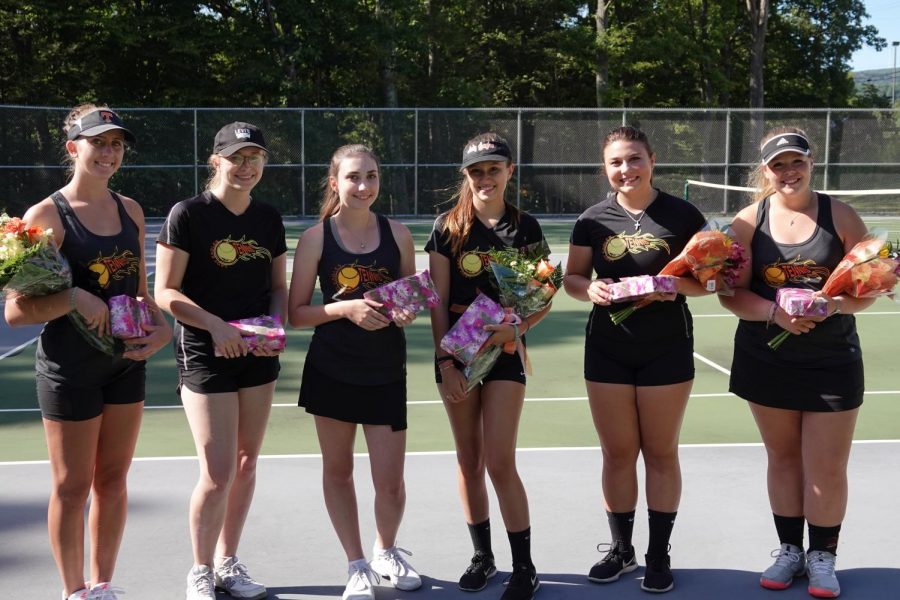 Rachel Stricek
The Tyrone Girls Tennis team ended their 2019 season on October 14th with a 4-3 loss against Grier. The team ended their season with an overall winning record of 8-6.
For the second consecutive year, senior Winnie Grot was the Mountain League MVP.  Teammate Lydia Irvin was also named a the Mountain League first team all-star.
As a team this was somewhat of a rebuilding year as they welcomed four new players, Ashlynn McKinney, Emily Dale, Lexus Weaver, and Sarah Butina. 
The girls kicked off their season with an away match against Central, Tyrone's biggest rival in tennis. Unfortunately, Tyrone fell to their rival 5-2. But Tyrone's number one player Winnie Grot won her match, which she continued to do all season long. 
The 2019 team featured five four-year seniors: Alicia Endress, Lindsey Walk, Emilee Walk, Olivia Reese, and Winnie Grot.
"I will definitely miss [the seniors'] contrasting personalities and I will miss having them on our team. Also, this was probably the most talented group of seniors I have ever coached, so I will definitely miss their playing abilities," said Tyrone Head Coach Randy Irvin.
Senior Lindsey Walk has been playing tennis since freshman year and thought that this year was the best of the four.
"This year's tennis season was probably the best year. I've made so many friends and unforgettable memories, and I'm going to miss each and every one of the girls involved with the tennis team and especially my coaches," said Walk.
Another unique thing about this year's team is that it truly was a family affair with three sets of sisters on the team, Emilee and Ashley Walk, Olivia and Victoria Reese, and Emily and Megan Dale, as well as Head Coach Irvin's daughter Lydia Irvin.
In addition to the five seniors, Tyrone tennis will also be sadly losing its assistant coach, Coach Klesius, after this year.
When asked what he will miss the most about coaching the tennis team, Coach Klesius reflected, "I'll miss seeing the girls everyday. At practice and at meets. Laughing with them and trying to get Bella to smile. These are some of the best times of their lives and I want them to enjoy it and not take everything too serious! I'll miss [them] all!" 
Although the team will be losing many valuable players, Irvin is still looking forward to next year and planning on improving the team.
"I'm going to switch up our conditioning next season by adding more agility training. Also we are going to go over more situational tennis during our practices," said Coach Irvin.