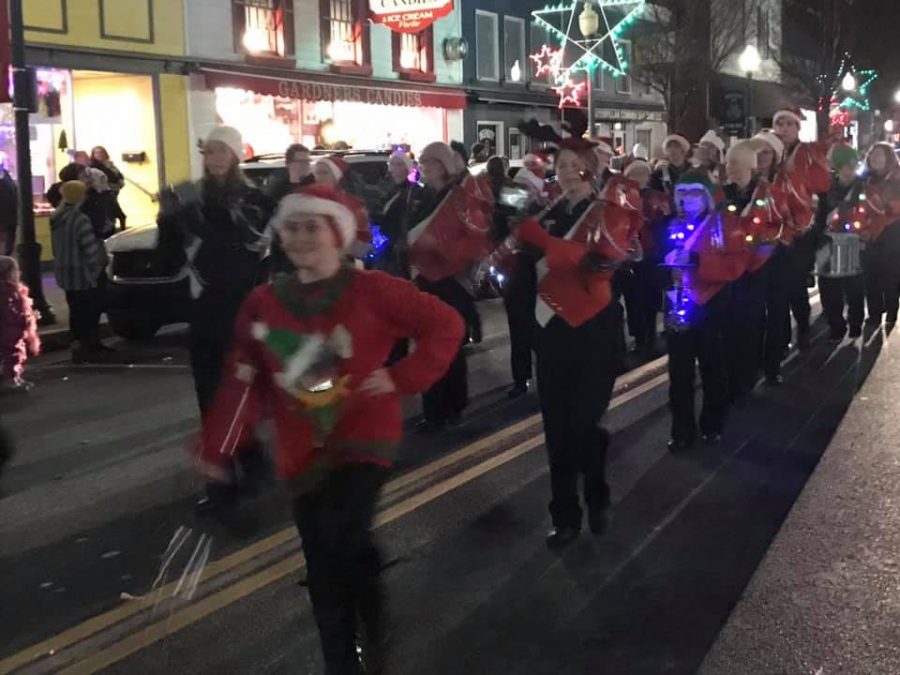 Photo courtesy of the Tyrone Events and Promotions Facebook Page
As the holidays begin, the focus has shifted to Christmas celebrations and how they will be affected by COVID-19.
Christmas is traditionally the season that families travel and friends and co-workers get together. The thought of losing another tradition to the coronavirus is a difficult thing for many people to accept.
However, since experts agree that large indoor gatherings are the main drivers of COVID infections, infectious disease experts have warned that big gatherings for holidays are not a good idea.
The statistics as Americans move into the holidays are grim.
As of December 22nd, COVID-19 has killed 1.7 million people worldwide, 320,000 people in the United States, 14,000 people in Pennsylvania, and 145 people in Blair County.
Infectious disease specialist Dr. Anthony Fauci agrees that people would be wise to avoid large gatherings this holiday season.
"If the surge takes a turn of continuing to go up and you have the sustained greater than 100,000 infections a day and 1,300 deaths per day and the count keeps going up and up … I don't see it being any different during the Christmas and New Year's holidays than during Thanksgiving," says Fauci.
The weeks after Thanksgiving saw the highest spike in hospitalizations yet, with a 100,000 person increase in hospitalizations across the country, which is the highest recorded surge according to the COVID Tracking Project.
Nationwide, there are currently over 20,000 people in the ICU, and over 6,000 people on ventilators.
In Pennsylvania, there are currently over 1,200 COVID patients in ICU. On December 21st, Blair County reported its lowest number of ICU beds available since the start of the pandemic, with only 8.4 beds available on a rolling average of 14 days.
The spike occurred right after Thanksgiving which implies that the increase could be due to less social distancing and more indoor gatherings over the holiday. That means that Christmas could have disastrous effects.
According to the Tyrone Eagle Eye Survey done in September only 14% of students said they were "very concerned" about COVID-19. If this trend continues there is a chance that Christmas could see a bigger spike than Thanksgiving.
Which was one of the factors that went into Tyrone Area School District announcing last week that they would stay virtual for the first week after the holiday break.
However, despite warnings of possible spikes, Thanksgiving only saw about 6 million less travelers than 2019.
Christmas is a holiday that sees around 100 million people traveling. If Christmas follows the path of Thanksgiving then we will see a big spike in COVID-19 cases.
Even small gatherings can have a resounding effect if the people who have them aren't careful.
"Although there isn't much data available on small gatherings, experts speculate they could be one of the major drivers of the pandemic, especially when they include multiple households," says USA Today.
This year many of the usual holiday traditions could be hazardous.
"Given the cold weather and given the fact that these types of celebrations – as wonderful and beautiful and traditional as they are – are fundamentally indoor things with people who will be singing and laughing and eating and drinking … you've just got to be careful," says Fauci.
Fauci recommends that families enjoy a quiet holiday with their close family and save the large gatherings for later in the spring and summer when the vaccine has been more widely distributed and cases hopefully begin to fall.
The silver lining to all this bad news is that Fauci does excludes one person from all this mayhem: Santa.
"Santa is exempt from this because Santa, of all the good qualities, has a lot of good innate immunity," Fauci said. "So, Santa is not going to be spreading any infections to anybody."