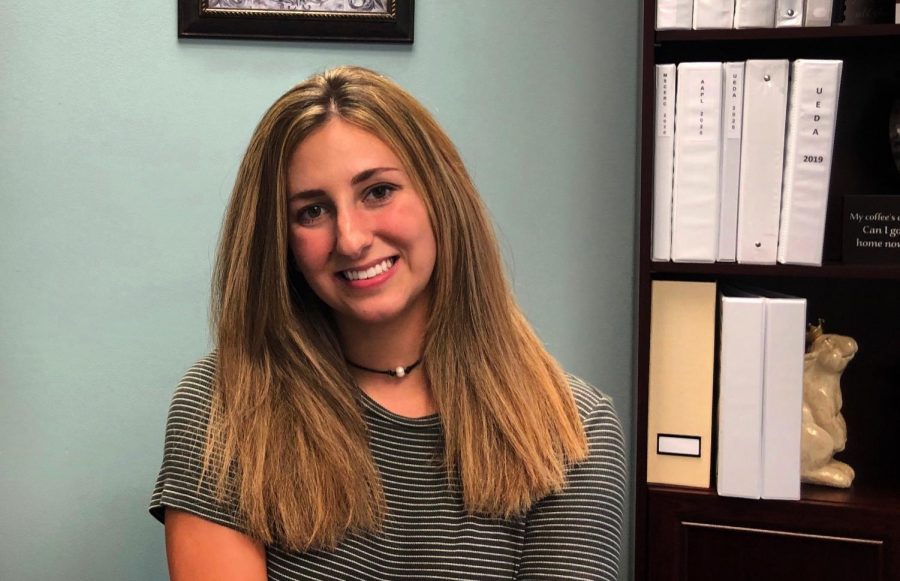 Photo courtesy of Haley Hamschin
Penn State junior Haley Hamschin has struggled to overcome an eating disorder since middle school. 
For Hamschin, a multi-sport athlete, playing basketball and running cross-country, her eating disorder didn't stem from her desire to lose weight, it grew out of her drive to become a better athlete.
"I was very serious about sports. It started not with food, [but with me] me trying to be a better athlete. I started putting a lot of time into my sports. I started exercising a lot for very, very, long periods of time…If I was exercising I could eat what I wanted. It was all contingent on that I had to exercise to burn the calories," said Hamschin.
Eating disorders are more common than many realize. At least 30 million people suffer from some type of eating disorder in the United States. Many people aren't aware of the prevalence of eating disorders, and the issue is often ignored.
This week is National Eating Disorder Awareness Week,  a time to spread awareness about eating disorders and allow people who've struggled with an eating disorder to reflect on their progress. 
Hamschin, who grew up in the Pittsburgh area, says that while her eating disorder may have begun as an attempt to be a better athlete, it soon developed into a coping mechanism.
"As I got into high school it became more about the food. I started to struggle more with controlling my intake and over-exercising," said Hamschin, "it started to impact my physical and mental health. I've always been very anxious and I noticed that by turning to exercise and manipulating what I was eating, I was able to feel calmer. Because I had that element of control I kept leaning towards it to control my anxiety," said Hamschin.
Some people have the misconception that eating disorders are based on the person's perspective of their body, but more often than not it is a way to cope with other struggles in their life.
At the time her eating disorder began to take hold, Hamshin was dealing with a lot of anxiety.
"I was bullied all through middle and high school and that's part of what made things hard for me," said Hamschin. 
On top of that, during her sophomore year of high school she tore her ACL, further disrupting her athletic career.
According to Hamschin, all these factors contributed to her eating disorder spiraling.
"Eating disorders start as a combination of things. For me, and a lot of people, it's a response. It's not a lifestyle choice at all, it was something I was using to try to cope and survive. But it gets to the point where the thing you're using for control, controls you," said Hamschin.
While Hamschin's eating disorder was taking its toll, she actually received a lot of positive comments from people who were unaware of her condition.
Her coaches commended her for her commitment, mistaking her eating disorder for dedication to the game.
In college, a roommate mentioned wishing she had the same issue. Even her parents complimented her.
"My parents know a lot more now, but when I was first diagnosed, a lot of people would say 'Hey you don't look sick though, you look good.'  They didn't realize that it didn't matter how they perceived me, it was about the mental part of it," said Hamschin. 
Over years of treatment and help, Hamschin made immense progress in her recovery.
Hamschin stresses that eating disorders are not something that you recover from quickly. Recovery is something that requires a lot of energy over a long period of time. For her, the road to recovery began with taking time off from college to focus on improvement.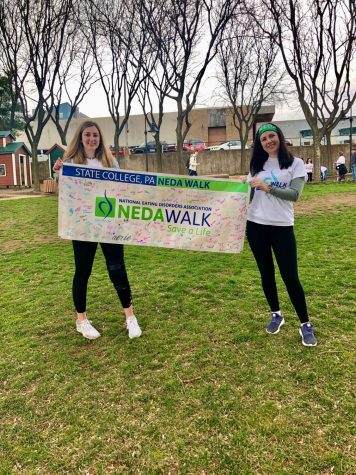 "I put a lot of time and effort into getting well. It was an unlearning thing, where I was unlearning all the messages we hear around us about diet culture because a lot of them tell you if you do this and that, you'll find happiness, but it's not like that," said Hamschin.
One of the most essential building blocks in Hamschin's recovery was the realization that balance is possible, and her life was is not defined by her disorder.
"For me its been helpful to develop a sense of identity outside of an eating disorder. I don't have to have an eating disorder for people to love me or care about me or be successful. For me it's wanting more and realizing there is more out there," says Hamschin.
She also credits her progress to her support team: her therapist, her doctor, dietician, and her parents. 
For Hamschin, and many others struggling with eating disorders locally, a major obstacle to recovery was the lack of resources available in central Pennsylvania.
While there are professionals that specialize in eating disorders in cities such as Philadelphia and Pittsburgh, many therapists in central Pennsylvania won't take eating disorder patients due to their lack of experience with eating disorders.
Hamschin had to travel to Cincinnati, Ohio and Chicago, Illinois to receive help.
While professional resources remain sparse in central Pennsylvania, Hamschin believes the best thing to do is spread awareness.
"I think the best thing people can do is talk about it. Just in breaking the silence about it, and letting people know that it doesn't have to look a certain way, there's no shame in it. If I would have known that it was okay and had talked about it with someone, I might have been able to stop it early on," said Hamschin.
Today Hamschin is a psychology major and hopes to pursue a career in clinical psychology and counseling.
"My struggles are what drew me to psychology in hopes that I can pursue a graduate degree in clinical psychology and one day help others who are going through the same challenges," said Hamschin.
She has also taken a leadership role in the eating disorder education and awareness community by coordinating the National Eating Disorder Awareness Walk in State College.
The walk will take place on March 29th, at 10 am on the HUB Lawn on the Penn State University campus. All funds raised goes to the National Eating Disorders Association (NEDA), a nonprofit organization that provides educational, research, and clinical resources to support individuals with eating disorders and their families.
To register for the walk, click here. Online registration closes at 3 pm on Friday, March 27.  Walkers can also register at the event.
"The walk is designed to start a conversation about eating disorders and also to celebrate recovery for everyone going through that. It's to honor those still struggling or those who have lost their fight," said Hamschin. "People don't talk about it so it's not understood and when you go to people they don't know how to respond…The more you talk, the less power the stigma has."