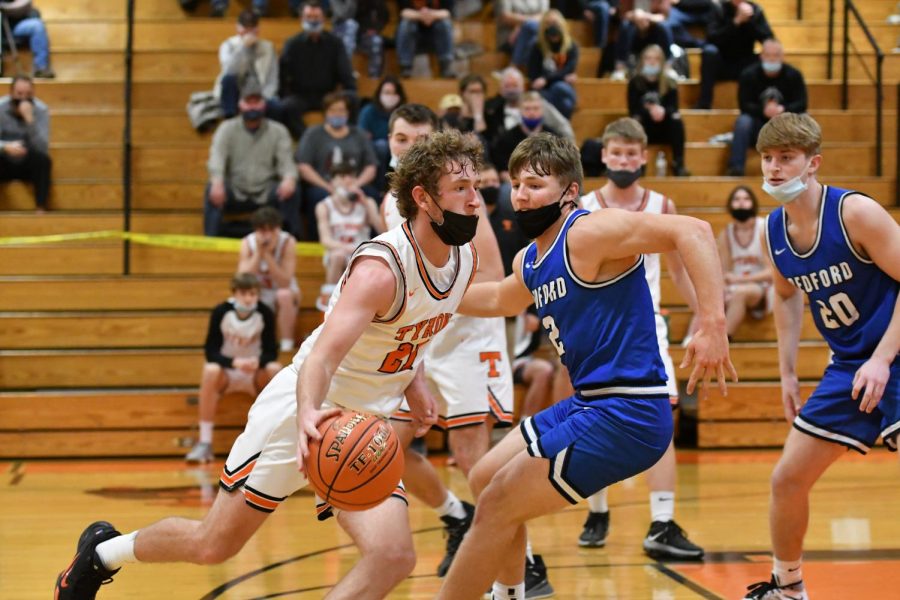 Ellie Oakes
The Tyrone Golden Eagles season came to a close Saturday with a well-fought but disappointing 62-60 loss against Bedford in the semi-final District 6 game.
Tyrone's outstanding 2021 season ended with a Mountain League Championship and a successful overall record of 17-3, but without the elusive district title and state playoff run that the senior-laden team has been chasing for the past several seasons.
"Nobody in this locker room thought this would end this way," Tyrone Head Coach George Gripp said. "We had so many uncharacteristic turnovers in the last quarter. We missed foul shots. We missed layups. We just looked out of sorts. We went three minutes in the fourth quarter without getting a shot at the hoop. It's tough to take. We fully expected to play Johnstown for that district title, but Bedford played their guts out. They made shot after shot."
The game was eerily similar to last season's upset to Huntingdon in the district final. Tyrone led by 8 after one quarter, but went cold in the second and took a slim 3 point lead into the locker room at halftime.
After battling to a 42-42 tie in the third Tyrone took the lead in the fourth quarter but with 1:30 left in the game, Bedford scored a huge 3 pointer to tie the game at 59-59 then had a defensive stop and a fast break to put them up 61-59.
With 45 seconds on the clock, junior Cortland Rhoades went to the line for three.
Rhoades closed the gap to 1 with a score of 61-60. Bedford took the ball under the hoop and drew a foul for 2 shots. This gave Bedford the upper hand with a lead of 62-60. With time winding down to 6 seconds Tyrone called a timeout.
Tyrone had one final play to tie or win the game. Bedford played tight defense and was able to get a steal. Tyrone fouled them with 1.4 seconds left in the game for a 1 and 1.
Bedford missed the first shot and the rebound was brought in by senior Blaine Hoover.
Hoover took a step and shot a ball from beyond halfcourt that would hit the backboard and off the rim which would have been a memorable buzzer-beater.
Tyrone's run to districts was cut short unexpectedly and has lost a lot of talented seniors. Senior Brandon Lucas led the Golden Eagles with 18 points and 9 rebounds.
"It's tough to see this group of kids who have given everything since third grade and had so much success go," Gripp said. "They won more games wearing a Tyrone basketball uniform than any team I have ever coached. They wanted it bad. I wanted it bad. Everyone in that locker room wanted it bad for those guys. I'm sad they won't get a chance to redeem themselves in that district title game this year."
STATS:
BEDFORD (62): S. Ressler 10 2-3 24, K. Ressler 5 0-0 13, Swaim 2 1-3 5, Weber 3 5-6 12, Koontz 1 0-0 2, Washington 2 0-1 6, Wilson 0 0-0 0, Ebersole 0 0-0 0. Totals — 23 8-13 62.
TYRONE (60): Taylor 1 0-0 3, Hoover 4 2-4 11, Gripp 5 0-2 11, Lucas 5 7-8 18, Rhoades 3 2-5 11, DeHaas 1 4-6 6. Totals — 19 15-25 60.
SCORE BY QUARTERS
Bedford 12 13 17 20 — 62
Tyrone 20 8 14 18 — 60
3-point goals: Bedford 8 (K. Ressler 3, Washington 2, S. Ressler 2, Weber); Tyrone 6 (Rhoades 3, Gripp, Taylor, Hoover).
Records: Bedford (16-4); Tyrone (17-3)