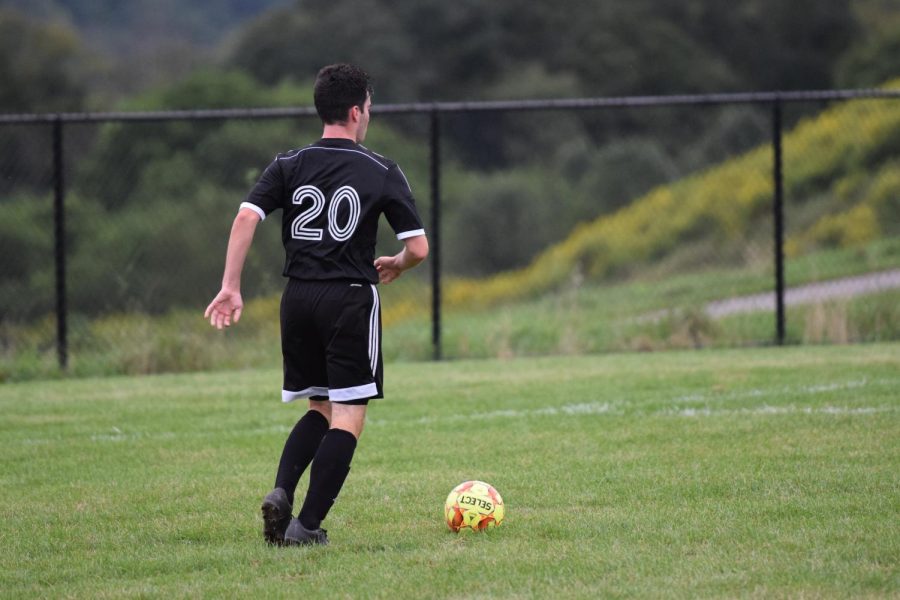 Megan Dale
Coming off of a 4-1 win against Penns Valley, Tyrone kept their win streak rolling with a 2-1 road win over Bellefonte. The win was especially satisfying for Tyrone assistant coach Dustin Elder, who left his teaching job at Bellefonte two years ago to return to Tyrone.
This is Coach Elders first year as an assistant coach for the Eagles and he was glad to get a win against his former Bellefonte students.
"It was definitely nostalgic to return to my old stomping grounds. It'll always be special to me, and to get the win in their new stadium made my return even sweeter," said Elder.
Tyrone's first time playing in Bellefonte's new stadium was a wet one which made it very difficult for both teams to get a touch on the slippery ball. Starting out slow, neither team got many shots on goal in the first half. 
Thirteen minutes into the half, senior forward Corey Johnston got a break away by dribbling through the Bellefonte defense to score the first goal of the game. Tyrone finished the first half with two shots on goal and Tyrone's defense held Bellefonte to one.
Around 20 minutes into the second half, Bellefonte junior Daniel Persiko broke loose and slipped a shot through the Tyrone defense. The ball traveled low and to the left of goalie Alex Roberts to tie the game. 
"We started off not playing to our full potential but as the game progressed we started to find out rhythm," said junior midfielder Kelton Raabe. 
With three minutes left in the game, Tyrone senior forward Nick Vasbinder got the ball in space and took on the defense in one last offensive attack. Vasbinder turned to the goal and placed a perfect shot with his left foot into the upper right hand corner of the Bellefonte goal. 
Tyrone moved to 3-1 on the season with the win.