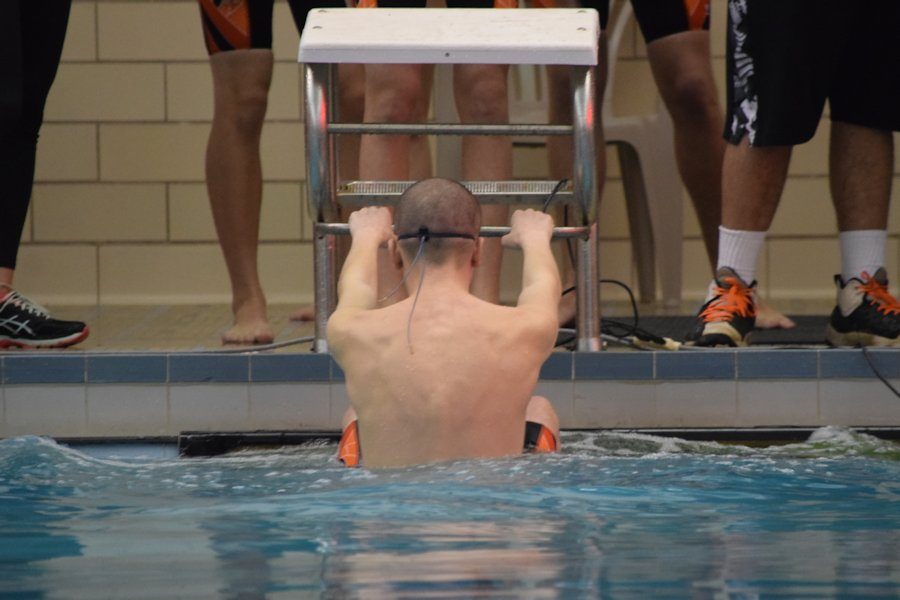 Emma Hoover
The Tyrone girls and boys swim team both lost to Clearfield on Tuesday, December 19th. The girls were crushed with a score of 50-120 while the boys were dominated with a score of 48-121.
"We did well for our second meet. We had improved times. Clearfield is one of best teams and is District competition. It's early in the season and things are going well so far," said varsity head coach Tom Getz.
Though both teams were outperformed, both Eagle teams records evened to 1-1.
Click the link below to view the official heat sheet from the meet:
Tyrone vs Clearfield
Girls: Tyrone- 50, Clearfield- 120
The relay team of Sarah Hoover, Mae Decker, Madison Coleman, and Fiona McConnell took second in the 200 free and 400 free relay just behind Clearfield everytime.
M. Decker worked for a second in the 100 back with a time of 1:10.60. She also earned a third place in the 200 free with a 2:18.99 time.
"I think our team did well but we need to improve on our starts, turns, and finishes. It was good to compete against a good team. It only makes us better. I love Tyrone and the people that I have the opportunity to swim with," said sophomore swimmer M. Decker.
Freshman Coleman placed second in both the 200 IM (2:30.03)  and the 100 free (58.13).
McConnell had a 1:18.13 time in the 100 breast, where she placed second for the Eagles. She also worked for a third in the 200 IM with a 2:40.95 time.
"We knew they were a good team coming in, but we still did our best to compete with them. They were a better team and we will continue to work hard to improve. I hope we will improve our times, make good memories and become stronger as a team," said Coleman.
Junior Hannah Gampe placed third in the 500 free with a time of 7:16.08.
Bellwood junior Ashtyn Payne dropped four seconds from her previous 100 breast time. She placed fifth with a final time of 1:36.70.
Boys: Tyrone- 48, Clearfield- 121
Jacob Decker, Matt Lenze, Colin Yaudes, and Bryce Bauer earned a second in the 200 free relay and a third in the 200 medley relay. Another Golden Eagle relay placed second in the 400 free relay.
Junior J. Decker worked for second in the 200 free with a 2:04.00 time. He also placed third in the 100 back with a time of 1:09.05.
Bishop Guilfoyle sophomore Lenze finished second in the 100 breast with a time of 1:11.43.
Carter Maceno earned a third place in the 500 free. He improved by four seconds from his previous time with a final time of 6:38.76. Maceno also dropped four seconds in the 200 free.
"For as young of swimmers as we have, we had a good bit of good races. [We need to improve] our technical work for our turns, breathing and kicks. I hope we have more dedication towards making our team better," said junior Maceno.
Senior Bryce Bauer earned two third places in the 50 free (25.90) and 100 free (1:00.87). Bauer worked off two seconds from his previous 100 free time.
Senior Matt Beam dropped 12 seconds from his previous time in the 100 butterfly event.
Bellwood swimmer Hunter Gregg improved by nine seconds in the 100 free. He also worked off 57 seconds from his previous 500 free time, finishing with a final time of 7:37.76.
"I think we actually did really well and swam our best. We need to work on the obvious things like starts and turns, but also attitude too," said Gregg.
Madyson Bungo dropped three seconds in the 100 backstroke with a final time of 1:49.08.
Nick DelBaggio worked off three seconds in the 100 breaststroke with a finishing time of 1:20.41.