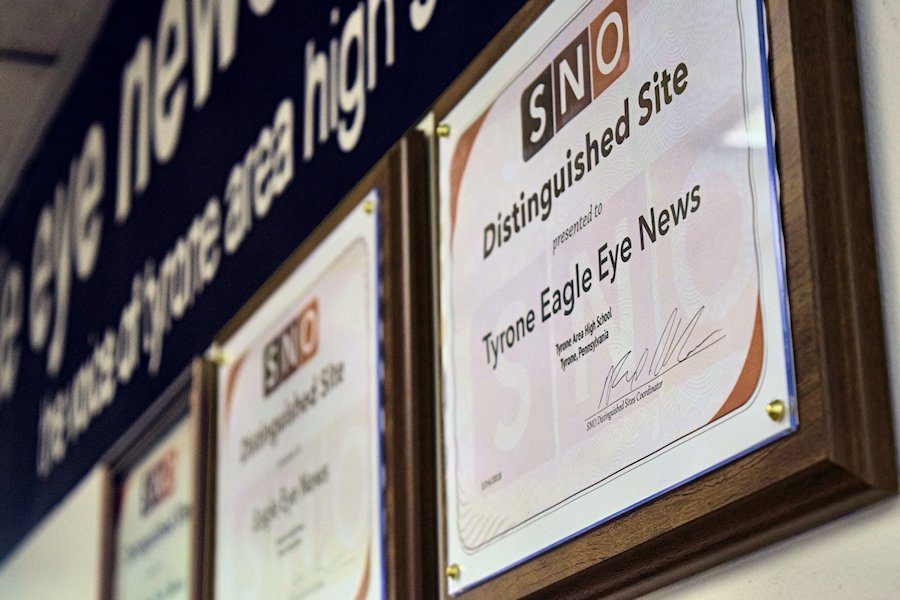 The Tyrone Eagle Eye has changed a lot in the last five years. Moving from a traditional printed newspaper to an online news site with an active social media presence has added tremendously to the Eagle Eye's readership. 
The staff is new each year and over the years it has lost and gained many talented writers and photographers. This year that talent has not gone unrecognized as the Eagle Eye's writers and photographers have won a total of 12 state and national awards, including a SNO Distinguished Site Award for the fifth year in a row.
The Eagle Eye's hosting service, School Newspapers Online (SNO), has a "Best Of" website that student journalists can submit stories for publication. As of writing of this article, The Eagle Eye has had seven stories published with several more currently under review.  That is the second most in Eagle Eye history.  
Junior Hannah Gampe and senior McKenzie Johnson were among those who made the Best of SNO list. "From Homeless in Pittsburgh to Healthy and Happy, Shields Overcomes Heroin Addiction" was Gampe's story about Demi Shields, a local who overcame her struggles to heroin and came to talk to students about her experience.
"It took me a long time to write that one. It's a really emotional story… I was really happy to see that story get published nationally," Gampe said about her story.
"Long on Vision: Tyrone Alum Transforming an Altoona Neighborhood" was Johnson's story about Jeff Long's new purchase of the former Mercy Hospital In Altoona, and the journey to refurbishing the building as a Graystone facility. Johnson was surprised to see the story make Best of SNO.
"It's a great honor considering this is my first year in Eagle Eye… This piece took a lot of time and work. I'm very proud to have my name attached to this story," said Johnson.
This year SNO also recognized the Eagle Eye as one of only 27 SNO Distinguished Sites in the country. If a school earns six badges they become a Distinguished Site. The badges are awarded for continuous coverage, site excellence, story page excellence, multimedia excellence, and audience engagement. The Eagle Eye is one of only six schools in the country, and the only school in Pennsylvania, to earn this distinction five years in a row.  
Several Eagle Eye writers and photographers were also recognized statewide by the Pennsylvania Newspaper Association. This year The Eagle Eye won four Keystone Press Awards: two honorable mentions, one-second place, and one first place.
Junior Aary Wright won first place in the news photo category, sophomore Meghan Dale won second in sports photography, senior Asher Christine won an honorable mention for sports writing, and 2017 graduates Nathan Hormell and AJ Grassi won an honorable mention for best personality profile story.
"I thought it was crazy. I came in first for a state award!" Wright said.
Traffic on the site has also been tremendous this year, according to Eagle Eye adviser Todd Cammarata.
"This year we averaged over 5,000 visitors per week and had over 600,000 unique page views.  We also had about 70 different stories that got at least 1,000 pageviews this school year.  I think those are huge numbers for a school news site in a community of our size.  I would like to thank all of our readers in the school, the community, and around the world," said Cammarata.
This year's senior class in The Eagle Eye made up about half of the winners in each category above, mostly in Best of SNO stories. All the rest of the award winners were juniors and sophomores, so the talent coming up from the underclassmen looks promising.
"There are plenty of passionate students and community members on their way up the ranks into the Eagle Eye," said Cammarata, "I also know of several good writers who have not been in Eagle Eye before who want to get the class scheduled, so I am hopeful to get those students involved as well. Of course, I will miss all of the seniors.  Some have only been on staff for one year, others for as many as four years, but they have all contributed in some way to our success this year."