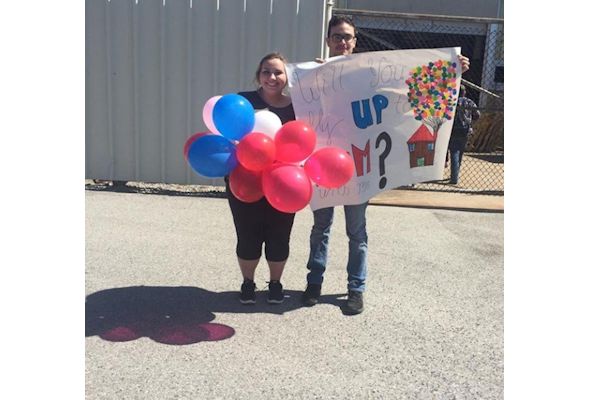 One sunny afternoon after gym class at the track, Toni Burns made her way up the hill to find her friend Devin Lopez holding a bundle of balloons. Thinking the promposal was for someone else, Burns smiled and brushed it off. However, as she walked away, Lopez ran up to her and held up the homemade sign that read "Will you fly Up to prom with me?". Burns was thrilled when she realized this surprise was for her and the duo will now be spending prom boogieing the night away.
Promposer: Devin Lopez
Eagle Eye: Describe in detail how you asked them.
DL: I made a poster in art class. The poster was from the movie UP. This movie is Toni's favorite children's movie so I knew she would like it. I gave her balloons too. 
EE: Why did you choose this person to ask?
DL: Toni is nice and I know she will make my senior prom lots of fun.
EE: Where did you get the inspiration for the idea?
DL: A friend helped me, the Internet, and the movie
EE: What relationship do you have with this person?
DL: She's a good friend to me
Promposee: Toni Burns
EE: Why do you think this person asked you?
TB: I think Devon asked me because we are good friends and we are both fun, outgoing people
EE: Describe in detail how you were asked and how you felt.
TB: Devon was waiting outside the doors I go in for gym. When I walked up the hill, I saw him with a banner and balloons. The banner said "Will you fly up to prom with me?"
EE: Did you have any suspicions that you were going to be asked by them?
TB: When I was walking up the hill, I thought it was for someone else. I was so surprised!
EE: Why should you win the contest?
TB: I think Devin and I should win this contest because he spent lots of time and thought to come up with my promposal.