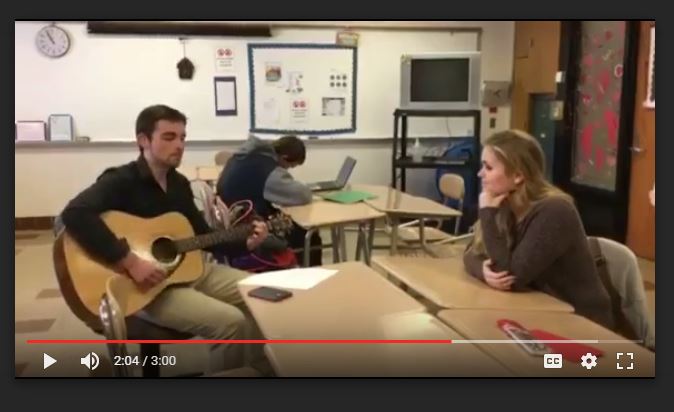 Cammarata, Todd F
On the most romantic day of the year, Valentine's Day, Hunter Jackson decided to ask his girl, Amy Long, to Prom by singing her an original song. It took Hunter four hours to prepare this song, and after he was done, he sang it in class to Amy. Amy sat in awe as Hunter sang to her. After he was done, she happily said yes to this romantic promposal.
We had a chance to sit down and talk with the couple about their promposal:
Promposer: Hunter Jackson
Eagle Eye: Describe in detail how you asked them.
HJ: I wrote an original song on facebook. It's called "Paper Lights." It took me around four hours to write. I played the song on the guitar to Amy in fourth period study hall on Valentine's Day.
EE: Why did you choose this person?
HJ: She's my girl
EE: Where did you get the inspiration to ask?
HJ: Prom committee, paper lights resemble like lanterns lights, something they would do at prom.
EE: What relationship do you have with the person?
HJ: She's my girl
Promposee: Amy Long
EE: Give us your side of the story. Why do you think they asked you?
Amy Long: He's my boy
EE: Describe in detail how you were asked and how you felt.
AL: He serenaded me. I loved every second of it, but it was an "I have no idea what I was to do" moment.
EE: Did you have any suspicions that you were going to be asked by them?
AL: Yes, he told me he was going to make a romantic promposal for me
EE: Why should you win this contest?
AL: He made an original song.