Eagle Eye Promposal Contest: An Ohana Prom
Hang on for a minute...we're trying to find some more stories you might like.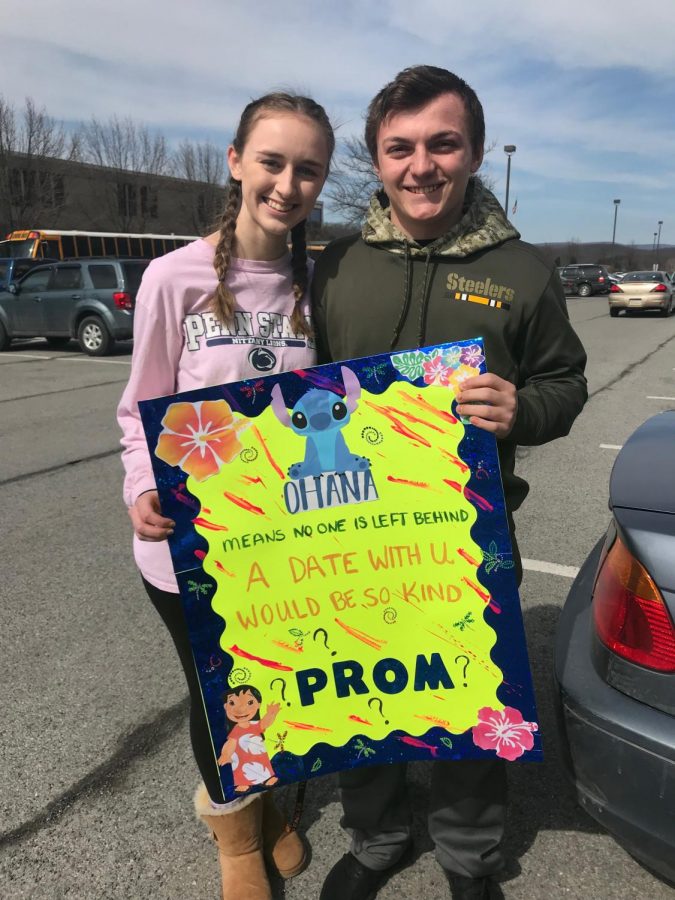 Junior Adam Gearhart used his good friend Mya Romano's love for the Lilo and Stitch movie for his promposal.
When Mya was promposed to, she had no idea Adam was going to ask. Not only was she surprised, she was also really happy that Adam took the time to plan it and her.
Promposer: Adam Gearhart
Eagle Eye: Describe in detail how you asked them.
Adam Gearhart: "I told her I wanted to see her at my car and I pulled out the poster said "Ohana means no one left behind a date with you would be so kind. PROM?"
EE: Why did you choose this person to ask?
AG: "She's a friend of mine and didn't have anyone to go with."
EE: Where did you get the inspiration for the idea?
AG: "Her favorite movie is Lilo and Stitch."
EE: What relationship do you have with this person?
AG: "Friend."
---
Promposee: Mya Romano
Eagle Eye: Give your side of the story. Why do you think they asked you?
Mya Romano: "We are friends and both of us didn't have dates so we decided to go together."
EE: Describe in detail how you were asked and how you felt.
MR: "He told me that he wanted to show me the colors of his tux to make sure that they were right and promposed instead. I was happy that he took the time and effort to plan it out and ask me."
EE: Did you have any suspicions that you were going to be asked by them?
MR: "We already knew that we were going to prom together but I had no idea he was going to prompose."
EE: Why should you win the contest?
MR: "We should win because the idea was very different and it was very thoughtful."

About the Writer
Olivia Watson, News Editor
Hi! My name is Olivia Watson, and I am a senior. I have spent my whole life at Tyrone and have always been a proud Golden Eagle. While I have been at this...