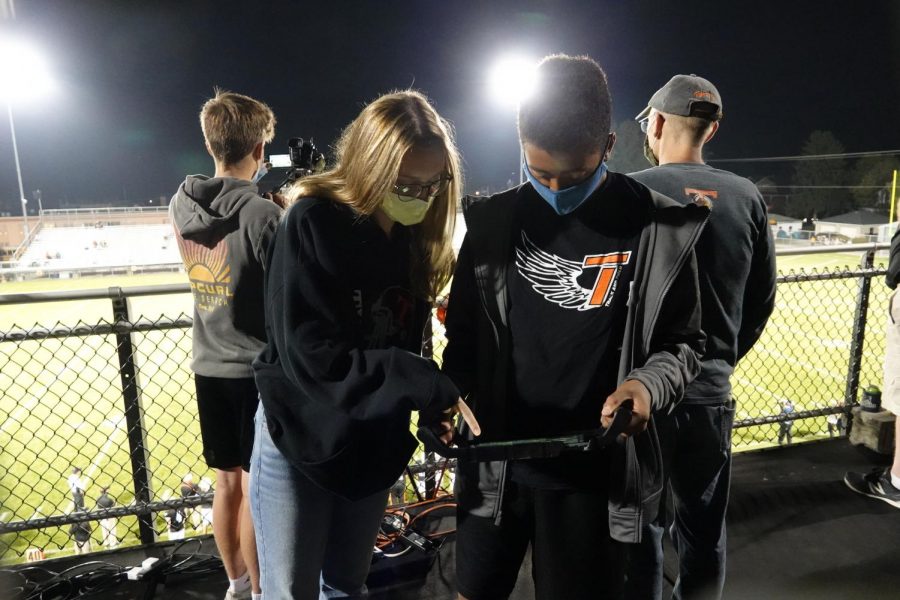 Todd Cammarata
Wanda Yaudes has been watching her grandson's swim meets from the bleachers since he was in grade school, but when it was announced that no fans would be allowed at swim meets due to COVID-19 social distancing guidelines, she was worried that she might miss all of her grandson's senior season.
Thankfully for Yaudes and high school sports fans like her, all home sporting events with attendance restrictions were live-streamed on the Tyrone Eagle Eye YouTube Channel, so she was able to watch all of her grandson's home swim meets from the comfort of her living room.
Ironically, the mandated crowd restrictions probably resulted in more viewers for Tyrone sporting events live this year than ever before.
Swim meets have averaged between 200-400 viewers on YouTube, well above the typically small crowds at swim meets. Varsity basketball games received between 1,000 – 2,000 views per game, well over the average in-person attendance at most games. The most popular live stream this season was the Tyrone vs. Penn Cambria home playoff game with over 7,700 views.
This school year the Eagle Eye live-streamed every home football, volleyball, boys and girls basketball, swimming, and wrestling event at all levels, from junior high to varsity, free of charge on the Eagle Eye YouTube Channel.
In addition to sports where crowds were restricted by COVID guidelines, the Eagle Eye also live-streamed a varsity soccer game and several other events, including the YAN Halloween event and playoff basketball games hosted at Tyrone High School.
Eagle Eye advisor Todd Cammarata and art teacher Eric Feather had been working on acquiring the technology to live stream events since before the pandemic.
They attended a workshop at a county-wide IU8 in-service day in the fall of 2020 presented by staff from Claysburg-Kimmel High School, who has been live-streaming school events on their YouTube channel for several years.
"We really got serious about this last fall well before the pandemic thanks to some help from Claysburg. They were kind enough to share what they had learned with us and we began the process of requesting funding for the equipment," said Cammarata.
The streaming technology that Tyrone uses is from SlingStudio. The system allows multiple cameras and devices to connect to a hub that is controlled via a tablet and exports a live audio and video signal wirelessly to the Eagle Eye's YouTube Channel.
Led by Feather and Cammarata, the Eagle Eye began with home football live streams in the fall. High school teachers Beth Cannistraci and Tom Coleman joined the crew in December to live stream all home events during the winter sports season.
Students who helped on the live stream crew in the fall were Ashlynn McKinney, Brayden Daniels, Avalynn Moore, Cyrus Alhert, Eliza Vance, and Steven Sessamen.
"One of our goals is to have the students build their skills with the equipment and delegate responsibility to them as we move forward," said Feather.
The Eagle Eye also has plans to expand live streaming to events beyond the scope of sports.
"We would love to live stream quiz league matches, mock trial, speech team competitions, and other events that aren't usually attended by a large group of spectators. I think it has the potential to generate more interest in these programs if more people have the opportunity to watch them," said Feather.
In the spring, the Eagle Eye plans to live stream some baseball and softball games, as well as the powderpuff game and the baccalaureate, and the graduation ceremony.
Some other improvements planned for future broadcasts include improving connectivity for indoor events by adding a wired system, adding additional permanently mounted cameras, adding on-screen graphics, halftime interviews, and special pre-recorded programs for halftime, pre and post-game shows.
Of course, all of this costs money and in order to improve the quality of the productions and keep the live streams free, the Eagle Eye is asking for donations from fans who have enjoyed the live streams this year.
"While we can't wait for the pandemic to be over and fans to return to the stands, we don't think live streams are going away. It's such a great service to bring to the community and to alumni all over the country," said Cammarata. "If you have enjoyed the live streams, please consider making a donation and help us to improve our production."
To donate to the Eagle Eye live streams via credit or debit card, click THIS LINK.
To donate via check, make payable to Tyrone Eagle Eye News and send to Tyrone High School, Attn: Eagle Eye, 1001 Clay Avenue, Tyrone, PA 16686.
Wanda Yaudes was one of the first Tyrone fans to step up and make a donation to support the Eagle Eye live streams.
"A big thanks to the Eagle Eye for live-streaming the sporting events. Even with COVID this season we have been able to watch [all of our grandson's] events from home because of the dedication of the Eagle Eye Staff. Our town is blessed; thank you," said Yaudes.