Enter the 2019 Eagle Eye & Bake Shop Bakes Christmas Cookie Contest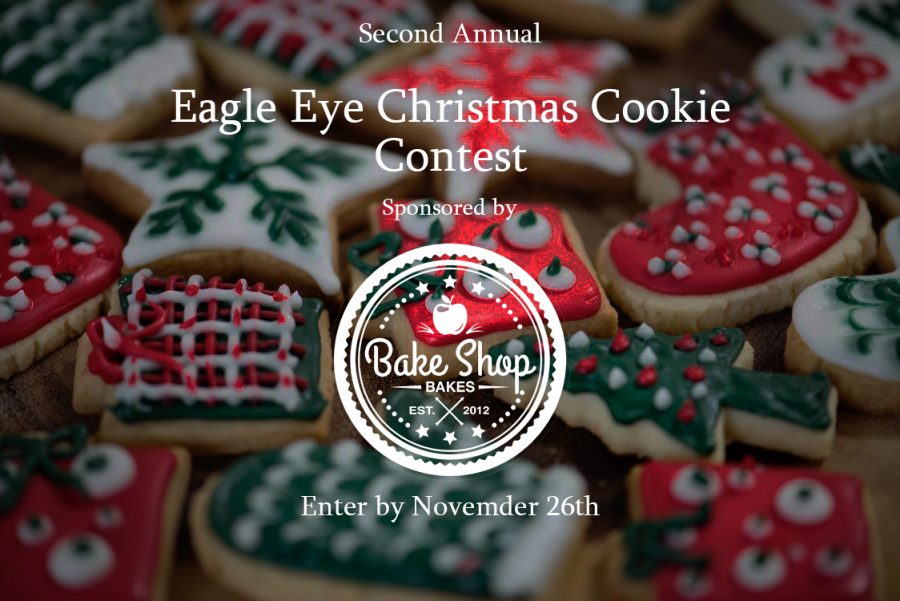 Last year the Eagle Eye held it's first ever contest to see who could bake the best Christmas cookies at Tyrone Area High School.
Last year's winner was ninth grade English teacher Karissa Budny  (Click link to see her winning recipe).
This year we are holding the contest again, but we are raising the stakes with some "sweet" prizes from our new sponsor, Tyrone's own Bake Shop Bakes!
Legendary baker and former TAHS school nurse Julie Patton will also return as a judge, as well as expert bakers from Bake Shop Bakes.
Here is all you need to know about this year's contest:
What:

A festive contest to find the best cookie baker at Tyrone Area High School.

Who: TAHS students in grades 9-12 as well as teachers and staff are eligible to enter. Students may enter as an individual or a "team" of two or three students.
When: Fill out an entry form below by December 2nd.  Judging week will be December 9th-13th. After we receive your entry form we will give you a day to bring in one half-dozen of your best homemade cookies and a photo of you baking them!
Where: Register by filling out the form below, or download a hard copy of the form below, and return it to the Eagle Eye classroom (room 230) by Tuesday, November 26.
Other important entry requirements are as follows:
You must deliver a half-dozen cookies to the

Eagle Eye

newsroom by advisory period on your assigned date.

You must submit a photo, on the day of judging, of yourself baking the cookies– we need proof! No store bought cookies or grandma's baking are eligible…we will take them however!
You must include the recipe for your cookies.
Grand Prize: $25 Bake Show Bakes Gift Card, a official Bake Show Bakes sweatshirt, and a Eagle's Roast Cafe gift card.  Plus, the winning cookies and recipe will be displayed at the Bake Shop Bakes.
Second Prize: $10 Bake Shop Bakes gift card, an official Bake Shop Bakes t-shirt, as well as an Eagle's Roast Cafe gift card.
Third Prize: $5 Bake Shop Bakes gift card, and an Eagle's Roast Cafe gift card.
Downloadable entry form:
Online Entry Form:
Oops! We could not locate your form.
About the Contributor
Haydn Loudenslager, Staff Writer
Hello my name is Haydn. I am a junior who wears five watches for no reason at all. I spend most of my time at home playing video games, listening to music...