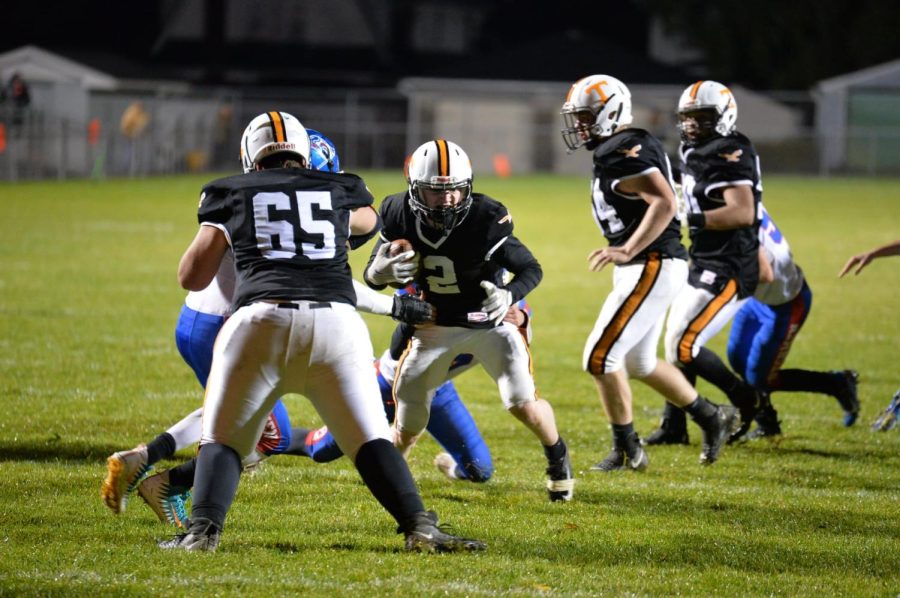 Terry McCaulley
On a wet and soggy night at Gray Field, the Golden Eagles got their fifth win of the season over the St. Mary's Flying Dutchman (8-1). 
The win was different, however, and not just because of the rain that kept most of the Tyrone faithful at home watching the live stream.
The Dutch coaching staff made an unusual fourth-quarter decision that helped the Eagles to put the game away.
The game was tied 14-14 early in the fourth quarter after a Kolten Miller 1-yard touchdown run for Tyrone. On the next drive after the ensuing kickoff, St. Mary's Coach Chris Dworek decided to pull all his starters for the rest of the game.
The Dutch have a District 9 3A Championship game the next week against Clearfield, and Coach Dworek did not want to risk injury or ejection before the championship game.
The game was rather heated and with some of St. Mary's players at risk of getting flagged and ejected due to personal fouls, Dworek decided that pulling his players was the best move. 
This allowed the Tyrone starters to dominate for the remainder of the game, scoring two more times in the fourth quarter to make the final score 28-14. 
Tyrone quarterback Ashton Walk was 16 of 20 for 163 yards, with a 9-yard touchdown pass to Ross Gampe with 4 seconds left in the first half. 
Walk also threw his first interception of the year as a starter, which came in the second quarter while in the red zone. 
The Tyrone offense didn't need any of Walk's heroics in this game, however, as the Eagles ran the ball well. They had 156 yards on 38 attempts and scored three times on the ground. 
Tyrone was led by sophomore Brady Ronan, who rushed for 119 yards on 26 attempts and two touchdowns. 
Tyrone's defense held the Flying Dutchman to only 139 yards in the first half, and 74 of those came from a 74-yard touchdown pass from Dutchman quarterback Christian Coudriet to Carter Chadsey. 
Tyrone's defense would make up for the big play by picking off Coudriet two times throughout the game. 
The first came when Coudriet couldn't deal with the pressure from Kolten Miller and threw a bad ball that landed in Joshua Patterson's arms. 
The second came late in the game when St. Mary's was close to scoring, and Brady Ronan jumped on a pass picking it off and returning it from the 2-yard line to the 40. 
The young Tyrone offensive line has made some strides in the recent games of the season, opening up holes for Ronan and getting better protection for Walk. 
"We had emphasized all week how it was going to be raining, and that we had to run against this team if we wanted to win. I feel like the line has really grown and gotten a lot better since the start of the season as there have been a few changes to positions, but I think they've worked out for the better," said junior right guard Dylon Brower. 
Tyrone also earned the second seed and a home playoff game against Penn Cambria next Friday due to this win. 
Tyrone had to win their game, and Penn Cambria had to lose to Chestnut Ridge. Fortunately, Penn Cambria lost 24-14. 
Tyrone will host Penn Cambria this Friday, November 5th at Gray Veterans Memorial Field. The game starts at 7. 
SCORE BY QUARTERS
Saint Marys 6 0 8 0 — 14
Tyrone 0 7 0 21 — 28
First Quarter
SM–Chadsey 74 pass from Coudriet (pass failed), 1:16
Second Quarter
T–Gampe 9 pass from A. Walk (Gwinn kick), 3.8
Third Quarter
SM–Coudriet 2 run (Chadsey pass from Coudriet), 7:19
Fourth Quarter
T–Miller 1 run (Gwinn kick), 9:52
T–Ronan 3 run (Gwinn kick), 6:05
T–Ronan 4 run (Gwinn kick), 1:22
TEAM STATISTICS
First downs 
SM: 12 
T: 20
Total yards 
SM: 288 
T: 319
Rushes-yards 
SM: 23-70 
T: 38-156
Yards passing 
SM: 218 
T: 163
Passing (comp.-att.-int) 
SM: 17-23-2 
T: 16-20-1
Punts-avg. 
SM: 2-15.5 
T: 0-0
Fumbles-lost 
SM: 1-0 
T: 0-0
Penalties-yards 
SM: 8-69 
T: 7-41
INDIVIDUAL STATISTICS
RUSHING–
Saint Marys: Davis 3-41, Dornisch 7-34, Asti 3-3, Snelick 1-(-1), Steele 3-(-2), Chr. Coudriet 5-(-10), TEAM 1-5. 
Tyrone: Ronan 26-119, Miller 3-14, A. Walk 7-12, Beck 1-9, Legars 1-2.
PASSING–
Saint Marys: Chr. Coudriet 17-22-2-218, Asti 0-1-0-0. 
Tyrone: A. Walk 16-20-1-163.
RECEIVING–
Saint Marys: Chadsey 6-141, Cha. Coudriet 3-34, Mosier 3-27, Reitz 1-11, Davis 2-10, Dornisch 1-(-1), Lewis 1-(-4). 
Tyrone: Gampe 5-76, Beck 3-26, Baldauf 2-17, Legars 2-13, Ronan 2-12, Veres 1-12, Rhoades 1-7.