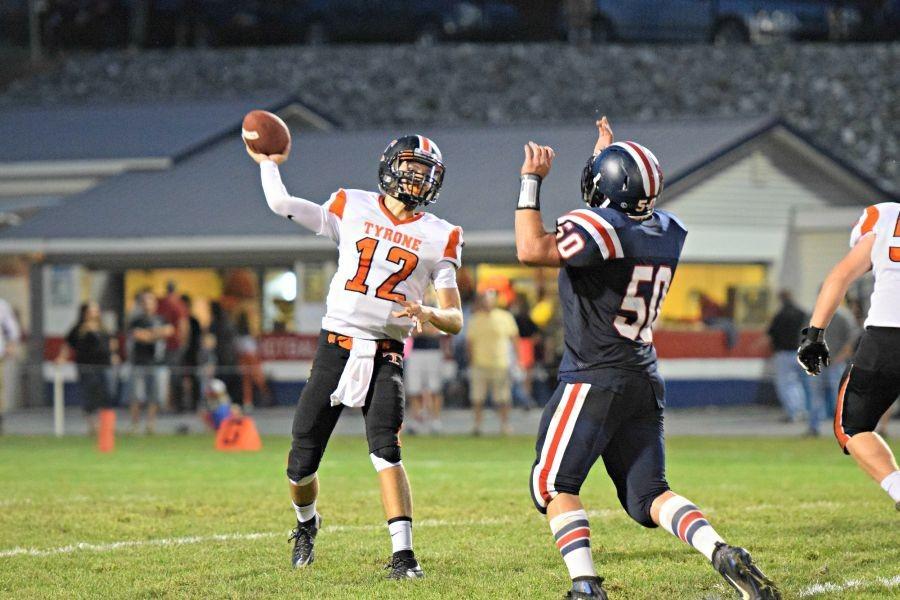 Kendra Wertz
As the Tyrone Golden Eagles took on the Huntington Bearcats on Friday, September 19th, quarterback Drew Hunter knew he had a chance for a good game, but he didn't expect to walk off the field holding a new school passing record.
From the start to finish Hunter was making the right passes at the right time and was able to set a new Tyrone single game passing record against the Bearcats.
Hunter's 337 yards passing broke the previous school record of 332 yards set by Eric Wagner in 2012 vs. Richland.
Hunter got off to a strong start throwing three touchdown passes in the first half.
By the third quarter, the coaches noticed that Hunter needed only a few more yards to set a new record, but with Tyrone up by a large margin they didn't want to keep their starters in the game much longer.
Coach Elvey called in the offensive team and told the starters that they would have only one more drive to get the record before Hunter and some of the other starters would be taken out for the night.
"When Coach Elvey told me I was close to the record, I got a little nervous," said Hunter,  "I just wanted to get it over with and for it to go smoothly."
"Knowing we only had one drive to get Drew the record, the linemen tried their hardest to protect him," said team captain and offensive tackle Nick Bonsell.
Head Coach Jason Wilson said he wasn't really surprised that Hunter was able to break the record. "Drew has a strong arm, great pocket awareness and he's not afraid to stay in the box to make the throws," said Wilson.
"Drew put in the work to achieve his goal, so I was really pumped to see him get the record," added Bonsell.
"My best bud achieved something not many people have achieved and I'm proud to call him my QB," said starting senior wide-out Cullen Raftery.