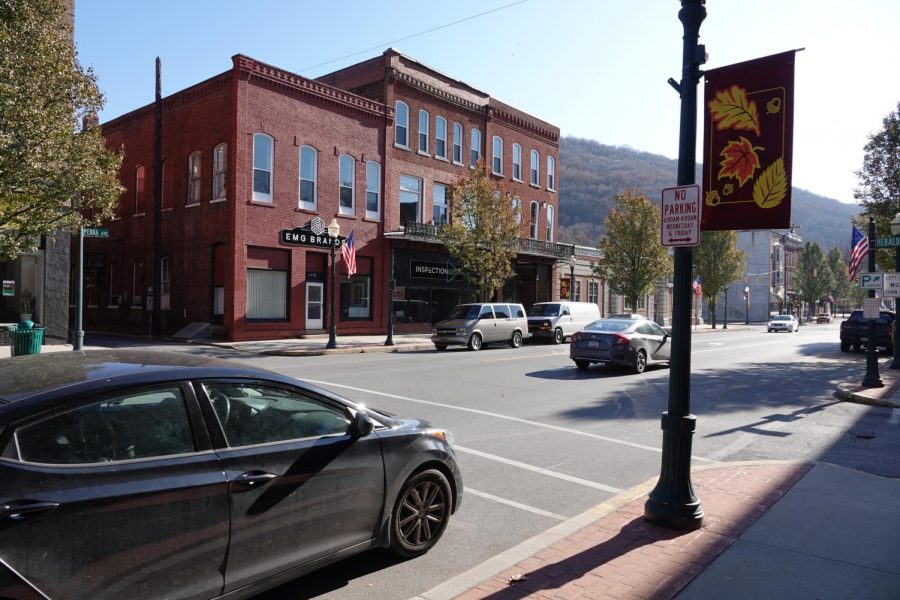 Lucia Isenberg
Like many small towns across America, Tyrone's downtown business district had been in a steady decline since the 1970s. Where there were once movie theatres, department stores, and specialty shops, there were only empty storefronts and eyesores.
But as Tyrone rings in the new year, the once-vacant sidewalks are feeling the vibrations of new traffic and downtown is experiencing a remarkable renaissance.
According to Tyrone Chamber of Commerce Director Rose Black, approximately 15 new businesses have opened in Tyrone in the last five years, many of them downtown.
"The future of downtown is very promising. With our superb school district, our own hospital, affordable housing, low crime, and access to accommodations, we can only grow," said Black.
Rob Poust, co-owner of The Brew Coffee and Taphouse, says that Tyrone's location makes it a good place for new businesses.
"We've noticed since we opened that the demographics in town are changing. There are more people who work in State College and Altoona that are relocating to Tyrone because of accessibility," said Proust.
Easy access to I-99 and close proximity to both State College and Altoona make Tyrone an increasingly attractive place to live and do business. The higher cost of living in State College has pushed families looking for better real estate value and good schools to the Tyrone area.
Poust and co-owner Shannon Rice opened The Brew just nine months ago and business has been so good that they are already outgrowing their current space.
"We felt a need for a place for people to go hang out, have a cup of coffee or a beer, and relax, catch up, and congregate. There was really no place downtown to do anything like that," said  Poust.
Poust and Rice credit the small-town atmosphere and sense of community as one of the keys to the success of their business. Their goal is to provide a place for residents and visitors to gather, as well as to market the community to the region through traditional advertising and social media.
It was location that also brought entrepreneur John Russell to town, and his various business ventures have played a key role in the rebirth of downtown Tyrone.
In the past five years, Russell has renovated four downtown buildings and created 70 new jobs, which has helped to spark much of the current retail development in the area. 
Like most other new downtown business owners, Russell is a Tyrone native. After moving away and having success out of the area, the 2004 Tyrone High School grad moved back to his hometown to grow his businesses.
"After I graduated I moved around a lot working in different businesses," said Russell, "but I always knew that I wanted to come back here, and with the type of business that we have we [are able to do that]."
Being downtown gives them the opportunity to succeed without having to compete with similar businesses in Altoona and State College.
Farmers insurance agent Billie Jo Friday opened her downtown office about two years ago. 
"I started from zero customers, which means zero policies," says Friday, but "over the last couple of years [since opening our Tyrone office] we have seen an uptake, and I now have 739 policies."
The town, once known for its thriving business district, is working to find the right mix of talent, experience, and sophistication that it once had.
"I want to see the revitalization of the downtown area. I want it to look like it does in the pictures online when you search 'Where's Tyrone PA'. I want it to look like that again," said Friday. 
Downtown Tyrone is seeing many unique businesses that bring a different vibe and culture than the big box stores.
One unique business to open recently is Bald Eagle Games, a game and hobby shop on West 10th Street. Bald Eagle Games is a tabletop game and hobby shop. They carry trading card games and offer gaming tables, scenery, demo copies of board games, and host events for the local gaming community.
"Tyrone is a great place to go if you have a destination business," said owner David Marzolf, "You can't go anywhere around here and find a business that does the same things as I do." 
Other recent businesses to open downtown include Exposed Grafix, Outside the Lines Art with Anita, Paisley's Home Decor, and the Tyrone Youth Athletic Association which is currently under construction. These new retail businesses complement long-time downtown businesses like Garners Candy, OIP, the Daily Herald, and the Fashion Exchange.
Small business thrives when they utilize the strength of neighboring businesses. They tend to grow and succeed when they complement one another, which is what makes downtown Tyrone unique and inviting.
"Recently [downtown] has been growing, due in part to a lot of the newer, larger businesses in town, which has added to the foot traffic," said Thrivent Financial Agent Gary McGovern, who moved into his current downtown location about six years ago.
According to the owner one of the recent additions to downtown, Bake Shop Bakes' Andy Hoover, Tyrone has a friendly atmosphere and sense of pride that motivates business owners like himself to move into downtown.  "Everyone here knows us. This is where we grew up," said Hoover.