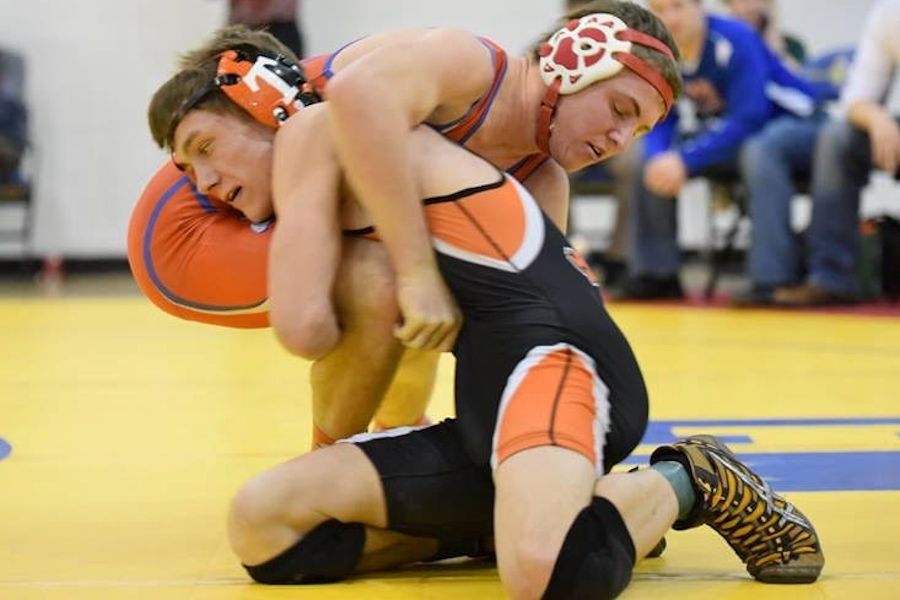 Terry McCaulley
Tyrone junior Sage Dixon wrestled at the PIAA Southwest Regional Wrestling Tournament last Friday and Saturday at Canon McMillan High School in Canonsburg. It was a tough couple days for 145 pound Dixon, but he was able to record a win and finished 1-2 at the tournament.
"I was pleased with how Sage did," said Tyrone Head Coach Mike Cherry, "I would have liked to see him win another match or two but it didn't work out. He got to go there and experience it. Hopefully he will get there next year and advance to the state tournament."
In his first match, Dixon lost by fall to Austin Hemminger of Somerset in one minute and four seconds. Hemminger went on to take 6th place at the tournament.
In his next match Dixon faced Derek Yingling of West Branch. Dixon had a takedown in the first period, gave up an escape in the second, earned an escape of his own in the third to seal the 3-1 decision win.
That win was enough to earn Dixon a trip back for the second day of wrestling.  To qualify for the state tournament, Dixon would have needed to win at least two matches on Saturday.
Unfortunately, Dixon was eliminated in his next match, a nail-biter against Darrell Bails of Burgettstown in which Dixon fell short 3-4.
"It was a fairly tight low score match," said Cherry, "Sage was just not able to score at the end."
Dixon's three points came by escapes in each period.  Bails came up with an early takedown in the first and a reversal in the third.
"I was pretty happy that I even made it to Regionals," said Dixon, "It was very tough to do but I even surprised myself. I won't lie, I am still very upset about what happened. I just couldn't seem to get a shot off. I have one more year though."
Coach Cherry encouraged Dixon and the other wrestlers to work hard in the off-season to prepare for next year. "Weight lifting, wrestling in tournaments, attending wrestling camps and clinics, going to wrestling club practices, participating in other sports. Any or all of the above will help," said Cherry.