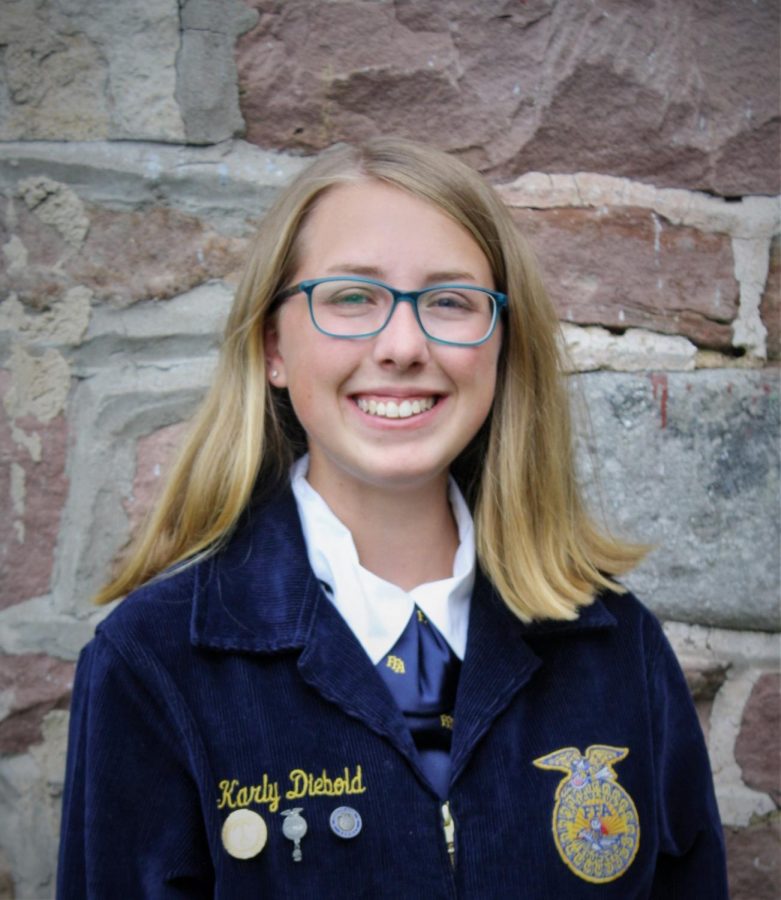 Tiffany Hoy
Tyrone Area High School senior Karly Diebold placed fourth in the National FFA AgriScience Fair competition at the 93rd annual National FFA Convention on October 27.
In September, the top ten national finalists were announced and had to complete and submit a video recording answering specific questions. The videos were judged and the final three were presented live at the convention during a virtual General Session.
"It was very different competing virtually because I had to make a five-minute video and not go over the time limit. It was very stressful because I am used to being able to talk about my experiment for seven to ten minutes, not just five. Also, I missed not being able to meet everyone at Nationals because that was my favorite part last year," said Diebold.
Karly's Project was about examining which container would keep raw milk at the highest quality possible and for the longest period of time. The containers that Karly had used were a glass container, drink pitcher, cardboard carton, white plastic container, clear plastic container, and a yellow plastic container.
In order to measure the milk quality, Karly had to measure the milk quality by observation which was by smell, pH, and bacteria levels through the ethyl alcohol test. By the end of her project, she had discovered that the clear plastic container was the most effective.
After graduation, Diebold plans to attend either Pennsylvania State University or Juniata College to major in chemistry.
Other Tyrone students that placed in the competition were sophomore Rayann Walls (14th overall), senior Wade Hendrickson (17th overall), junior Jillian Williams (17th overall), and junior Kaitlyn Houck (13 overall). All received bronze level recognition at the National FFA Convention for their AgriScience Fair projects. They won the State competition in January 2020.
The National FFA Agriscience Fair recognizes students who gain real-world, hands-on experiences in agricultural enterprises. Students use scientific principles and emerging technologies to solve complex problems related to agriculture, food, and natural resources. The agriscience fair is for middle and high school students. Students compete in one of six categories and under one of the six divisions – either individually or as a team.