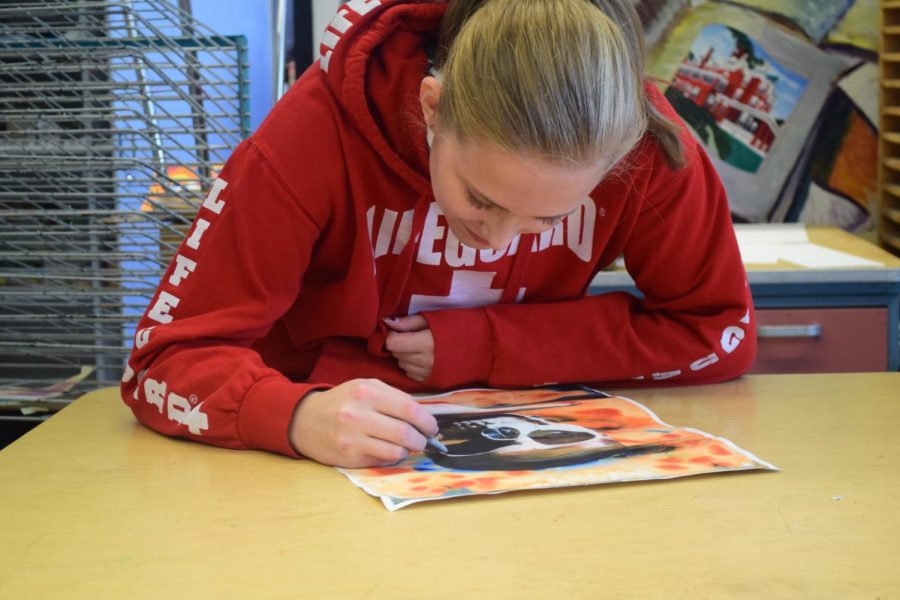 Sophomore Megan Dale has been serious about her art since fifth grade. Along the way, she has earned many awards, including a 3rd place in last year's Tyrone Art Show.  Dale even has a local art gallery named in her honor.
Megan often gets her ideas and inspiration from photographs that she takes. She also gets ideas from Pinterest and other online sources.
Dale can turn anything into art and is talented in many different mediums, including pencil, ink, watercolors, and acrylics, but her favorite is working with super fine graphite pencils, fine ballpoint pens, and watercolors.
"I have always had a passion for art," said Dale.
Dale has impressed Tyrone art teacher Eric Feather with her talent.
"In addition to an outstanding ability to draw and paint what she sees, Megan is also blessed with a keen sense of design," high school art teacher, Eric Feather said.
In fact, Megan's design skills are already being seen in the community. Dale designed the logo for local Tyrone business Ingenuity Media while interning with the business this summer.
The owner of Ingenuity Media, David Snyder, is very interested in promoting the arts and local charities and named his art gallery for Dale.
"The Megan Dale Gallery is designed to showcase creative pieces from all ages and all walks of life, giving artists the exposure they so richly deserve," said Snyder.
She plans to display and sell her art at Snyder's gallery, with 30% of each sale benefiting a local charity.
Dale also designed several of the set pieces for last year's musical "Beauty and the Beast."
"Megan is a natural designer. She always explores multiple solutions to a design problem and instead of just sketching one design she always produces several and chooses the best one. Megan has an innate ability to sketch and visualize the finished product before its actually constructed," said Feather.
Megan hopes to attend college and work in a field that involves art.
Megan plans to continue working hard with her art and hopes to soar onto the correct path.