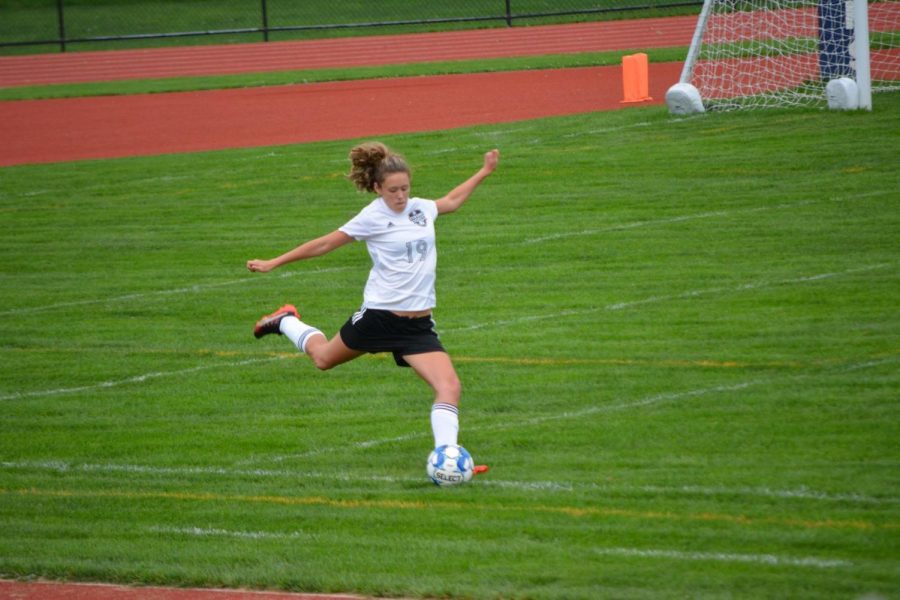 photos courtesy of Bill Latchford
Tyrone girls soccer pulled off a big upset in a Mountain League match yesterday when forward Riley D'Angelo's free-kick found the back of the net, defeating Penns Valley 2-1.
"I think that this win gives the team a new hope and is going to push us and inspire us to keep up our intensity," said senior forward Aary Wright.
Tied 1-1 with only a few minutes left in regulation, D'Angelo dribbled past a defender to look for an opportunity to shoot, but got pushed from behind, resulting in a free kick from just outside the 18.
D'Angelo didn't let Penns Valley's defensive wall phase her, putting the direct kick over the head of four defenders and the goaltender and into the net.
It was D'Angelo's second goal of the game.  The first came 12 minutes into the second half. D'Angelo tripped up the defense, broke free, and scored to give Tyrone a 1-0 advantage.
However, Penns Valley responded with a goal 15 minutes later by Katie Martell, assisted by Hannah Montminy.
The game was a defensive struggle throughout most of the first half with neither team able to score. Penns Valley missed several key opportunities with 10 shots on goal.
Penns Valley took many of their shots from outside of the 18 when they probably had room to dribble and make a better shot. This allowed Tyrone's goalie Kelsey Johnson to get set and wait for the ball to come to her.
As the final buzzer sounded, Tyrone celebrated the win with a tears of joy, having already met one of their goals this season.
"It's very early in the season but beating a good team like Penns Valley will help bolster the girls confidence," said Head Coach Mike Sparacino, "[This win] shows them that all the hard work in the preseason is paying off. Hopefully that confidence will translate into more wins for us."
The Lady Eagles next game is Thursday, September 13 at 4:00pm at Bellefonte.
SCORE BY HALVES
Penns Valley 0 1 — 1
Tyrone 0 2 — 2
Second half: T — D'Angelo (unassisted), 51:58 PV — Martell (Montminy), 66:33; T — D'Angelo (unassisted), 77:34