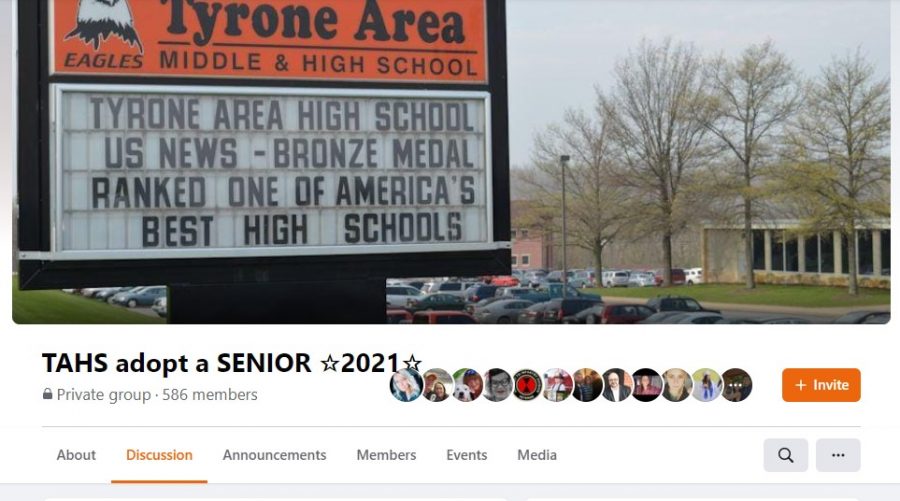 Screenshot from TAHS Adopt a Senior 2021 Facebook Page
Tyrone alumni and members of the community are coming together to support Tyrone Area High School's senior class through an "Adopt a Senior" page on Facebook.
The goal of the 2021 Adopt a Senior Facebook page is to provide a way for members of the community to support TAHS seniors by sending them cards, snacks, tokens of encouragement, and gifts to celebrate their graduation.
The group wants to showcase the accomplishments of all the seniors who lost much of their senior to the global pandemic.
Terri Howell, a 1986 Tyrone Alum, founded the page last year to support the Tyrone High School Class of 2020. The idea for the Tyrone page came to Howell last year after being invited to a friend's Facebook page for another school.
"When COVID problems started last year I don't think anyone thought it was going to get this bad for this long. Kids are missing out on so much. That's why I decided to do the adopt a senior for my alma mater. I figured anything, even a small gesture, can brighten another's day," said Howell.
The 2020 Adopt a Senior Facebook page has now transitioned to support the next group of students affected by the pandemic. The page already has over five hundred members.
The first 2021 Tyrone senior was posted on Sunday, March 7th and within two days the group grew to more than forty current seniors posted.
Tyrone High School business teacher Amanda Burega joined the page last year and decided to help support the effort by volunteering as a page moderator.
"I participated in the Adopt a Senior page last year and enjoyed seeing the appreciation on all the senior faces. The 2021 class has experienced a similar situation and I want them to experience the same support and encouragement. This year is also personal for me since my son is a senior. Plus, I watched these seniors grow over the past three years as a new teacher at Tyrone," said Burega.
The class of 2021 lost much of their junior year due to school closings throughout the state after the coronavirus outbreak and are now missing out on most of their senior year.
At the beginning of the year, most seniors were not even able to attend their "last first day" with their classmates as Tyrone School District started the school year out on the hybrid system.
The seniors this year missed out on their last year of pep rallies, assemblies, dances, and field trips.
The process of adopting seniors is very simple and easy for members of the community to do.
"You just have to find a kid you may have something in common with or whose story may hit you…you comment "I would like to adopt" and contact the parent for their address, and info on stuff they may like if the post doesn't have enough information….then follow thru by surprising them before or shortly after graduation," explained Howell.
In order to spread the word of the Tyrone Adopt a Senior page, Howell asks for families to share the Facebook page with family and friends. The goal of the page is to get as many Tyrone seniors adopted as possible.
"I share the adopt a senior page on my Facebook wall and others within the community. I ask them to please share it as well. Last year we had 77 students/parents participating, and I really hope we surpass that this year. I would love to have 100% participate but I am not sure if that will happen," said Howell.
To adopt a senior and support their achievements during these hard times click HERE.