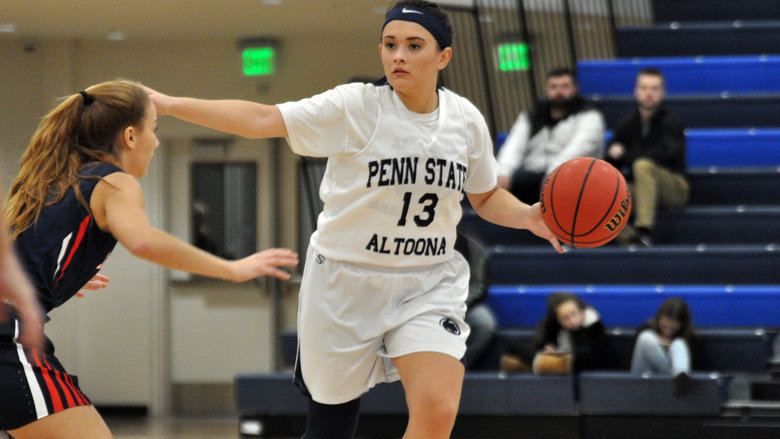 photo courtesy of PSUA Athletic Department
Nearly four years ago, in a high school varsity game against Bellefonte, current Penn State Altoona senior Finnley Christine was driving for a layup when her knee gave out. Lying on the Tyrone gym floor clutching her right leg, her dreams of reaching 1,000 career points in high school and winning a district championship were crushed in an instant. Christine would soon find out that her ACL was completely torn, ending her high school basketball career near the start of her senior season.
She was less than 150 points away from 1,000 career points with the majority of the season left to play. Christine was also the senior leader on a talented Tyrone team with legitimate district championship hopes.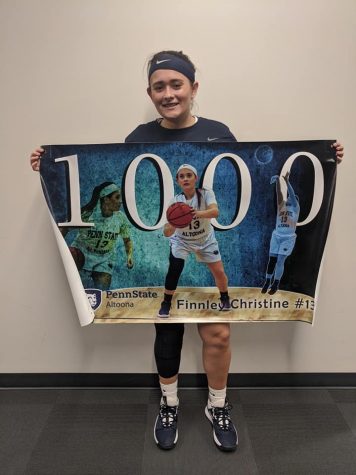 Fast forward four years, Christine makes a similar drive to the bucket. This time in a Penn State Altoona Lady Lions uniform. She makes a quick move to the right, then left, then her signature spin move back to right. But instead of falling to the floor in pain, she takes on three defenders and confidently banks the ball off the glass for her 1,000th career college point.
The crowd erupts, Christine's teammates mob her, and the celebration begins.
Christine's journey back to basketball and 1,000 career college points was no easy task, and few would have predicted a successful comeback after a significant knee injury. 
Christine fought through many mental and physical roadblocks during her rehab and return to the court and has become one of the most prolific scorers in Penn State Altoona women's basketball history.
The hardest part for Christine was preparing mentally to return to the court after the injury. 
"That was definitely the toughest part. Physically, I knew my knee was good and was going to be okay. However the feeling of tearing my ACL and how it happened is forever in my head, and I just had to keep telling myself 'your knee is strong' and 'you're going to be okay.' It's always been in the back of my mind," said Christine on her rehab process. 
Christine entered the game on November 15 only 18 points away from 1,000 and was determined to reach the milestone in front of a home crowd. She scored a team-high 21 points to become only the fourth player in PSUA women's basketball history to score 1,000 career points. 
The best part for Christine was being able to share the moment on home court, with her family in the stands and one of her closest high school teammates on the floor with her.
In the video of her 1,000th point, Christine's high school and college teammate, Alexis Cannistaci, looks more excited than Christine as the layup falls.
"It's really cool to grow up with someone while being their teammate at the same time. I've played with Finn since fifth grade," said Cannistraci, "She definitely got robbed of her 1,000 points in high school and I'm sure that was really hard on her, but I think that's what made her come out even stronger in college." 
It was Cannistraci who gave Christine the nickname "Spin for Finn," which has stuck with her through college, and it was with the help of her signature spin move that she scored her 1,000th point.
"I'm excited and honored. I love my teammates past and present and it was such an exciting night for me. I'm just glad it was something I could accomplish so early in the season and can now focus on playing. I'm blessed to have such a great support system and it was for sure a night I will always remember," said Christine.
During that game, Christine also etched her name onto another PSUA record. Christine shot 9-11 (81.8%) from the field that night, tying the record for the third-best single-game field goal percentage in PSUA women's basketball history. 
Despite never making it to 1,000 career points, or winning a district championship in high school, Christine's legacy as a member of the Tyrone Golden Eagle basketball team cannot be forgotten.
As a Golden Eagle, Christine was part of three consecutive Mountain League Championship teams during one of the winningest eras in Tyrone Lady Eagle basketball history. 
"Finnley was very competitive, hard-nosed, and really got after it. Every time she stepped on the floor she played hard," recalled Tyrone Head Coach Luke Rhoades.
No matter how the rest of her senior Penn State season unfolds, Christine's name will be forever stamped in PSUA record book. 
"This milestone means a lot to me. After tearing my ACL my senior year, I was devastated. Going through nine months of rehab, there were times where I wasn't sure if I wanted to play at the next level, but when I decided to, I knew [1,000 career points] was a personal goal I was going to set for myself due to not being able to reach it in high school. It means so much more to me experiencing a serious season-ending injury and being able to accomplish it so early in my senior year. However, I do have to thank my teammates because without them always being positive and cheering me on, it wouldn't have happened," said Christine.