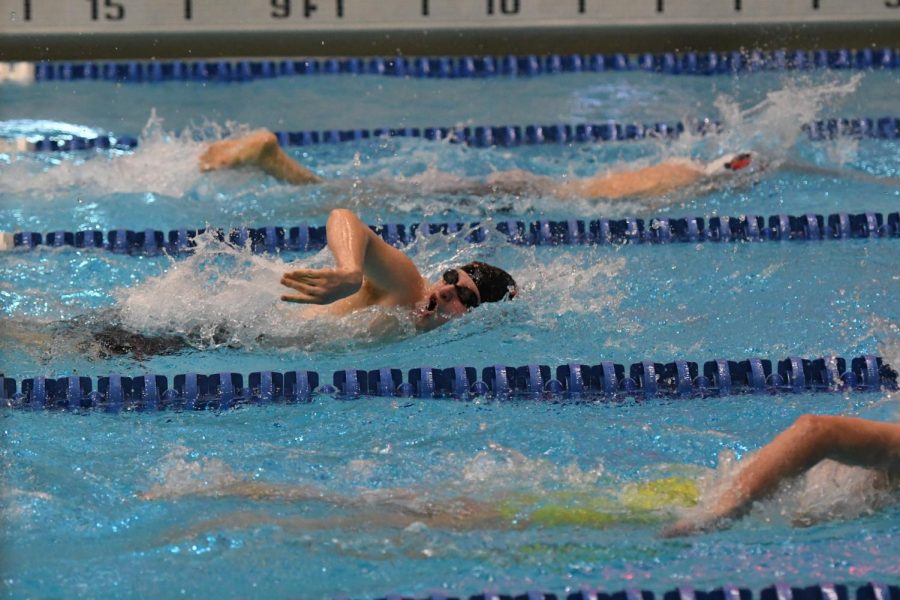 Ellie Oakes
Led by Tyrone junior Madison Coleman, the united Tyrone/Bellwood/Bishop Guilfoyle swim team competed at the District Six Championship last weekend and several swimmers made the podium.
The medley relay and 200 freestyle relay teams included Mae Decker, Fiona McConnell, Sarah E. Hoover, and Madison Coleman. Both relays dropped time and would have reached the podium but were disqualified for various reasons.
In the medley relay, Tyrone had a false start in the backstroke. relay would have finished second place. In the 200 free relay, the team was disqualified because a swimmer left early on the relay start. The 400-yard relay included Sarah M Hoover, Cate Baran, Victoria Reese, and Kiersten Friday.
"All in all it was another successful district meet for the team. We had some tough DQ calls go against us on Friday, but the senior leadership rallied everyone for a great Saturday," said head coach Tom Getz.
Madison Coleman took the bronze medal in the 100-yard free (55.89) and took fourth in the 50-yard free (25.73). Coleman improved her time from the regular season and continues to get closer to the Tyrone records for both of the events.
Fiona McConnell took the bronze in the 100-yard breaststroke (1:12.41) and took sixth in the 200-yard free (2:09.27). McConnell broke her own record with it previously being 1:12.78.
Matt Lenze placed third in the 100-yard breaststroke (1:06.59) and placed seventh in the 100-yard butterfly (1:01.66).
Sarah E. Hoover placed fifth in the 100-yard breaststroke (1:14.66) and dropped about a second off her time. Decker placed fifth in the 100- yard backstroke and dropped two seconds (1:03.75). Decker also dropped about three seconds in the 100 free(58.96).
Cate Baran dropped about one second in both the 50 free (27.82) and the 100-yard backstroke (1:09.13). Reese dropped two seconds in the 100-yard backstroke(1:09.52). Hunter Gregg dropped about two seconds in the 100 free(57.87).
The boy's team dropped time off both the 200-yard free relay and the 400-yard free relay. In the 200 free relay, the team dropped three seconds (1:45.83) and in the 400 free relay, they dropped 12 seconds (3:57.09). The relay teams included Hunter Gregg, Matt Lenze, Aden McCracken, Keegan Raabe, and Colin Yaudes.
"Almost all of the kids had season-best times and we were able to get kids on the podium which is always a goal. I couldn't be prouder of how this team worked at districts and all year," said Getz.
Full meet results can be found by clicking this link.