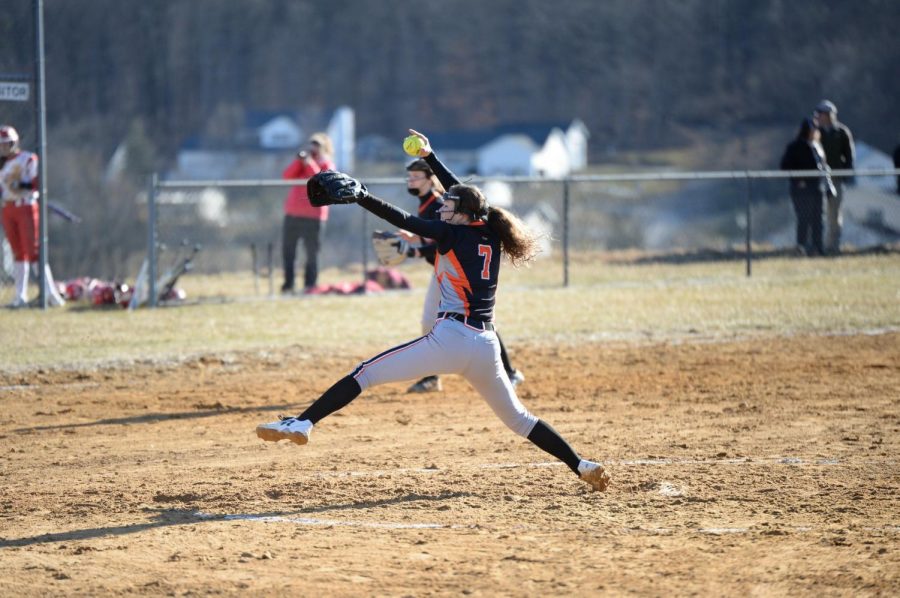 Courtesy of Terry McCaulley Jr.
When the Tyrone girls softball team takes the field tonight in the opening round of the playoffs against Cambria Heights, they will do so confidently behind the best pitcher in Tyrone school history.
Junior Cate Baran recently broke the school record for strikeouts and earned the 400th of her career on May 15th against the Central Dragons. Baran struck out Central power hitter Cam Feathers in the second inning of the game to break the record.
"I felt accomplished and excited when I got my 400th strikeout. I never imagined breaking the school record and getting 400 strikeouts," said Baran.
According to Head Coach Doug Myers, Baran has been a keystone of the recent resurgence of Tyrone softball.
"When I came here three years ago my biggest fear was that we wouldn't have a quality pitcher," said Myers, "We were not only able to find a quality pitcher but we found a great pitcher, a great teammate and a great person to be around. We truly appreciate all she has done for our program and we are so fortunate to have Cate as our pitcher."
Baran is the first pitcher in school history to record 400 strikeouts. She broke the previous career strikeout record of 349 that was set by Hillary McNelis in 2004.
"Cate's success is based on her dedication to the sport. She works very hard, she plays eight or nine months out of the year for different summer teams. Cate is a very mentally tough athlete, you can never tell if she is winning by 10 runs or losing by 10 runs, her expression on the field never changes and that is a great quality to have especially as a pitcher," said Myers.
Tyrone Assistant Coach Jim Jones has also helped Cate this season and was calling pitches for her when she broke the record.
"Four hundred strikeouts is a great accomplishment and is a reflection on not just a great season, but a great career so far. But this milestone did not just happen because she had talent, it happened because Cate works hard year round," said Jones.
Baran doesn't just work hard on the diamond.  She is also an honor student, and a three-sport athlete, lettering not only in softball but in soccer in the fall and swimming in the winter.
While she enjoys her other sports as well, her future goal is to continue playing softball in college.
But for now, Baran is focused on the present and hopes to bring a district title to Tyrone for the first time in school history.
"We are very excited about entering the playoffs for our second straight year. The girls have had some really good, high spirited practices and we are ready to play. We talked a lot about playing relaxed and only focusing on the things we can control, things like our effort and our attitude are things we can control, so we are going to play hard, play confident and let the results happen," said Coach Myers.
The Lady Eagle's first playoff game is today against Cambria Heights at Mount Aloysius College. The first pitch is at 4pm.