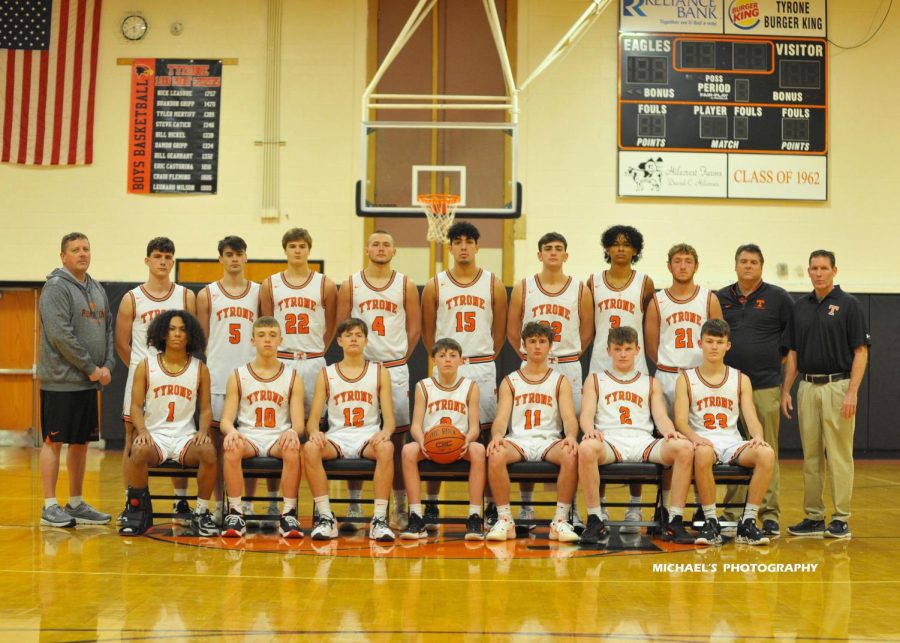 Photo Courtesy of Michael's Photography
Last season, the Tyrone Golden Eagle Basketball team finished with a successful 17-3, but a district championship eluded the boys for a third consecutive year with a well-fought but disappointing 62-60 loss to Bedford in the District 6 semi-finals.
This season, the Golden Eagles hope to contend for the district championship for the third year in a row.
While many of the faces in the starting five will be new, the goal remains the same: to repeat as Mountain League Champs and win that elusive district title.
The team that lost the championship last season was heavy with both seniors and expectations.
This year's group of starters will be talented and might be underestimated by opponents who assume that the Golden Eagles graduated most of their talent last year.
Seniors Landen DeHaas and Cort Rhoades, both returning starters from last year, are vital members of the team this year and present major offensive threats.
Junior Zac LeGars will bring intensity and defense to the team and will hopefully improve Tyrone's ability to rebound.
David Lang is also a weapon on offense, and the Golden Eagles will look for him for clutch shots in the final seconds.
Junior Ross Gampe will be the starting center and with his size the team and hopes to dominate the paint.
Senior Keegan Gwinn will often be the first off the bench and will also add size and physicality to the center position.
Other key players who will see time on the floor include Jake Johnson, Brady Ronan, Dravyn Crowell, Christopher Escala, Drew Escala, Sam Crilly, Ashton Walk, Landon Hamer, and Kendall Lehner.
The 2020-21 Eagles went 11-0 in the Mountain League, winning back-to-back league titles, and this year's team hopes to make it three in a row.
Their main competition for the league title this year will likely be Hollidaysburg, who features two dominant centers and will play a strong inside game. When it comes to the district playoffs, Tyrone will likely be up with Bedford as the possible District 6 favorites.
"We are planning to win in the Mountain League and win districts," said Head Coach George Gripp.
Tyrone's first game will be at Bellwood-Antis High School this Friday, December 10th. The tip-off is 7:00 pm. Tyrone will be hosting a black-out dawg pound for the big game.