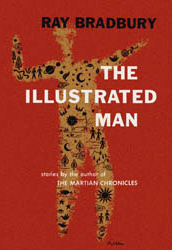 What if your body was covered with tattoos of every movie you've ever seen in your life?
This is true of the Illustrated Man, one of the science fiction characters created by Ray Bradbury in his classic 1951 book by the same name.
The Illustrated Man's tattoos tell stories of multiple genres that span the science fiction theme. Each tattoo story has a secret just like the Illustrated Man himself. The book tells the random and interesting tales from the perspective of a stranger. The science fiction stories that Ray Bradbury illustrates are full of wonder, suspense, and concealed incendiary morals.
The first story, "The Veldt", has to do with a family living in future luxury.  Their house has all the goodies that a future house should have; it basically does everything for you. The main attraction in the house is a veldt, a sort of live and realistic movie theater that plays what you want it to. The children in this family become relatively obsessed with this room and spend hours there, much like such things in our society today that wrap and obsess kids. Their parents have no idea what they do in their long trips there. When their parents journey into this room to see what their kids are up to, they are surprised and curious at the same time. When they decide to get away from the house on a vacation, the kids get extremely upset and things go awry.
The second story straight from Bradbury's cranium tells of the crew flying through space after their ship had been hit by an asteroid. Hollis, the narrator and also hurling crew member, reflects on his life while he waits to burn up entering Earth's atmosphere. In a quarrel with another man, Hollis is completely shaken in the way he thinks, along with the reader. This story causes you to rethink how you think of others and how you view yourself.
Bradbury weaves a tale with immense meaning in his third story," The Other Foot". Negro men and women now have their own society on Mars. They have been there for three generations and have come to hate white people for sending them there and not returning. The story begins with rumors of a white man traveling in a rocket on his way to their town. Things turn hostile and the Negro people on Mars prep their town to segregate the white men. With guns loaded, they speak with the visitor and hear a shocking tale of the Earth they once knew.
The shortest of Bradbury's tales, "The Highway" speaks of an old farmer tilling his field next to a lonely highway. Every once in a while a car will pass by Hernando's fields, and sometimes he will receive souvenirs from passing cars. On this particular day, more than the usual one or two cars pass by and Hernando is curious why. He ignores them for the time being until a broken down car full of people stops at the side of the road to ask for water. He regurgitates the courage to ask them why there are so many traveling cars on that particular day and the travelers tell him of the atomic war that has started.
The next creation of Bradbury's mind encompasses missionaries to Mars to convert and help the people there turn away from their sins. When the captain and his crew arrive they are pushing the clock to beat the other missionary ships there so they can convert people first. After landing they discover that the other missionary ships were destroyed or killed and did not make the trip. Their trip turns useless when they learn that the people living on Mars already have been preached to by another man. In the captain's stubborn mind he decides to chase after this man you cannot be caught unless willing. "If I missed him by one day here I'll go to another planet and only miss him by half a day…"
Trapped on Venus Bradbury tells the tale of a platoon of soldiers enduring the tremendous rainfall on Venus to reach a Sun Dome for shelter. Their ship had crash landed and they had been walking for days but the brave and gallant men trudged on to reach the only thing they wanted in life.
One of the most heartfelt stories Bradbury tells in "The Illustrated Man" belongs to "The Rocket Man". Told from the perspective of a young boy looking up to his father, a rocket pilot. The boy's father is away for long periods of time and when he does return home the boy treasures every moment. His father promises that his next trip will be his last and they prepare for a normal life now. His father leaves and the message they receive in the next month or so are completely against what you as a human want to believe. The boy's mom says "Don't tell me something that I don't already know."
"The Fire Balloons" has an interesting story as it's based on men exploring Mars meeting natives of Mars that have compassion for another species such as humans. The men are stunned and they build a temple or church for these aliens or fire balloons to learn about God. The aliens pay them a visit telling them that they are the souls of previous natives that have given up their bodies to live forever sinless.
Your mind is set at rest with "The Last Night of the World" when a husband and wife ponder the idea of what they would do on the last night of the world. Their decision is the complete opposite of "people running around screaming and climbing trees" as the husband expected people to be acting. Their conversation is based on a rumor that the husband heard that possibly that night could be the last. What they decide on doing sets you at rest and you have to completely agree with them.
A taste of old literature is thrown into this tale crafted by Bradbury with quite a stretch. Explorers on the way to Mars carry the last of classics by Edgar Allen Poe, Charles Dickens, and others. On the awaiting Mars are these authors cast off because their books were being burned on Earth.
This tale tells the story of the exiles plea to save themselves from destruction by way of their books.
"No Particular Night or Day" provokes the greatest of thoughts from the minds of intellectuals and readers of any type. Simplicity is Bradbury's forte and this is an example. Hitchcock is the man's name and he questions the existence of everything unless it is in front of him. "If the object or person is not in front of me at the present moment then I have absolutely no proof that it exists."  His crew members get agitated with him but the reader sure does not.
When time travel exists there are problems that occur with the greatest of things. "The Fox and the Forest" illustrates this gigantically by telling the story of a man and wife who use time travel to escape draft for the war and their life before. They avoid capture for quite some time but all good things eventually have to come to an end.
Along with the theme of the last short story is the theme of all good things cannot belong to one person. Leonard Mark was such that to the men affected by leprosy cast away on Mars. They hadn't been able to see Earth sights for decades and Leonard could show them all with his mind. When the men on Mars try to hog Leonard to each of them, things end up with shots.
"The Concrete Mixer" explains Earth's defense system against invaders with absolutely no military use at all.  Consistent with the theme too much of a good thing is bad, the invaders soon lose themselves to a torrent of Earth activities that pull their attention away from their big picture. "War is a bad thing, but peace can be living horror." Said by Ettil main character
"Marionettes Inc." tells a shocking and terrifying tale of the possible use and manufacturing of clones. Smith and Braling contemplate about getting clones after Braling buys one. It sounds all good and dandy for them until they part ways and decide to buy these devious devices. Smith learns a shocking secret and Braling is confronted with an impassible event.
"The City" frights people into realization of humans destructive nature. A planet in our current solar system has a defense system against humans that once destroyed its lush and beautiful landscape. An unlikely rocket crew land on this planet and travel into a seemingly peaceful city, but when The City detects that these explorers are humans the crew wishes they wouldn't have landed there for supplies.
Ever hear people say that children's innocence protects them?  Bradbury puts that into effect with "Zero Hour" as you hear he story of a young girl's adventurous day with Drill. The girl's mother just thinks that her daughter playing and casts aside her suspicion as playful children antics. That decision would cost her when zero hour arrived.
The last story in this book follows the theme good things don't always have to be the most expensive one. A father working at a junkyard manages to buy a rocket. He knows that it will take a whole lot of money to make it fly but he burns his savings account to give his children the event of their life. At the end of the day the rocket still can't fly.
Crafted with elegancy and suspense to fill the ages The Illustrated Man ends as the stranger he met watches the event in his life he does not want to see. Warned previously by the Illustrated Man the stranger takes off into the night.
The whole book's theme of all good things must come to an end, too much of a good thing is bad, or a variation of such can be applied to all stories in The Illustrated Man in some way or another for you the next reader to find out. I highly recommend this book to science fiction lovers and those you want stories with deep meaning. If Ray Bradbury wanted people to pull anything from this it would have to be that good things always come to an end, even this book.