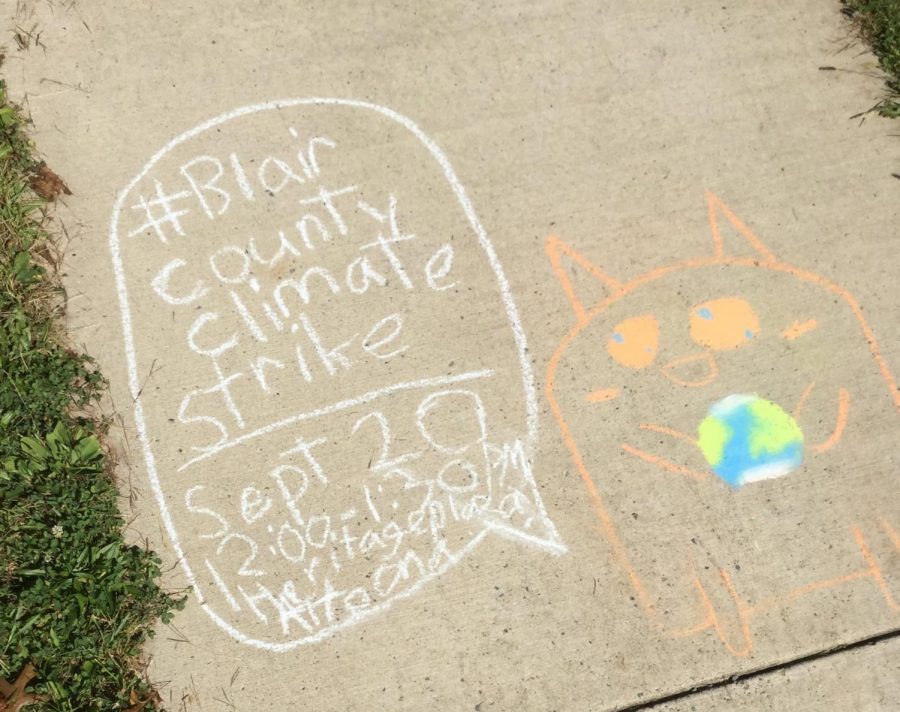 Photo courtesy of Steve Elfelt
A local version of the international #FridaysForFuture climate change rally will occur on Friday, September 20 in Heritage Plaza in downtown Altoona from 11:30 am to 1:30 pm. The speakers stage will open at 12 pm. 
The event is one of thousands planned for Friday in all 50 states and over 150 countries around the world. Local organizers encourage students and adults who are concerned about climate change and the environment to attend.
The rallies were inspired by 16 year old Greta Thunberg, a Swedish environmental activist credited with raising global awareness of the risks posed by climate change.
According to the Fridays For Future website, the movement began last summer when Thunberg sat in front of the Swedish Parliament to protest the lack of government action on the climate crisis. She posted her protests on Instagram and Twitter and it soon went viral. Since then Thunberg has appeared often in the media and has won several international awards for her climate advocacy.
Two local activists, Steve Elfelt of Altoona and Jody Wallace of Sinking Valley, are part of a team of concerned Blair County citizens who organized the event. Others include Jane Petroski, Dr. Meera Kaur, and Missy Kinser, all Blair County residents.
Elfelt describes himself as a "science-literate parent who is scared for the world we will leave to my grade school-aged daughter" and hopes that the rally on Friday will help to create a new student-led environmental movement in central Pennsylvania.
"[We] adults are doing this in support of the student movement. We are eager to accept help from students but [we] do not want to lead. Even better, we are eager to help students who want to carry the ball," said Elfelt.
Attendees will gather in Heritage Plaza around 11:30 on Friday. According to Elfelt, everyone is encouraged to bring signs. Musicians and artists will be able to perform and show their work. All are welcome but the organizers ask that attendees pledge to be peaceful, respectful, and to minimize their carbon footprint.
Speakers will begin at noon. Young people are encouraged to take the stage and speak. The purpose of the rally, according to Elfelt, is "to support individual lifestyle choices that lower our  carbon footprint, and demand all levels of government take bold aggressive and immediate action on the climate crisis."
At the event students will also learn about future educational and political events, and the organization plans to prepare draft resolutions to present to Blair County municipal governments in the near future.
Another co-organizer of the event, retired environmental teacher and Sinking Valley resident Jody Wallace, is familiar to many in the Tyrone area.  
Wallace, the self-described "creature teacher," has had a long career in the area teaching young people about wildlife and the environment. She encourages students to take part in the event on Friday.
"Children will inherit the earth; they have the right to save it. If we do nothing our children and grandchildren will suffer the most severe consequences when they are your age," said Wallace. "If people continue putting greenhouse gasses in the air there will be severe consequences for humans and all other life forms on earth."
Students at Tyrone can attend the event without missing school, as the district has a scheduled teacher in-service day for Friday, September 20.  Those interested in attending can visit the event's Facebook Page for more information and updates.
There is also another local environmental action event planned for Saturday, September 21.  A group called Pennsylvania Interfaith Power and Light, a state wide coalition of people of faith for climate action, is sponsoring a free viewing of the National Geographic environmental film Paris to Pittsburgh, followed by a discussion of local action. 
Free pizza will be served and all are welcome.  The event is from 6-8 pm at St. Luke's Episcopal Church, 806 13th Street in Altoona. Questions about the Saturday film screening and event can be directed to Greg Williams at [email protected]
Several Tyrone students are planning to attend one or both of the events or hope to support the movement locally in the future.
"We have to take care of our environment because without it nothing else matters," said Tyrone senior Alicia Endress.