Black Lives Matter Protests Reach Tyrone
Local activists and supporters of the Black Lives Matter movement have gathered in Tyrone regularly since early June.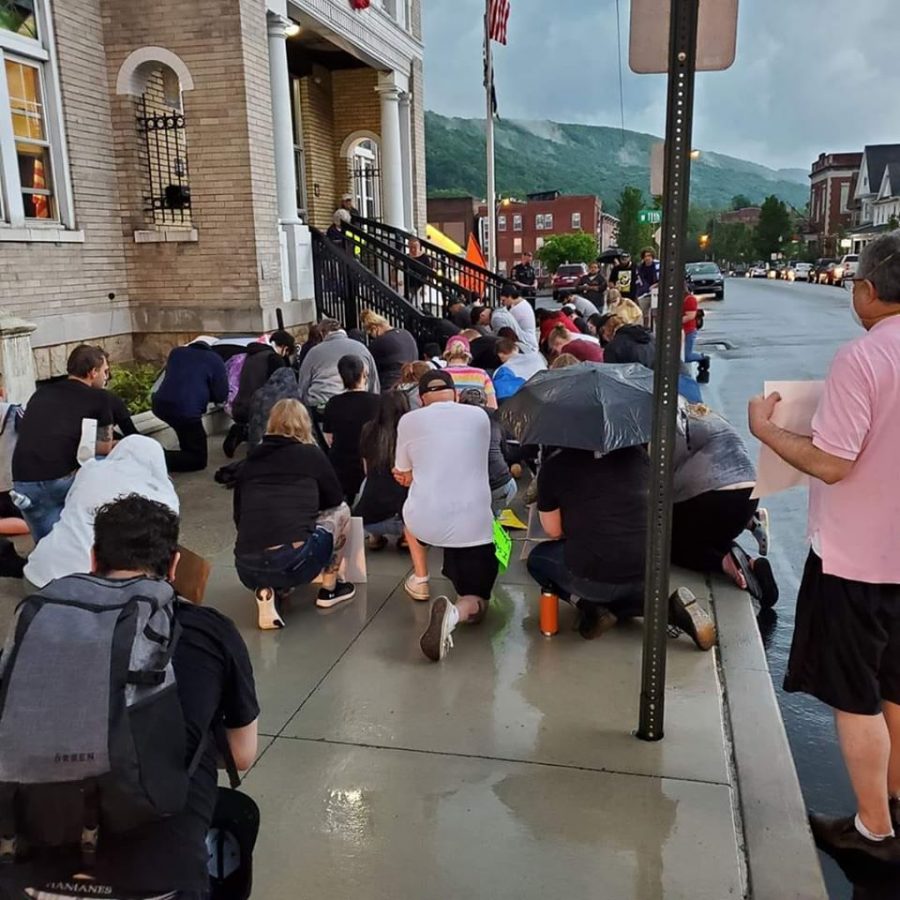 What began as just a couple of citizens protesting in front of the Tyrone Municipal Building increased at exponential rate in early June. Two became four, then eight, as the protest eventually grew to a march of about forty to fifty people through downtown Tyrone on June 4.
The videotaped death of George Floyd while in custody of a Minneapolis Police Department officer on May 25 has sparked weeks of massive protests in most major American cities, with smaller protests occuring in towns across the country, including Tyrone.
The death of Floyd, along with the recent cases of Ahmaud Arbery, and Breonna Taylor have been dubbed 'the straw that broke the camel's back' by national civil rights activists and has sparked protests across the nation. Other local protests have also occurred recently in State College, Altoona, Huntingdon and Hollidaysburg.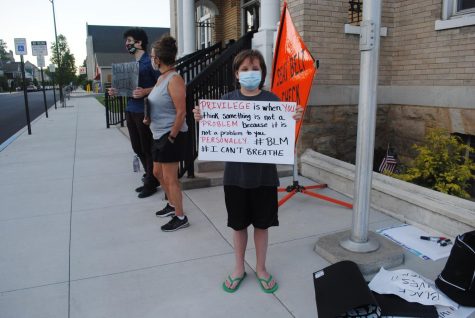 TAHS junior Garrett Martin attended the Tyrone protest because he wanted his voice to be heard and to make a difference.
"I can't stand to see the hate, not only in our community, but on a much larger scale," said Martin.
While the protests attended by Martin and various other current TAHS students and alums are being held in front of the Tyrone Municipal Building which includes the Tyrone Borough Police Office, Tyrone Mayor Bill Latchford does not believe that the protests are targeting the Tyrone Police Department specifically.
"[It is a] very wide statement to encompass as many officers as possible. I think they want all police departments on notice that police brutality should not be tolerated," said Latchford.
Latchford, who said he is supportive of all citizens right to peacefully protest, also noted that the protesters were 'very dedicated folks' and that the event was well organized and attended even through pouring rain.
Several members of the Tyrone police were even reported as being present and supportive of the protestors.
"It was a great turnout with a very powerful ending with silence for the duration that it took for Mr. Floyd to die," said Latchford.
While COVID-19 is still prevalent in America, Latchford isn't concerned that the protests might spread the virus.
"Did it cross my mind? Sure, but Blair County has such a low case count for a population of 122,000. I am pretty sure that all will be okay," said Latchford.
A few Tyrone residents have also set up a small counter-protest across the street from the municipal building with Trump shirts, signs, and a "blue stripe" flag symbolizing support for the police.
"
I can't stand to see the hate, not only in our community, but on a much larger scale"
— TAHS junior Garrett Martin
Devon Henninger, 2019 TAHS graduate, spoke about his intentions standing on the other side of the street.
"I was supporting President Trump as many individuals have attacked him for a 'lack of control' during this chaotic time and I was also supporting our many great police officers we have in Tyrone and within the nation," said Henninger.
According to a report posted on a local Tyrone Black Lives Matter Facebook group, protest organizer Richie Bonsell-Walter said that another counter-protester stood about half a block away from their group with a sign that said "White Lives Matter."
Several of the protestors reported that they have received negative and sometimes vulgar comments from passers-by, but that they have also received support from others.
However, unlike the violent clashes that were seen in some large cities across the country, the protests in Tyrone have remained peaceful.
Following the protest on June 4, some of the protestors met with some of the counter-protestors. Several of the citizens discussed that their ideological differences, agreeing that their disagreement doesn't need to end in civil violence.
"We all want the same thing. Everybody needs to be treated with dignity and equality," said Latchford.
About the Contributor
Lucia Isenberg, Photo Editor
This is Lucia's fourth year in Eagle Eye and her third year as Photo Editor. She is very excited to express her creativity and find new ways to take...