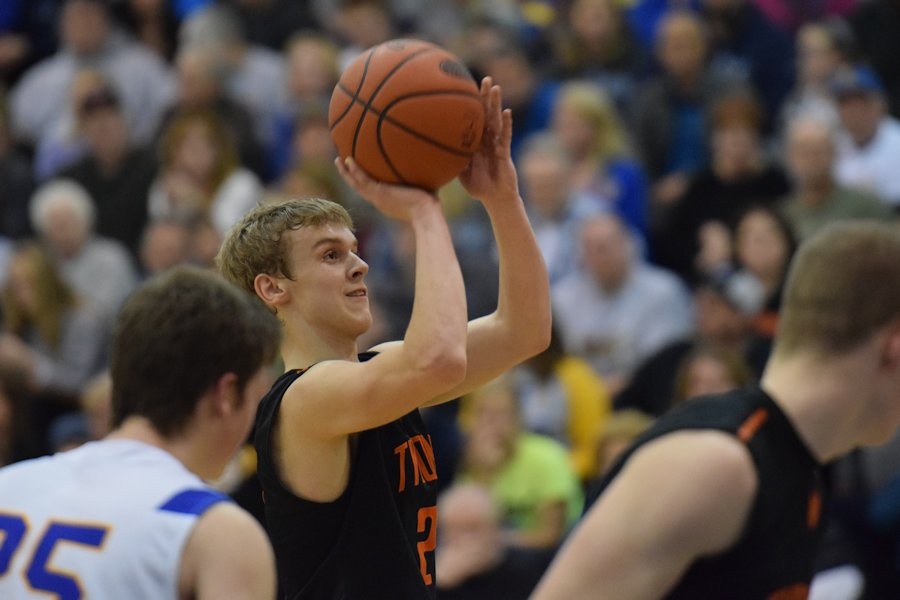 Erika Voyzey
The Tyrone boys' basketball lost a heart breaker Tuesday night 63-49 against Bellwood Antis in the District 6 AA semifinal game.
Tyrone had the lead after one period and kept up with Bellwood the entire first half.  Tyrone's Parker Mitchell went off in the first half scoring 12 straight points. Mitchell finished with 18 to lead all scorers.
However, with leading scorer Anthony Politza on Tyrone's bench with two early fouls, the Blue Devils were able to catch up and take a four point lead into the locker room at halftime.
Utilizing a zone defense, Tyrone controlled Bellwood's Nathan Davis in the first half.  Tyrone managed to keep Davis to 16 points, under his season average of 22, but lost control of him and the game in the second half.
"It sucks coming up short, I thought we had the game in our hands and then they went a on a run and we couldn't stop them," said Mitchell.
Tyrone lost full control in the fourth quarter after Davis hit his 2,000th career point. At that time momentum shifted completely in Bellwood's favor.
"We gave it everything we had. No one gave us a chance to win it and we were right there. No one on this team should hang their heads about this. Hell of an accomplishment, "said Tyrone's Jake Meredith, who had six points on the evening.
Tyrone big man Tony Politza scored down low four times and had the first two scores of the night for Tyrone but was held in check by the Bellwood defense.  He finished with 8 points.
"Bellwood played better than us tonight," said Politza, "we had an average defensive night and we needed an amazing one.  I'm proud of my teammates for their great effort."
Tyrone will now face Penns Valley this Thursday at Bald Eagle, to determine the 3rd and fourth spot. Tipoff is at 7:30.
BOX SCORE
TYRONE (49): Mitchell 7 4-5 18, Meredith 3 0-0 6, Thomas 1 0-0 3, A. Weaver 1 1-4 4, A. Politza 4 0-2 8, Lewis 2 1-1 5, Soellner 0 0-0 0, G. Weaver 0 3-5 3, Light 1 0-0 2, Anderson 0 0-0 0. Totals – 19 9-17 49.
BELLWOOD-ANTIS (63): Padula 4 2-4 10, McGee 2 0-0 4, Davis 6 3-4 16, Burch 4 0-1 10, Taneyhill 4 2-4 10, D'Angelo 0 0-0 0, Walker 5 0-0 13, Wood 0 0-0 0. Totals – 25 7-9 63.
SCORE BY QUARTERS
Tyrone: 14 15 8 12 – 49
Bellwood-Antis: 13 20 9 21 – 63