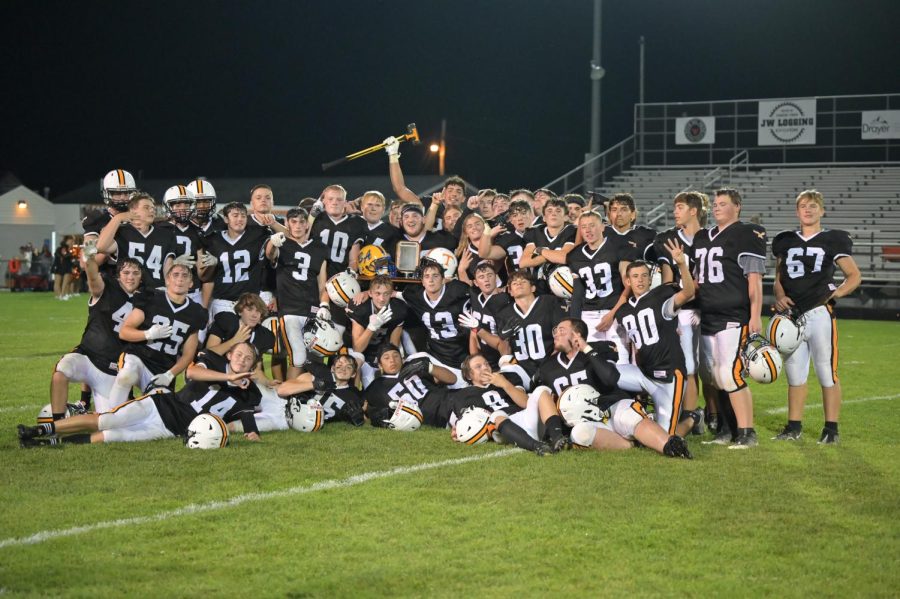 Todd Cammarata
"Back where it belongs" was the mantra of the Tyrone Golden Eagles following their 27-12 win over the Bellwood Blue Devils last Friday.
Tyrone's Ashton Walk to Ross Gampe connection made a strong season debut to lead the Golden Eagles to victory. Walk connected with Gampe four times for 94 yards, two for touchdowns.
Walk led the game with 187 passing yards and three touchdowns, along with 23 yards rushing and a touchdown.
The Golden Eagles came out fast, scoring on their opening possession. Facing a third and 21 in the opening drive, Walk connected with Gampe for a 24-yard gain to set up the offense in the red zone.
On fourth and goal, Tyrone rolled the dice, and Walk found Gampe in the endzone to give the Golden Eagles a 7-0 lead.
The Golden Eagles' offensive line was the unsung hero in this game. Creating a push on almost every play, they helped Tyrone's offense to 303 total yards. The line also contributed on the other side of the ball with two defensive sacks, both from junior Braden Ewing.
"We had great pressure all night, and I was just the one fortunate enough to get the sacks," said  Ewing.
Despite being down 21-6 at halftime, the Blue Devils did not give up, gaining momentum in the second half, holding the Eagles to only one score in the half.
Bellwood quarterback Gavin Ridgeway threw for 103 yards and led the team in rushing with 76 yards on 17 carries. He threw a 20-yard TD pass to Dylan Andrews in the corner of the endzone in the second quarter and darted 31 yards for a score in the fourth quarter.
While Tyrone came away from the game with the win, there was some clear disorganization with the team, resulting in 15 penalties for 105 yards.  Bellwood was only penalized once for five yards.
Tyrone will need to clean up the mistakes when they host a talented Brookeville team this week. The game was originally scheduled to be played in Brookeville, but due to issues with Brookville's field it has been moved to Tyrone. Kickoff is 7 pm at Gray Field in Tyrone.
SCORE BY QUARTERS
Bellwood-Antis 0 6 0 6 –12
Tyrone 14 7 6 0 –27
First Quarter
T–Gampe 19 pass from A. Walk (Romani kick), 6:14.
T–Baldauf 44 pass from A. Walk (Romani kick), 2:58.
Second Quarter
T–Gampe 11 pass from A. Walk (Romani kick), 7:00.
BA–Andrews 20 pass from Ridgway (kick failed), 1:00.
Third Quarter
T–A. Walk 2 run (pass failed), 7:36.
Fourth Quarter
BA–Ridgway 31 run (kick failed), 9:07.
TEAM STATISTICS
First downs
BA – 12, Tyrone – 13
Total yards
BA – 203, Tyrone – 306
Rushes-yards
BA – 33-100, Tyrone – 31-119
Yards passing
BA – 103, Tyrone – 187
Passing (comp.-att.-int)
BA – 8-19-0, Tyrone – 11-18-0
Punts-avg.
BA – 3-28, Tyrone – 4-37
Fumbles-lost
BA – 3-1, Tyrone – 2-0
Penalties-yards
BA – 1-5, Tyrone – 15-105
INDIVIDUAL STATISTICS
RUSHING
Bellwood-Antis: Ridgway 17-76, J. Pluebell 5-28, Kyle 4-12, Kost 4-9, Hescox 1-1, TEAM 2-(-26).
Tyrone: Ronan 10-59, A. Walk 11-23, Miller 5-23, Hoover 4-21, Klein 1-(-7).
PASSING
Bellwood-Antis, Ridgway 8-19-0-103
Tyrone, A. Walk 11-18-0-187.
RECEIVING
Bellwood-Antis, Andrews 4-57, Kost 2-34, E. Pluebell 1-10, Schreir 1-2.
Tyrone, Gampe 4-94, Baldauf 1-44, Weaver 3-31, Ronan 3-18.